Warm and bright-sunny this late-afternoon Sunday here in California's Central Valley — after several days of morning roof-top frost and overnight near-freezing temperatures, summer-approaching-like weather today, an indicator of the real heat to come.
And contextually and seemingly as if a finger snap, we're already nearly two months into 2022, and shit won't let go.
Ukraine continues to dominate, as it should (heaviest military shit in Europe in 75 years!) and the overall scan of events puts Vlad Putin and the Russian military on the way-outs and the Ukrainian people as the new heroes of the age.
A for instance:
If true, it's probably the first tank ever stolen by a farmer… ))
Ukrainians are tough cookies indeed. #StandWithUkraine #russiagohome pic.twitter.com/TY0sigffaM

— olexander scherba?? (@olex_scherba) February 27, 2022
In this saga,  'Russian military' is the villain, not the Russian people. Distinction on anti-war protests in 32 Russian cities today, a lot of arrests (1,800 in Moscow alone), while not including a massive event this morning in Berlin with reportedly 100,000 people in unison against Putin's bullshit war.
Along with the kick-back from the Ukrainian military — stalling Russia's advance, and baiting them with 'go fuck yourself' retorts — the tightening of the screws on Putin and all his rich Russian buddies will have an impact I hope, and so will the military gear.
War supplies inundating Ukraine's military system — this morning:
Multiple European countries are offering weapons to Ukraine as it battles Russia's invasion.
Sweden announced Sunday it would give military aid, including anti-tank weapons, helmets and body armor, to Ukraine, the first time it has sent weapons to a country in armed conflict since the Soviet Union's 1939 invasion of Finland, said Magdalena Andersson, the prime minister.

"Sweden is now proposing direct support for Ukraine's armed forces. It includes 135,000 field rations, 5,000 helmets, 5,000 body shields and 5,000 anti-tank weapons," Andersson said.

Belgium plans to send thousands of machine guns and hundreds of anti-tank grenade launchers, Volodymyr Zelenskiy, the Ukrainian president, said Sunday.
Meanwhile, Germany announced yesterday it would send anti-tank weapons and missiles to Ukraine, a major reversal of its policy of not exporting arms to conflict zones.
And earlier:
Norway's sovereign wealth fund will divest its Russian assets in response to Russia's invasion of Ukraine, the Norwegian prime minister announced on Sunday.
The $1.3tn sovereign wealth fund is the world's largest. Its Russian assets, which include government bonds and shares in nearly 50 companies, were worth $2.83bn at the end of 2021.
"We have decided to freeze the fund's investments and have begun a process of selling out [of Russia]," Jonas Gahr Støre, the prime minister, said at a news conference.
The domino-like effect today as the world reacts with a way-negative snap towards Putin's folly — and supposedly starting last Thursday with the EU meeting — via The Washington Post this evening:
Then Ukrainian President Volodymyr Zelensky dialed into the meeting via teleconference with a bracing appeal that left some of the world-weary politicians with watery eyes.
In just five minutes, Zelensky — speaking from the battlefield of Kyiv — pleaded with European leaders for an honest assessment of his country's ambition to join the European Union and for genuine help in its fight with the Russian invaders. Ukraine needed its neighbors to step up with Food, ammunition, fuel, sanctions, all of it.

"It was extremely, extremely emotional," said a European official briefed on the call. "He was essentially saying, 'Look, we are here dying for European ideals.'"
Before ending the video call, Zelensky told the gathering matter-of-factly that it might be the last time they saw him alive, according to a senior European official who was present.

Just that quickly, Zelensky's personal appeal overwhelmed the resistance from European leaders to imposing measures that could drive the Russian economy into a state of near collapse.
The result has been a rapid-fire series of developments boosting Ukraine's fight to hold off the Russian military and shattering the limits on European assertiveness in national security affairs.

The actions culminated on Saturday, when the United States, Canada, the United Kingdom and the European Union announced they would bar several major Russian banks from the global financial messaging system known as SWIFT, crack down on Russian oligarchs, and prevent the Russian central bank from bailing out the domestic economy.

The unprecedented moves led Russians to crowd ATMs in a desperate bid to withdraw cash and sparked a furious response from Putin, who called them "illegitimate" and ordered his nuclear forces to a higher state of alert.

Surprised by the unusually rapid European decision, the White House scrambled over the weekend to catch up in drafting its own related measures, according to one American and one European official.
The latest sanctions mean the Western allies are effectively waging financial war against Russia, matching Moscow's military offensive in Ukraine with attacks on the foundation of a $1.5 trillion economy.

"We're not going to fight with bullets. We're going to choke them financially," said Marc Chandler, chief market strategist at Bannockburn Global Forex.

American and European officials were expected to make public details of the new sanctions late Sunday, before financial markets open in Asia. But even before they have taken effect, the Russian financial system is wobbling.
The ruble, which already was near a historic low against the dollar, plunged in informal trading in Moscow.
"The Russian ruble has been crushed and it's going to get crushed further," said Chandler.

On Sunday, the fraying of Russian ties with the global economy accelerated.
The European Union closed its airspace to Russian aircraft and announced it would fund the purchase of weapons for the first time in what European Commission President Ursula von der Leyen called a "watershed moment."
So it is — and the heartfelt stories of war:
At the Ukrainian border, a mother brings a stranger's children to safety
https://t.co/cOKsaeMPA4

— Dan Lamothe (@DanLamothe) February 27, 2022
And scenes in near-real time:
People fleeing Russia's military operation against Ukraine walk toward the Shehyni border crossing to Poland past cars waiting in line to cross the border, outside Mostyska, Ukraine, February 27, 2022. REUTERS/Thomas Peter pic.twitter.com/DQ4wUjdoPo

— Phil Stewart (@phildstewart) February 27, 2022
Hence, the situation — Robin Wright at The New Yorker this afternoon and the response falling short:
In the first, if tepid, sign of hope, Russia on Sunday proposed talks with Ukraine on the border of Belarus.
But, at the same time, Putin ordered his nuclear forces on high alert — which means readiness to launch — in response to what he called "aggressive statements" by leaders of countries in the nato alliance. On the eve of the invasion, Zelensky had tried to telephone Putin to appeal for negotiations, but the Russian leader would not take the call.
Former U.S. officials are skeptical of Putin's intent.
"I personally am not one for trusting anything the Russians say, so we'll have to see, but I think it's a positive sign," James Clapper, the former director of National Intelligence, said on Sunday, on CNN. Putin, he added, now appears to be "unhinged."
On Friday, the State Department dismissed talks while war raged. "Now we see Moscow suggesting that diplomacy take place at the barrel of a gun or as Moscow's rockets, mortars, artillery target the Ukrainian people," Ned Price, the spokesman, told reporters. "Those are not the conditions for real diplomacy."
If Putin is serious about a diplomatic resolution, Price added, he should immediately cease the bombing, order a troop withdrawal, and say "unambiguously" that Russia was "prepared to de-escalate."
In doomscrolling earlier, did run across some other interesting takes on the situation — this guy seems to know what he's talking about in Putin trying to wrap up a shitburger:
And along with Kovensky above, once again Adam L.Silverman at Balloon Juice earlier this afternoon had a knowledgable take on the grim proceedings and although it's terrible in scope, Vlad is a loser: 'This reinvasion of Ukraine was the worst mistake Putin could make. As long as he was seeing massive returns of his political warfare campaigns agains the US, the EU, NATO, and other states, which were costing him pennies on the dollar, combined with low intensity warfare carried out by Spetznaz and Wagner mercenary forces, he looked strategically strong and tactically effective. And no one, apparently including him, had any idea just how bad and ineffective the rebuilt Russian military really is. Until now…'
We'll wait and see.
Even in fashion for the age, 4 Non Blondes "What's Up," cover by The Running Mates (original here):
Twenty-five years and my life is still
Trying to get up that great big hill of hope
For a destination
Yet here we are once again…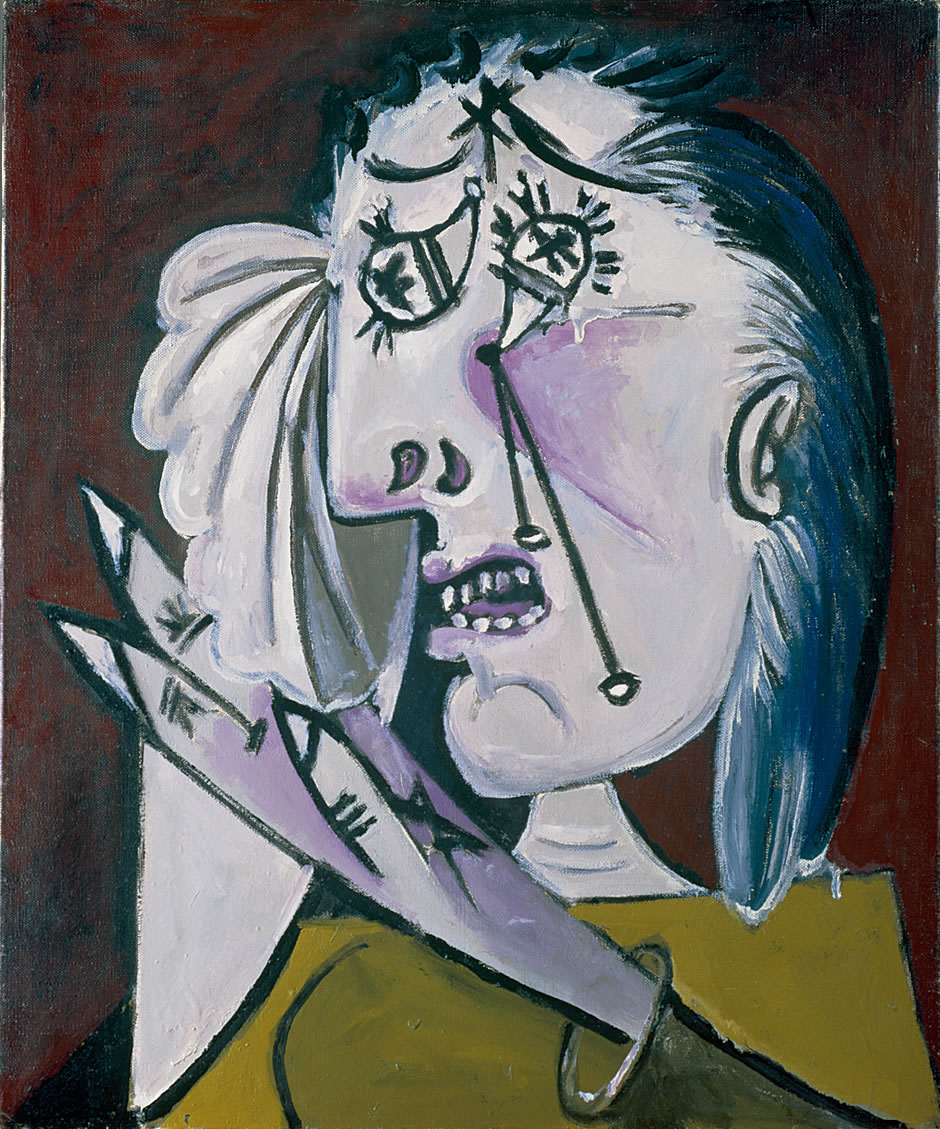 (Illustration out front: Pablo Picasso's 'The Weeping Woman [La Femme qui pleure],' found here)