Just a few minutes after the noon hour Thursday here in California's Central Vally, as the real-time exposition of the devastation/massacre in Ukraine continues slipshod nasty for another day. News just goes bad to worse.
Now near-about dark over there.
A reality-glimpse this morning into the midst of unchecked horror of one Ukrainian town:
Nutshell via Reuters this morning:
In Borodyanka, a small town 60 km (40 miles) northwest of Kyiv where locals had repelled a Russian assault, burnt out hulks of destroyed Russian armour were scattered on a highway, surrounded by buildings blasted into ruins.
Flames from one burning apartment building lit up the pre-dawn sky.

"They started shooting from their APC towards the park in front of the post office," a man recounted in the apartment where he was sheltering with his family, referring to a Russian armoured personnel carrier.
"Then those bastards started the tank and started shooting into the supermarket which was already burned. It caught fire again.
"An old man ran outside like crazy, with big round eyes, and said 'give me a Molotov cocktail! I just set their APC on fire!…Give me some petrol, we'll make a Molotov cocktail and burn the tank!'."
In the flux of the whole shitty affair, ominous the future:
The transcript of this 90min call sounds like it might be admissible evidence for ICC investigation that @KarimKhanQC announced on Monday https://t.co/yCTHbML2To

— John Lyndon (@JohnLyndon_) March 3, 2022
Another nutshell look at this particular piece of shit — via The Washington Post, also this morning:
The 90-minute call failed to deliver a diplomatic breakthrough, and a senior French official said it left Macron convinced that "the worst is yet to come" and that Putin aims to take control of all of Ukraine.

"Your country will pay dearly because it will end up as an isolated country, weakened and under sanctions for a very long time," Macron told Putin, according to a French official, who added that Macron "called on Vladimir Putin to not lie to himself."

The conversation, which the French presidency said was initiated by Putin, came as Ukrainian officials were set to hold talks with a Russian delegation, according to Russian and Ukrainian officials.
But based on the two leaders' exchange, there was no indication Thursday that a diplomatic solution could be in sight.

"At this point, [Putin] refuses to cease his attacks on Ukraine," Macron wrote on Twitter later Thursday.

The Kremlin's news service cited Putin as having told Macron that the objectives "of the special military operation" — the term the Kremlin has used to refer to Russia's invasion of Ukraine — "will be fulfilled in any case."

"Attempts to gain time by dragging negotiations will only lead to additional requirements for Kyiv in our negotiating position," Putin told Macron, according to the readout.

A senior French official, speaking on the condition of anonymity because it is French government practice, said Putin's remarks reflected a "determination to continue the military operation and to continue it to the end."
And this morning's one must-read view of that dangerous and sinister phrase, 'worse is yet to come,' coupled with that simple pair of words, 'the end,' comes from tristero at Digby's Hullabaloo, and after checking a couple of experts on the subject matter (Fiona Hill and  Jonathan Littel), figures Putin is disturbed enough to use nuclear weapons to get what he wants, pushing things going worse to a terrible end.
However, tristero concludes he hopes for a way-less dispiriting finish: 'There is nothing that would make me happier than to re-read this a year from now and learn that the conclusions I've drawn from these articles were completely wrong and too pessimistic. It is my sincere hope that Putin will make fools of Hill, Littell, and so many others (including yours truly) by stopping this ghastly war now.'
My high-hope, too.
Despite the time, once again here we are…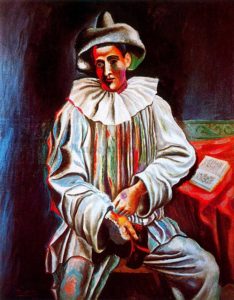 (Illustration out front: Pablo Picasso's 'Seated Pierrot,' found here).