Yesterday, working the war in Ukraine proved deadly dangerous for everyone and a recipe for sorrow struck again:
Please also pray for Oleksandra Kuvshynova's loved ones. She was a young Ukrainian journalist sharing the story of her country's invasion. Our friends who worked with her said she was vibrant & full of life. I can't even imagine the pain her parents are going through right now. https://t.co/lDEzthfYuG

— Atia Abawi (@AtiaAbawi) March 15, 2022
Details via New York Magazine late this afternoon:
Veteran Fox News cameraman Pierre Zakrzewski, 55, and Ukrainian journalist Oleksandra "Sasha" Kuvshynova, 24, were killed in Ukraine on Monday when the vehicle they and Fox News correspondent Benjamin Hall were traveling in came under fire in Horenka, a town northwest of of Kyiv.
Hall was injured and remains hospitalized in Ukraine.
…
The circumstances of the attack that killed the journalists remain unclear. The Ukrainian Ministry of Defense claims the vehicle came under fire from Russian troops.
In a Facebook post, Ukrainian prosecutor general Iryna Venediktova described the attack as more evidence of Russian violence against civilians and vowed that her office will focus on "war crimes that have affected the citizens of our partner countries."

Zakrzewski and Kurshinova are the third and fourth journalists confirmed to have been killed in Ukraine since the invasion began on February 25. On March 1, Ukrainian cameraman Yevhenii Sakun died after Russians bombed a television transmission tower in Kyiv.
On March 13, American documentary filmmaker and journalist Brent Renaud was killed after the vehicle he was traveling in was fired on in Irpin.
American photojournalist Juan Arredondo and an as yet unidentified Ukrainian were also injured in that attack.
Further from The Washington Post, also this afternoon:
Kuvshynova's death was confirmed Tuesday afternoon by the Ukrainian Ministry of Defense. A young native of Kyiv, she recently held jobs in public relations, filmmaking and the local music scene, according to her social media accounts.
Yonat Friling, a senior field producer for Fox News, said that Kuvshynova worked with the network's team for the past month and "did a brilliant job."

"Our correspondents and our producers say she was hard-working, funny, kind and brave, which you have to be to do this kind of work," Fox News anchor Martha MacCallum told viewers.
Clip of the news:
Time after time, once again here we are…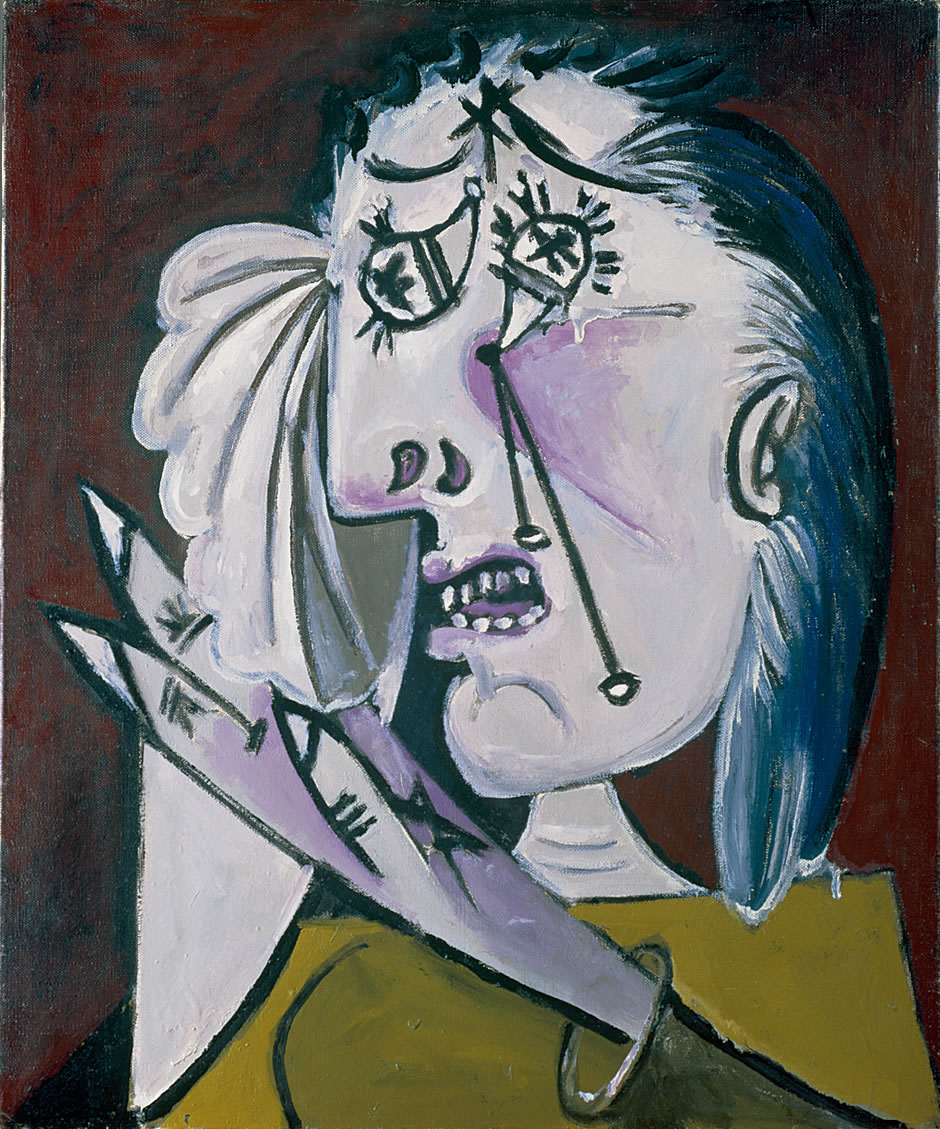 (Illustration out front: Pablo Picasso's 'The Weeping Woman [La Femme qui pleure],' found here)