Sprinkling rain close to the Tuesday noon hour here in California's Central Valley — light wet and not much more. Rain is forecast for maybe this weekend, too, but once again a short shift.
Meanwhile, trucking beyond the Vlad Putin-influenced horrors in Ukraine, the shithead virus-pandemic of our age will not be properly held in check as an Omicron variant seems to be creating COVID's way-unpopular return to the limelight — via Newsweek this morning:
A new Omicron sub-variant, BA.2, informally dubbed "Stealth Omicron," is potentially threatening certain major cities in the U.S., right as COVID-19 precautions and protocols have begun to ease up.

Data from the Centers for Disease Control and Prevention (CDC) show a steady decrease in overall cases, hospitalizations, and deaths, which has caused states and major cities to ease up on mask and vaccination protocols.
However, while cases and hospitalizations appear to be decreasing, data from the CDC indicates a prevalence of the virus in wastewater in some areas, indicating that COVID could still be spreading significantly in some cities.
…
Nearly 700 watersheds in the U.S. are monitored by the CDC, and several of the watersheds examined in Orange County in Florida, Cook County in Illinois, King County in Washington, and Milwaukee County in Wisconsin — where the major cities are located — showed a 1,000-percent increase in SARS-CoV-2 levels detected between February 24 and March 10, the most recent data available.

Wastewater surveillance for COVID-19 was first introduced in September 2020 and scientists found that, regardless of the presence or absence of symptoms in a population, the virus is easily detectable through wastewater, and can serve as an early warning that COVID-19 is spreading in a community.
Twenty-four percent of the wastewater sites in the U.S. showed a change of at least 100, meaning that while COVID in those areas may not be spiking, the virus continues to spread at a steady rate.
However, due to 'red zones,' where Republicans are allowing the deaths of a shitload of people, there's the rub: 'Rebecca Weintraub, assistant professor of global health and social medicine at Harvard Medical School, told ABC News, "Now is a key moment to communicate why we need to accelerate the uptake of the COVID-19 vaccine, remind communities why boosters are needed, secure an ongoing supply of tests and N95 [masks] to communities — especially the red zones."'
Not just among Americans, but BA.2 is a caution worldwide:
Americans might be largely done caring about Covid for the moment, but Covid, sadly, is not done with us https://t.co/oOwDgVOEh6

— Aaron Rupar (@atrupar) March 15, 2022
Some background/details via CNBC, also this morning:
Covid cases are rising in Europe, with an increasing number being attributed to the prevalence of a "stealth" subvariant of the omicron strain.

Covid cases have increased dramatically in the U.K. in recent weeks, while Germany continues to mark record high daily infections with more than 250,000 new cases a day.
Elsewhere, France, Switzerland, Italy and the Netherlands are also seeing Covid infections start to rise again, aided and abetted by the relaxation of coronavirus measures and the spread of a new subvariant of omicron, known as BA.2.

Public health officials and scientists are closely monitoring BA.2, which has been described as a "stealth" variant because it has genetic mutations that could make it harder to distinguish from the delta variant using PCR tests, compared with the original omicron variant, BA.1.
…
Now, Danish scientists believe that the BA.2 subvariant is 1½ times more transmissible than the original omicron strain, and is already overtaking it.
The BA.2 variant is now responsible for over half of the new cases in Germany and makes up around 11% of cases in the U.S.

That number is expected to rise further, as it has in Europe.

"It's clear that BA.2 is more transmissible than BA.1 and this, combined with the relaxation of mitigation measures and waning immunity, is contributing to the current surge in infections," Lawrence Young, a professor of molecular oncology at Warwick University, told CNBC on Monday.
"The increased infectiousness of BA.2 is already out-competing and replacing BA.1, and we are likely to see similar waves of infection as other variants enter the population."

As long as the virus continues to spread and replicate, particularly in populations which are undervaccinated or where vaccine-induced immunity is decaying, "it will throw up new variants and these will remain a continual threat even to those countries with high rates of vaccination," Young noted.
"Living safely with Covid doesn't mean ignoring the virus and hoping it will go away forever."
On the tip of chasing the tail in a vicious circle: 'Elsewhere, China is currently facing its worst Covid-19 outbreak since the height of the pandemic in 2020.'
Despite being fully-vaxxed and boosted, here we are once again…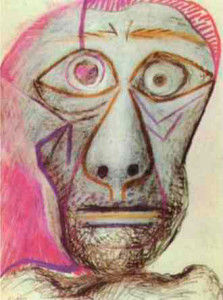 (Illustration out front: Pablo Picasso's 'Self Portrait Facing Death' [June 30, 1972], was originally found here).