In the massive letters of law broken by the T-Rump down through the ages, especially even consisting in his brief four-year tour of duty as POTUS, breaking laws, up-ending ethics, and generally being a complete asshole to everything and everybody, this Friday morning, another close-to-crime story cranks into the cycle.
Drifter grifter all day long:
Pro-Trump attorney John Eastman revealed in a late-night court filing that he was in touch directly with Trump about plans to overturn the 2020 election — which included receiving Trump's handwritten notes. https://t.co/njlHpjkHh1

— Kyle Griffin (@kylegriffin1) May 20, 2022
Eastman is a turd-and-a-half when it comes to law and the T-Rump — he should be up to his crooked neck in legal troubles, but where is Merrick Garland?
Latest via Politico earlier this morning:
In a late-night court filing urging a federal judge to maintain the confidentiality of his work for Trump, Eastman provided the clearest insight yet into the blizzard of communications between Trump, his top aides, his campaign lawyers and the army of outside attorneys who were working to help reverse the outcome in a handful of states won by Joe Biden.

The filing also describes the direct role of Trump himself in developing strategy, detailing "two hand-written notes from former President Trump about information that he thought might be useful for the anticipated litigation."
Those notes are among the documents Eastman is seeking to shield via attorney-client privilege. Eastman said he would also speak directly with Trump by phone throughout his legal challenges to the election.

Eastman described these contacts and records as part of an effort to prevent the Jan. 6 select committee from accessing 600 emails that describe his efforts to build Trump's legal gambit to reverse the 2020 election outcome — and, when that failed, urge state legislatures to simply overturn the results themselves.
He argues that the documents are protected by attorney-client and attorney work product privileges that Congress has no business probing, even as the panel investigates the circumstances that led a mob of Trump supporters to attack the Capitol.

Eastman is also urging the judge, U.S. District Court Judge David Carter of California, to shield dozens of contacts with state legislators, some of whom he advised to appoint slates of pro-Trump electors, overriding the certified results of the popular vote in their states.

Eastman provides few details about the White House officials and attorneys with whom he was communicating, leaving their names out of the filing. But several of the attorneys filed declarations supporting Eastman's descriptions of his work for Trump. Those declarations, filed under seal with the court, include attestations from Kurt Olsen, the lead lawyer in a Supreme Court lawsuit that Trump backed to overturn the election results, as well as Bruce Marks, a Pennsylvania lawyer who worked on Trump's election litigation.
…
But Carter has rallied to the select committee's cause, repeatedly rejecting Eastman's attempts to scuttle the panel's demands.
He forced Eastman to undertake a review of all of his emails and turn over tens of thousands of pages. And in a March ruling that continues to resonate, Carter held that Eastman and Trump "more likely than not" engaged in a criminal conspiracy to overturn the 2020 election by obstructing Congress' ability to count electoral votes. He ruled that Eastman's efforts to pressure Mike Pence to single-handedly overturn the 2020 election crossed legal lines, particularly as he urged Pence to attempt to avoid getting the courts involved.
Remember Judge Carter's stunning appraisal of Eastman and T-Rump's antics? Nailed it: '"Dr. Eastman and President Trump launched a campaign to overturn a democratic election, an action unprecedented in American history," Carter wrote at the time (last March). "Their campaign was not confined to the ivory tower—it was a coup in search of a legal theory."'
Why aren't these people at least under indictment, and awaiting trial? Or already in the slammer?
Courtrooms withstanding, once again here we are…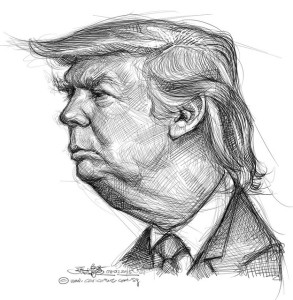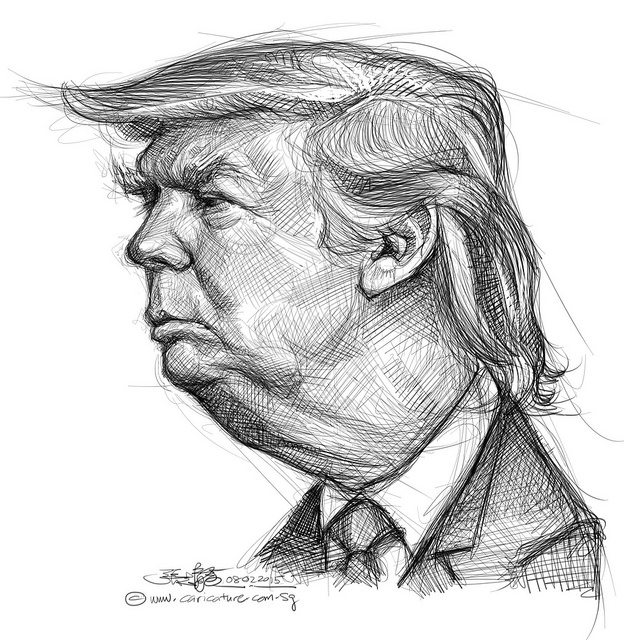 Image out front is my favorite of the T-Rump mugs, though, 'favorite' does not mean in any form or fashion, as in, 'my favorite movie,' or 'my favorite song.' It's more of an anti-appreciation/like.
And aptly titled, 'Basic Shapes,' by caricaturist/illustrator Chong Jit Leong (and found here), it's an image that displays the elemental form of a purloined sociopath — a bloated profile of flatulent bile and arrogant ignorance.