The Gulf of Mexico: Seen from space, seemingly shimmering in shades of 3-D-green-and-blue, looking so fertile, sprawled open like a priceless pearl floating carefree in that  proverbial oyster bed of life — a most-wondrous sight of nature.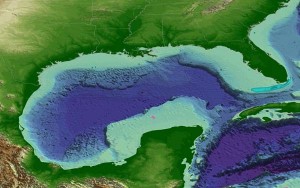 (Illustration found here).
Yeah, well, not so fast there Juan Ponce de Leon: One might want to place a sorrowful hold on those alliterated adjectives upchucked as literary bullshit.
As a memory's narrative goes: One can think back, but one can't call back.

(Illustration found here).
I spent my formative years on the Gulf, enjoying the endless-vacation-like environment of Florida's panhandle, never truly realizing back then its worth or how truly fortunate we were in having a home in one of the world's most beautiful locations.
In fact, the panhandle (the major exception being Pensacola) was virtually unknown to the average Jack-American until the late 1960s when apparently everybody and his asshole-brother discovered it, causing the place to go to shit in a wire basket.
Oh, the beaches remained pure white, the waters continued warm, inviting and fairly-clean for the most part, but the entire area quickly became mega-crowded as condos, apartments, houses, golf courses and all other kinds of so-called civilized advancements filled the once pristine near-empty spaces.
For a few quick years, though, growing up there was amazing as "Flipper" and near-about as much fun.

Stretching from the state's most-northwest boundary with Alabama eastward to about where the coastline makes its ragged jut to the south — leading to Tampa/St.Petersburg, Sarasota and on downward to the Keys — the Florida panhandle is mostly empty, save for the western coastline, as most of the area is still pretty-dense forest or swamp, occasionally spotted with small towns as a ride along I-10 west from Tallahassee will attest.
Panama City Beach has has always been the hot spring break destination for young revelers from Georgia and Alabama; even back when I was a shy, budding-neurotic in high school, PC was where cool, gorgeous chicks seemed to gather in great numbers.
And Destin — in the early 1960s just a nearly-unknown, quiet fishing-village-like place — was where baseball Hall-of-Famer Ted Williams (not the honey-voiced homeless guy from recent nowadays) and other worthies of that era came to fish the Gulf.
One memory of that period was my family's near-daily visit to the Destin fishing docks and watch the boats return in the evening with the day's catch — and in less than an hour, a pure circus of fishing admiration.
However, I've never really got fishing (my little brother really, really did) and the actual fish didn't make as much impression on me as did the guy who'd caught it.
Now more than 50 years later, more of a nostalgic-honey-coated remembrance of seagulls, people enjoying people and quiet, easy sunsets.
And like a lot of other places all over, history has inflated the self-styled "World's Luckiest Fishing Village," to another level of location where Britney Spears owns a £631,000 apartment and has been marketed/packaged as destin.com.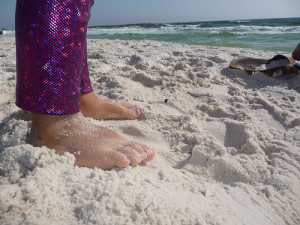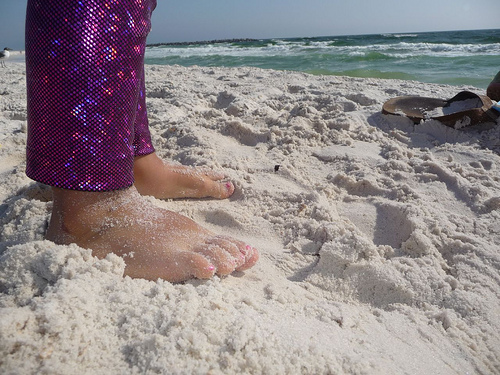 Mega attraction for the region, naturally, is the pure-white beaches, created supposedly by mostly quartz, pure silica sand, washed down from the Appalachian Mountains over a shitload of time.
The sand "squeaked" or "chirped" when you walked on it.
Taken together as a whole, between the sun and white sand, you could easily fry your ass bad during a beach outing — people picking at peeling skin, however how gross, was nonetheless a familiar sight — and 40 years ago there were miles and miles and miles of near-empty white beaches.
(Illustration found here).
One lingering sad, side-effect, however, of that Florida sand is the shitness of all other beaches in comparison.
Some parts of California's beach sand actually looks like shit — and having never traveled to the Caribbean or the Bahamas or the south Pacific — that remembered stretch along the panhandle carries the personal title of most-beautiful beaches on the planet.
Away from all that pearly white was the land of the locals — few tourists ventured much-north off the coast — where my family relocated from Alabama in 1957.

(Illustration of Choctawhatchee Bay found here).
Choctaw Bay is an estuary, where Gulf salt water and fresh inland water intermingle, the bay's only direct entrance to the Gulf is East Pass, just wee-west of Destin.
Growing up, I learned to spell the place only by doing this: Choc-ta-what-chee (or use the short, local version, 'Choctaw').
Still, it was years for me before the whole spelling became near-natural — if one lives in a region, one learns to spell its local places.
My family moved to the western shore of Choctaw Bay, an area dominated (as is much of the central panhandle) by humongous Eglin Air Force Base (seen at left in the above photo, even from space); my dad was in the civil service with the US Department of Defense (we'd just returned a few months earlier from a two-year-post in Japan) and he'd secured a job at Eglin.
The biggest air force base in the world — 724 square miles of land range and 101,000 square miles of air space, which extends over the eastern third of the Gulf — Eglin is also home to a major military Air Proving Ground Center, where all kinds of aircraft, munitions and other assorted nefarious devices are tested.
One near-recent noted test was for an enlarged bunker-buster bomb, constructed in such a way to create an experience similar to Vietnam's most-wonderful "daisy cutter," only way-worse, used a few times in the opening rounds of the original Afghan war way back in 2001.
And like all regions located near any military installation, especially one as big as Eglin, everybody and just about everything in the entire area was somehow connected to the base — most of my friends were military brats, or civil-service brats, or in some capacity related directly or indirectly to the vast inner workings of the base.
Of course, mingled minutely amongst the military were the home-born locals, people my daddy seemed to always call, "fish heads" (a native of the west Florida coast), but to my upwardly-mobile middle class, racially-stained, though mega-naive view they seemed to me during those times more in the 'poor white trash' category as anything else — memories remember me mostly feeling sorry for them.
Bigotry is inbred, or so it seems. And having grown up in the US deep south, bigotry is beyond horror, intolerance so much part of the system of life, it's near invisible (to the white man, of course, not to the black) and the disease so deep, deep-rooted in the white religious-right it can't help but breed a rather vicious form of hypocrisy.
(Maybe a later post on the mechanics of that attitude toward racial bigotry).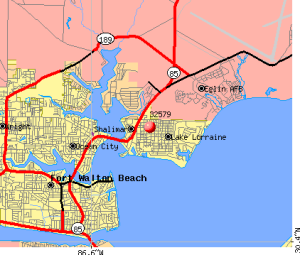 Anyway, back to Eglin Air Force Base and the early 1960s — my family eventually ended up in Shalimar, then a real-small town about three miles from of Eglin's south gate, right on Choctaw Bay and a junction of two bayous.
In those early, long ago years — 1959 to 1972 for myself, with my parents moving back to Alabama in 1980 — that little peninsula-like knob of land was in the days of a black-and-white JFK, a playground of natural innocence, my own three-year Camelot (fifth through the eighth grades).
Shalimar is situated along  major four-lane Eglin Parkway, and in them be-gone days, except for some homes along the shore line and a few houses sprinkled about amongst pines and palmetto, most of the town's inhabitants didn't live far off that main drag — the rest of the place was woods and swamp, a most-incredible place to explore and play.
Of course, the town grew, and grew quickly — by the end of the 1960s, a huge chunk of those woods and swamps were replaced by an 18-hole golf course and subsequent housing-subdivision (shown as Lake Lorraine on the little map just above) — and a Goggle Earth look at the place always makes me sad.
And my dad, I guess, helped the process along.
He was one of the town's first mayors — mention is made of him at shalimarflorida.org:
When Tom Maulden was elected Mayor in 1974, he wanted a real Town Hall with a real Police Department. Blackburn (the Shalimar's first 'Police Chief John Blackburn) was hired on as the "Police Department."
The beginnings were sparse.
Chief Blackburn didn't have a police car, nor did he have any crime fighting equipment.
He patrolled the Town in his own car.
The Eglin Military Police donated the first RADAR equipment to the Police Department.
…
At that time, Shalimar also hired its first maintenance man and moved to 13 Cherokee Road, a few houses from the current Town Hall.
In April 1979 when Mr. Tom Maulden offered to sell the house at 2 Cherokee Road for $46,000 to the Town, the Commission agreed to pay cash and immediately moved into its new home — a former single family residence.
This old single family facility was extensively renovated and expanded in CY2001.
Dude, be cool, that 'old single family facility' was where I spent them above-mentioned Camelot years.
In fact, while in the eighth-grade I got to see JFK in the flesh.
The visit to Eglin was briefly noted in a USAF Thunderbirds history: President John F. Kennedy was among the spectators at a May 1962 airshow at Eglin AFB, Florida, and in 1963, the "Tbirds" made their first European and North African tours.
The county school system suspended classes the day of JFK's visit, so a friend and I got on Eglin via his aunt, who worked on base, and had staked out a spot along the president's motorcade route, and seemingly had waited for hundreds of hours under a baking sun when he came into view, standing in back of an open limousine, waving to people on both sides of the street.
We waved back, don't know if he actually saw us, but we could see him pretty plain — big guy, with that way-familiar face on a big head with big shoulders — and he quickly disappeared down a small one-lane road heading out to the runway and Air Force One.
Life in May 1962 was fairly simple.
And although the US performed nine nuclear bomb tests in the South Pacific during the month, and beyond the paranoid Cold War, the globe was some-what way-more peaceful (or it seems).
The so-called Cuban missile crisis wasn't until that October, which shortly after the fact only enhanced JFK's perceived Camelot and even brightened more so its fuel, the Great American Dream — two US home-grown fairy tales.
Snug in the cocoon of illusion, however, makes for a different view.
During those long-ago Camelot days, a whole shitload of activity was water-centric, from swimming, boating, fishing, swimming, water-skiing, walking shorelines/beaches, swimming…one gets the picture…especially for a middle-class, dreamy-headed teen-ager in a way-naive era.
In the lower-eastern corner of Choctaw Bay is the mouth of the Choctawhatchee River (shown on the map at left), its origin found in middle-eastern Alabama, not far from the Georgia state line, and flows south into the bay.
One of the main tributaries off the Choctaw River, is the Pea River (yes, that's 'pea,' but as in sweet pea), which begins as beaver swamps in southeast Alabama, meanders a little west, then back east bit through a few counties, one being the place of my birth, Pike County.
The Pea joins the Choctaw River at about the Florida state line.
My parents build a retirement home on property right on the Pea River.
As did other relatives, who either lived on or near the river — it was a part of a landscape called the 'wiregrass region,' which included not only southeast Alabama, but parts of south Georgia and northwest Florida as well (named for the kind of grass, called wiregrass, found in the area).
In my neck of the woods — Pike, Dale and Coffee counties — the Pea River was also a socio-economic barrier: People north of the river tended to be viewed as a bit more drunkard, poor and slothful, closer to lawless status, than those south of the Pea, who were looked upon to be 'good folks,' i.e., less drinkin', fightin' and such (hypocrisy seemed to flourish much-much-easier south of the river, however).
My parents bridged the gap: She was from south of the river, and he from the north, and there was much acrimony for awhile, from what I could tell in my earliest years, but my dad slowly put aside those quasi-outlaw tendencies of the poor and ignorant to obtain a certain level of life, which included later being elected mayor of a Florida town.
And was ultimately viewed with much affection and trust by peoples both north and south of the Pea River (he died in 1984, my mom in 1998).
And having performed a great deal of swimming in the Pea River during my younger days, the chances are way-high that I've also peed in the Pea River — you can pretty-much bet your wet ass anybody that's took a swim in the Pea has put pee in the Pea.
(Theoretically-biologically, and not to mention way-metaphorically, there were visits to my grandparents in Alabama when I would swim in the Pea River, pee in the river (remember, I'm in the sixth-grade), return back to Shalimar, later on walk a block and go swimming in Choctaw Bay, thus, having a chance (though, way-way-minute) of swimming in way-diluted strains of my own urine).
Thus, the Gulf of Mexico is tied to beyond just the white-beached shoreline, but way-up into soil and life hundreds of miles away — all kinds of fish, birds, and all kinds of other animals and plant life dwell among what has through nature's time created an environment inter-locked and depended upon waters lapping up from the Gulf.
And, thus, prey to mankind's Camelot.
Of course, Camelot itself is a lie based on a misty myth bedazzled in journalism — actually living in those Kennedy years, no one called, or even thought about that particular period as any kind of anything, much less a Camelot.
Jackie Kennedy in cohorts with journalist/family friend Theodore White cooked-up the "classic metaphor" for a heroic national myth to rescue Jack Kennedy's presidency from reality.
In my own case, the early 1960s were just a good time to be young in that environment –Â  though, coincidently, within a short space due to circumstance and events, starting in early summer 1963, before Kennedy's death, and lasting at least through the Beatles on Ed Sullivan a few weeks afterwards, that 'good time being young' sense evaporated.
(Illustration found here).
An illusion created by the past made unreal by history.
And Jackie O, herself, has popped up in the news — this year is the 50th-anniversary of JFK's presidency, and in that regard, a new oral-history book, Jacqueline Kennedy: Historic Conversations on Life with John F. Kennedy, which also includes CDs of the audio of interviews she had with historian Arthur M. Schlesinger, Jr. in March 1964.
Reportedly, those tapes paint a picture of a then-34-year-old widow as variously audacious, narrow-minded and unsparingly tart (via LA Times).
And Jackie, though, in "the extreme stages of grief" displays a cool self-possession and a sharp, somewhat unforgiving eye (via New York Times).
Either deliberate or not, Jackie also really knew how to handle historical public perception.
Despite the tart mouth and the public-tell-all, came this apt comment from a piece in the Christian Science Monitor: But bits of the book remind you why at one point Americans could mention the Kennedy presidency in conjunction with the word "Camelot" and not wince.
Those Americans were most especially us baby boomers.
If you have any inclination to the progressive, you took the bait, hook-line-and-sinker, on the myth of JFK's Camelot.
And the myth dove-tailed nicely with the late 1960s and Vietnam.
Just as a few simple words from a Broadway musical could unleash a romantic myth, there's the simpleton fancy that life should continue on as before, only getting better — never-ending human economic growth is a myth — an economic Camelot, if you will.
My family climbed the ladder of the American Dream in the 1950s, a period of robust economic optimism (despite the Russkies), and indeed, for a time appearances indicated life could continue bigger, better.
The last near-200 years, the engine for global civilization moving forward is that economic societies grow and continually expand, thus, moving humanity on down history street.
In 1972 — with the US and the Western world at its peak — was published a book, "The Limits to growth: A report for the Club of Rome's Project on the Predicament of Mankind," which pretty-much outlined nowadays (though, at the time the book was met with much criticism) in a curb on this so-called expansion.
Physical chemistry professor and writer Ugo Bardi explains about "The Limits to Growth" at cassandra's legacy: The authors had developed a model that could keep track of a large number of variables and of their interactions as the system changed with time. They found that the world's economy tended to collapse at some time in 21st century. The collapse was caused by a combination of resource depletion, overpopulation, and growing pollution (this last element we would see today as related to global warming). Only specific measures aimed a curbing growth and limit population could avoid collapse.
Yet here we are nearly 40 years later.
The global economic meltdown is just part-and-parcel for a situation that just can't keep on, keeping on — the resources just ain't there.
Former World Bank economist Herman Daly in a May 2008 article at The Oil Drum:
The growth economy is failing.
In other words, the quantitative expansion of the economic subsystem increases environmental and social costs faster than production benefits, making us poorer not richer, at least in high consumption countries.
Given the laws of diminishing marginal utility and increasing marginal costs this should not have been unexpected.
And even new technology sometimes makes it worse.
In other words, life as we know it…

(Illustration found here).
Fueling that economic machine, of course, is oil.
And it's not just the obvious, like cars, airplanes, and ships at sea — oil dominates the planet:
Oil is everywhere.
It permeates our daily lives in ways we never think about.
It's in carpeting, furniture, computers and clothing.
It's in the most personal of products like toothpaste, shaving cream, lipstick and vitamin capsules. Petrochemicals are the glue of our modern lives and even in glue, too.
And that glue is about to harden, get brittle and break into tiny, little pieces.
I actually started this particular post more than a year ago — in June 2010 at the height of the BP horror show in the Gulf of Mexico when it appeared oil would gush out of those pipes for a millennium.
Although the accident was in my old backyard, I never blogged once about the event — instead I opted for daydreaming at the old laptop as the continuing disaster fueled a nostalgic blast from the past.
Although most of the TV news clips were of the New Orleans/Mississippi gulf coast, there was plenty of video of the beaches at Destin, Fort Walton Beach, Panama City Beach, Pensacola, all along my old Camelot haunts — but for some internal reason, I couldn't put memories into written words, except for little bursts.
So this piece lay buried in my 'Draft' box, where I picked at it like some kind of literary sore, adding a paragraph here, removing words from there, doing tons of Google Images search for the early 1960s, or maybe just being caught up in other news of war, death and pestilence, GOPer and Tea Party hypers that once the BP well was capped (supposedly) the post became itself a thing of the past.
Jackie O rekindled the interest.
Since this particular post was on the concept of a Camelot, a myth for just about everything, especially the economic one, and more-than-especially, the Camelot of oil, hearing that strangely-sounding-voice speak across the decades made me really sad.
So sad, apparently, I had to finish this long-winded trope.
And like any good mythical story turned real, the BP disaster in the Gulf is one of those stories that just keeps on giving — and reinforcing the need to go after energy in the worst of places.
An example: The reportedly huge oil reserves offshore of Brazil, to be producing in about two years, are way, way down yonder.
Ian Wyatt, chief investment strategist at High Yield Wealth (via Finance):
"… most of the oil in Brazil is in very deep water.
How deep?
Well first they must go down through 6,000 to 9,000 feet of water to access the sea floor…Then through 6,000 feet of rock…Then push further through a layer of salt that's another 6,000 feet deep…Then finally, at a depth of between 18,000 and 21,000 feet they'll hit the oil reservoir.
That's the equivalent of three and a half to four miles down."
Are you shitting me?
Deepwater Horizon's drill permit was for 18,000 feet, though, apparently there have been indications the drilling had gone another 7,000 feet further.
Just last week, the BP horror show via the weather: A coastal mayor says tests show tar balls washed onto Alabama's beaches by a recent tropical storm are from last year's BP oil spill in the Gulf of Mexico. Orange Beach Mayor Tony Kennon said Tuesday the connection was found in preliminary tests performed by Auburn University. Kennon says additional tests will be conducted to determine more details.
The shit will never be totally gone.
Also last week, a new report indicates more arrogant incompetence by BP led to the Deepwater Horizon blowout:
Other investigations have faulted misreadings of key data, the failure of the blowout preventer to stop the flow of oil to the sea, and other shortcomings by executives, engineers and rig crew members.
Meanwhile, interviews and documents obtained by The Associated Press show a BP scientist identified a previously unreported deposit of flammable gas that could have played a role in the Gulf of Mexico oil spill, but the oil giant failed to divulge the finding to government investigators for as long as a year.
And this the oil industry which is just about regulating itself — a New York Times piece this week revealed just how horribly operated is those pipelines to get that deep-dug oil to refineries and then on to my Jeep Comanche.
Those recent big spills into the Yellowstone and Kalamazoo rivers have drawn attention to oversight of the 167,000-mile system of hazardous liquid pipelines crisscrossing the nation.
Add least we forget, also include that hazardous PG&E-maintained natural gas pipeline in San Bruno, California, which exploded last September, killing eight people and destroying a neighborhood.
And last month, the National Transportation Safety Board jammed on PG&E, tore the utility a new asshole, reporting the company:
…exploited the lack of monitoring by regulators, who mistakenly placed "blind trust" in the utility.
…
"This represents a failure of the entire system, a system of checks and balances that should have prevented this disaster," said Robert L. Sumwalt, an NTSB board member. "The seam weld may have been the technical reason, but this was an organizational accident."
Not only does one have to contend with the high-minded concept of 'peak oil,' but having an enormous accident-waiting-to-happen in one's own backyard.
Mankind is poised most-likely beyond the precipice, gripped in the double pincers of peak oil and climate change — odd ironic circle as both are nefariously interconnected.
Camelot as confounded.

(Illustration found here).
And just chucked-full of black humor.
Progress may have been all right once, but it went on too long…
— Ogden Nash, "Come, Come, Kerouac! My Generation is Beater Than Yours," New Yorker, 1959 April 4 .
Happy memories of un-reality.