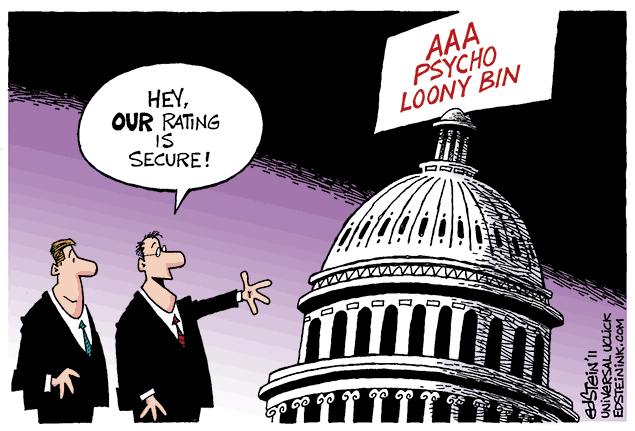 Too early for nausea already — an election year with a bad, bad hangover of way-too much asshole behavior:
A new Washington Post-ABC News poll shows a new high — 84 percent of Americans — disapproving of the job Congress is doing, with almost two-thirds saying they "disapprove strongly."
Just 13 percent of Americans approve of how things are going after the 112th Congress's first year of action, solidifying an unprecedented level of public disgust that has both sides worried about their positions less than 10 months before voters decide their fates.
(Illustration found here).
And what has President Obama now have somewhat/maybe in common with Dick Nixon?
From ABC News:
Congress' rating is a broad 35 points below Obama's 48 percent approval, the biggest gap between approval of the president and Congress since 1990.
Obama, though, still has plenty of challenges of his own: In polling since 1940, just four previous presidents have started their re-election year with less than 50 percent approval.
Only one of them won, Richard Nixon in 1972.
This year is going to be really interesting, but so full of bullshit.
All this is a normal attitude for US peoples who have been ass-kicked by the assholes in Congress — and the White House — and ended 2011 with low wages in a losing job market, a bad housing operation and an economy that just won't pick-up any kind of steam.
Not helping is the ugly, approaching fact the US market is shrinking — valuations are so low that executives would rather buy back shares than spend the cash to expand — and this will only bleed down to the guy on main street.
Hence, a change, an occupation is coming.
Instead of Wall Street, maybe Congress, and today is the day when a huge protest is expected in DC to highlight the bullshit on Capital Hill.
"Often the complaint that I hear is that, 'you guys are targeting the wrong people.' And so we have that discussion about you know whether or not Wall Street is the source of the problem or really Congress is," said Aaron Bornstein, a 31-year-old neuroscientist and member of the Occupy Wall Street Think Tank, which will hold discussions at the event.
"They're really two sides of the same coin," he continued.
"You can't have the corruptive influence without both the people who are doing the corrupting and the people who are corrupted."
And never the twain…