Overcast once again this morning on California's northern coast and seemingly warmer, too.
In this high-level fog, the air is quiet and still.
Nature, however, is beyond calm.
If we can move beyond the getting-more-stupid phase of US politics (i.e., Mitt Romney) and into the most-dreaded of upcoming events most are only aware on a small note, but each day becomes more and hazardous to health and life — global warming/climate change.
(Illustration found here).
As we US peoples try to fashion a life around the incompetent horror of our elected leaders — and President Obama I'm talking to your sorry ass, too — the environment we depend on for every f*cking thing is going to shit in a wire basket.
Earth is the Titanic, but in this particular mode, there's more just those two look-out guys more interested in Jack and Rose making out then watching for 'bergs, there's a shitload of people on the bow screaming their brains out in warning — turn, turn TURN!
But Jack and Rose are more interesting.
Just yesterday, more yelling from the forward part of the Titanical earth.
Via Raw Story:
Columbia University and the environmental activist group Greenpeace held separate events Wednesday to discuss US government data showing that the Arctic sea ice has shrunk to its smallest surface area since record-keeping began in 1979.
Satellite images show the Arctic ice cap melted to 1.32 million square miles (3.4 million square kilometers) as of September 16, the predicted lowest point for the year, according to data from the National Snow and Ice Data Center in Boulder, Colorado.
"Between 1979 and 2012, we have a decline of 13 percent per decade in the sea ice, accelerating from six percent between 1979 and 2000," said oceanographer Wieslaw Maslowski with the US Naval Postgraduate School, speaking at the Greenpeace event.
"If this trend continues we will not have sea ice by the end of this decade," said Maslowski.
While these figures are worse than the early estimates they come as no surprise to scientists, said NASA climate expert James Hansen, who also spoke at the Greenpeace event.
"We are in a planetary emergency," said Hansen, decrying "the gap between what is understood by scientific community and what is known by the public."
…
One consequence of the melt is the slow but continuous rise in the ocean level that threatens coastal areas.
Another result is the likely release of large amounts of methane — a greenhouse gas — trapped in the permafrost under Greenland's ice cap, the remains of the region's organic plant and animal life that were trapped in sediment and later covered by ice sheets in the last Ice Age.
Methane is 25 times more efficient at trapping solar heat than carbon dioxide, and the released gases could in turn add to global warming, which in turn would free up more locked-up carbon.
"The implications are enormous and also mysterious," said environmentalist Bill McKibben, co-founder of 350.org, a global non-governmental organization focused on solving the climate crisis.
This outcry over the melting Arctic has been floating in the airways for some time.
A good technical view of the extent of the Arctic sea ice melt can be found here.
And an examination of that insidious permafrost/methane clusterf*ck can be found here.
This phenomenon will affect/effect everything and everybody — Romney's mockery at the RNC last month is an insight on how big a problem bringing climate change under control will be, and is most-likely a lost cause.
From Scientific American this week:
Climate change is a threat to everything from coffee plantations to Arctic foxes and even a moderate rise in world temperatures will be damaging for plants and animals in some regions, experts said on Wednesday.
Habitats such as coral reefs or the Arctic region were among the most vulnerable to global warming, scientists said at a conference in Lillehammer, south Norway, organized by the Global Biodiversity Information Facility (GBIF).
Almost 200 governments agreed in 2010 to a goal of limiting global warming to below 2 degrees Celsius (3.6 Fahrenheit) above pre-industrial times, seen as a threshold for dangerous changes such as droughts, floods, desertification and rising sea levels.
"At 2C you have impacts.
The idea that 2C is a safe level doesn't really hold up," said Jeff Price, coordinator of the Wallace Initiative, an international group seeking to model the effects of climate change on 50,000 types of plant and animals.
"And when you start moving beyond 2C the impacts on biodiversity start rapidly increasing through much of the world," he said.
Greenhouse gases from burning fossil fuels are the main cause of warming, according to a U.N. scientific panel.
And from Environmental News Network yesterday:
Fast-flowing and narrow glaciers have the potential to trigger massive changes in the Antarctic ice sheet and contribute to rapid ice-sheet decay and sea-level rise, a new study has found.
These glaciers are suspected to act as a sort of stream that drain off inland ice sheets.
Research results published in the journal Proceedings of the National Academy of Sciences reveal in more detail than ever before how warming waters in the Southern Ocean are connected intimately with the movement and thinning of massive ice-sheets deep in the Antarctic interior.
Dr Chris Fogwill, an author of the study and an ARC Future Fellow with the UNSW (University of New South Wales)Climate Change Research Center:
The finding is important because of the enormous scale and potential impact the Antarctic ice sheets could have on sea-level rise if they shift rapidly, says Fogwill.
"To get a sense of the scale, the Antarctic ice sheet is 3km deep – three times the height of the Blue Mountains in many areas – and it extends across an area that is equivalent to the distance between Perth and Sydney."
This is about 2000 miles.
"Despite its potential impact, Antarctica's effect on future sea level was not fully included in the last IPCC report because there was insufficient information about the behavior of the ice sheet.
This research changes that."
The heat is reaching down deep — from Mother Jones on Tuesday:
Sea surface temperatures (SSTs) off the East Coast from North Carolina to the Gulf of Maine were the hottest ever recorded for the first six months of 2012, according to NOAA's latest Ecosystem Advisory.
Above-average temperatures were found everywhere: from the sea surface to the ocean bottom and out beyond the Gulf Stream.
The area is known as the Northeast Shelf Large Marine Ecosystem.
Parts of it were declared a fisheries disaster last week (I posted about that here: Fisheries Declared Disasters on Four Coasts).
This was due to the fact that stocks of cod, yellowtail flounder, and other groundfish are not rebuilding even though most fishers have adhered to tough quotas.
…
Kevin Friedland, a scientist in NOAA's Northeast Fisheries Science Center Assessment Program (NEFSC), says the average sea surface temperature exceeded 51°F (10.5°C) during the first half of 2012.
Whereas the average SST during this period over the past three decades has typically been below 48°F (9°C).
So really worrying about all kinds of shit can be useless when in just a short space all those problems won't even be remembered — we'll all have trouble just staying alive.
Meanwhile…to a way-much-more beautiful subject….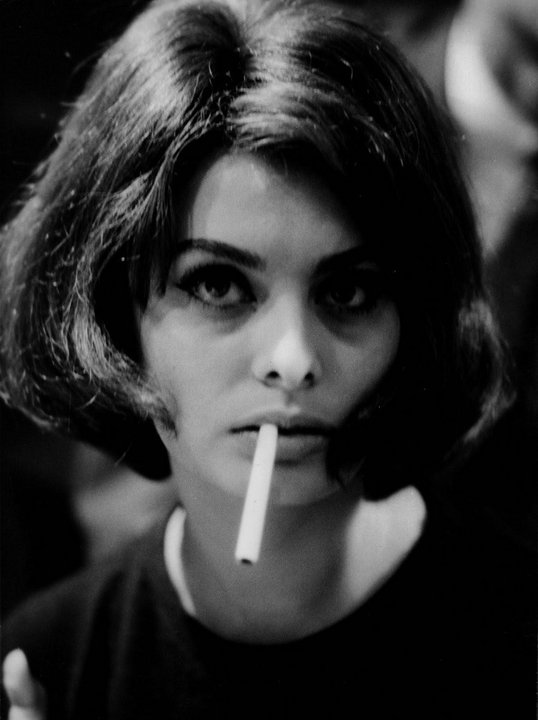 HAPPY, HAPPY BIRTHDAY!
Probably my all-time-most-favorite actress of all time, Sophia Loren, will turn 78 today — hard to believe that wow photo at left is that old, yet even at that advanced age she still carries a certain class that very, very few people nowadays can project.
My first movie-going memory of her was in a comedy, Houseboat (1958) with Cary Grant, though, she'd already been in a ton of films before, this was my first view of those…that….sweet face.
In the eighth grade and after seeing El Cid, I wanted to marry her — always had a thing for brunettes (in the fourth grade it was Annette Funicello, in the eighth was Loren, and by high school, the crush was Natalie Wood).
Loren was always the it girl for me, however.
(Illustration found here).
Global warming and Sophia Loren — what a mess.