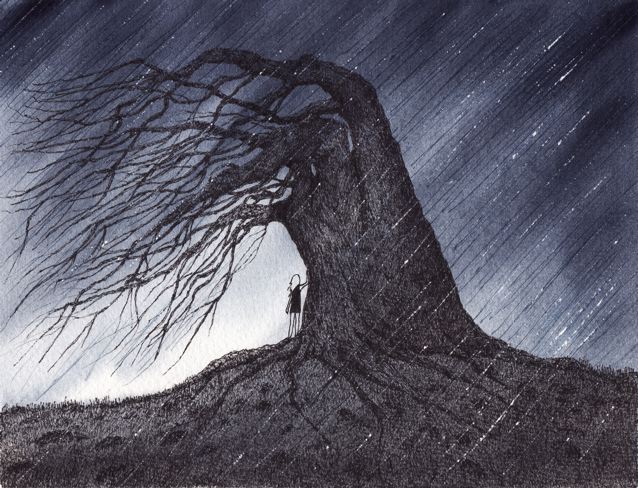 A wild weather ride this morning as a big storm front is slamming into the northern California coast with winds already creating knocking noises with more to follow — wind, rain and fear.
A West Coast sensation: The culprit is a weather phenomenon called an "atmospheric river," which channels tropical moisture all the way across the Pacific Ocean like a fire hose. Sometimes called a "pineapple express," these storms are viewed by weather experts as California's equivalent of a hurricane.
(Illustration found here).
I don't really like loud weather.
Wind and rain and noise and all the blowing around makes me nervous, makes it hard to concentrate or even think.
And this system came blasting in at the right time: If you live on the West Coast you have a pretty good chance of catching this lunar eclipse, if you're willing to drag yourself out of bed from 4:15 a.m. PST when it begins, to 6:15 a.m., when the eclipse peaks — meaning, the biggest portion of the moon will be eclipsed by Earth's penumbra.
This type of eclipse is caused when the moon passes through the hazy outer edge of the earth's shadow, called the penumbra — it's more than freakin' hazy up here right now, so moon watching is most definitely out.
One can see it live here is one wants.
Moon gazing through swirling clouds of noise.
Via the National Weather Service for northern California: Tie down or bring in items to prevent them from being blown away by the wind. Be prepared for power outages.
No shit, Sherlock
Weather is a natural process of earth life — been this way a long time.
And bad weather is part of the mix — I grew up in the deep south where tornadoes were a natural life form, but I didn't really care for them too much and at a way-early age I could get near-hysterical with the noise.
Thus, I need medication for what's coming — bad weather has undergone a change the last few years, and now it's termed, 'extreme weather.'
All bad all the time and it happening now.
Just as the UN climate change nit-twits are meeting this week in Qatar, the World Meteorological Organization issued an obvious statement this morning (via Reuters):
"The extent of Arctic sea ice reached a new record low.
The alarming rate of its melt this year highlighted the far-reaching changes taking place on Earth's oceans and biosphere," said Michel Jarraud, head of the Geneva-based WMO.
"Climate change is taking place before our eyes and will continue to do so as a result of the concentrations of greenhouse gases in the atmosphere, which have risen constantly and again reached new records," he added in a statement.
And just to reveal how insane humanity is handling this approaching  real and true apocalypse, make note of this from the UK's Guardian:
Holding a climate-change conference in Qatar, the country with the world's highest per capita carbon emissions, might seem like a joke, but the UN isn't renowned for its sense of humour.
This year's fraught negotiations on a replacement for the Kyoto protocol are taking place in Doha, the Qatari capital, where they are fuelled by some of the most inefficient, profligate, carbon-spewing power generation in the world.
Qatar makes most of its money — GDP is $170bn (£106bn) a year — from selling oil and gas.
It has the world's third -biggest natural gas reserves and is the top supplier of liquefied natural gas, according to the US government's Energy Information Administration.
As delegates shiver in the Arctic (and Arctic-melting) air-conditioning, the Qatari government is raking in $230m every day from exporting fossil fuels.
Despite the huge potential for solar power, there are no renewables to speak of.
…
The Qatari government, even though it volunteered to hold the conference, seems rather bemused by it.
Qatar, which will hold the football World Cup in 2022, is trying to develop an international reputation for hosting big events and it seems quite possible that agreeing to hold the UN on climate was purely a reflex action.
The government may be regretting it.
Abdullah Bin Hamad al-Attiyah, the former Qatari oil minister who is hosting the conference, was ridiculed when he said: "We should not concentrate on the per capita [emissions]. We should concentrate on the amount from each country."
For climate talks, that is heresy.
Then, we need more of it.
Just as that Qatari oil minister said, countries need to wake up, including in the US and President Obama should at least make an effort, not toward the dumb-ass and non-emergency 'fiscal cliff,' he should be concentrating on the 'climate cliff.'
Instead, he's being political:
Barack Obama has signed a law excluding US airlines from the European Union's carbon trading scheme, delivering a blow to campaigners' hopes for stronger climate action during the president's second term.
Environmental campaigners had urged Obama to veto the aviation bill as a sign of his commitment to fighting climate change in his second term.
The White House said in a statement Obama still saw climate change as a priority but that he disagreed with subjecting US and other foreign airlines to the EU emissions trading scheme.
Pleze, just give me some more of that old-timey tornado.