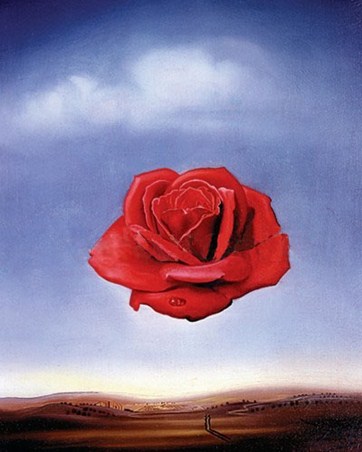 One great wonder of nature is a clear, clean and cold sunrise — here this Sunday on California's north coast light approached in a ever-expanding wave of bluish-white.
And did I say, cold?
Record low temperatures all over the area last night and this morning, and bringing all the assorted frigid conditions these percolating icebox-like thermometer readings cast down upon us — frozen pipes, plants and animals, and all around these parts is something called "black ice," which scares me shitless. Moisture that freezes and doesn't get any sunlight or warmth during the day, will stay frozen, and invisible.
We're under a hard freeze warning until later this morning, and the same for tonight and tomorrow morning — but cold is cold all over, from Pacific to Atlantic and clustered with the Gulf of Mexico.
(Illustration: Salvadore Dali's 'La Rose' found here).
Far, far to the east and the Washington Post's version of cold is epitome nationwide: The bigger deal with this storm is ice, in the form of sleet and freezing rain this afternoon into tonight.
Or Chicago: Temperatures aren't expected to rise above freezing before Thursday.
Weather extremes always dominate the news, and conversations, but nowadays there's way-much more to the old homily, 'talking about the weather,' than just idle chit-chat. In conversations: "It is a way of breaking the ice."
Cute connection to weather — hahaha…
Climate change doesn't recognize hot or cold. From the Guardian last March, on last year's winter storms, and the near-facsimile it could have been published this morning: Climate scientists have linked the massive snowstorms and bitter spring weather now being experienced across Britain and large parts of Europe and North America to the dramatic loss of Arctic sea ice.
And this from Scientific American four years ago, and most-likely, more than extraordinary today:
"You can't tell much about the climate or where it's headed by focusing on a particularly frigid day, or season, or year, even," writes Eoin O'Carroll of the Christian Science Monitor.
"It's all in the long-term trends," concurs Dr. Gavin Schmidt, a climatologist at NASA's Goddard Institute for Space Studies.
And in tune with something I just did:
If nothing else, we should all keep in mind that every time we turn up the thermostat this winter to combat the cold, we are contributing to global warming by consuming more fossil fuel power.
Until we can shift our economy over to greener energy sources, global warming will be a problem, regardless of how warm or cold it is outside.
Onward into the unbearable lightness of cold.