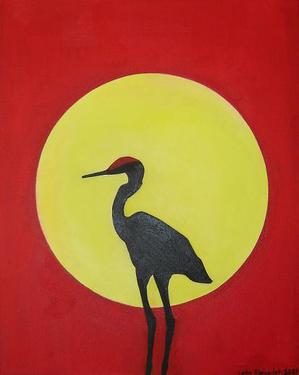 A kind of glowing overcast this early Monday on California's north coast, clouds with sunshine right behind, seeking to brighten up start to the first work week of 2015 — weather-wise pretty nice around here the next few days.
Maybe some supposedly 'very-light precipitation' Thursday, but the outlook looks sunny.
Cold, though.
Relative again — 46 degrees here right now, about the same as yesterday — and cold as shit in a lot of places (via USAToday): 'The coldest weather of the season is barreling into the U.S. this week with a series of "dangerously cold" arctic air masses.
The blasts of cold air will send temperatures 10-35 degrees below average for early January, Weather Channel meteorologist Roy Lucksinger said.'
(Illustration found here).
In the landscape of the world, I sometimes find it hard to make note of things, mainly because nowadays there's such an overdraft of so many horrific things — and the posts have much-less substantial residual power.
Nevertheless, Miss Emily Dickinson, sets the weight-and-scales as a new year percolates onward — "Poem 445" ('Twas just this time, last year, I died'):
Twas just this time, last year, I died.
I know I heard the Corn,
When I was carried by the Farms —
It had the Tassels on —

I thought how yellow it would look —
When Richard went to mill —
And then, I wanted to get out,
But something held my will.

I thought just how Red — Apples wedged
The Stubble's joints between —
And the Carts stooping round the fields
To take the Pumpkins in —

I wondered which would miss me, least,
And when Thanksgiving, came,
If Father'd multiply the plates —
To make an even Sum —

And would it blur the Christmas glee
My Stocking hang too high
For any Santa Claus to reach
The Altitude of me —

But this sort, grieved myself,
And so, I thought the other way,
How just this time, some perfect year —
Themself, should come to me —
And the morning is about to give way to afternoon — apparently, way-too-much mental clatter between that opening graph up above and this final word.