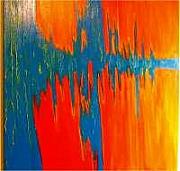 Sunny here mid-late-afternoon on California's north coast — warm for awhile, opened windows for a time, too. Pleasant weather the last few days.
This a post I actually started last week, but shoved aside, or maybe, let it be 'trembled' aside — subject, "earthquake swarms." Although I personally don't like to see nefarious patterns like that, especially in my own personal vicinity, living in definite earthquake country creates more than just a little paranoia.
(Illustration: 'Earthquake,' by Jakara Art, found here).
A nutshell definition from the USGS: 'Earthquake swarms are generally defined as clusters of earthquakes closely spaced in time and area that do not have a defined mainshock.'
And 'swarms' follow after a big shaker, too.
Or not — last Tuesday/Wednesday in north Texas, 11 earthquakes in one 24-hour period.
From CBS-Dallas:
There have been at least 26 earthquakes in the Irving area since November 1.
Prior to that, the Azle area was rocked by a series of earthquakes in November and December of 2013.
Jana Pursley, a geophysicist from the U.S. Geological Survey, stated that Tuesday's tremors were the "largest since the earthquakes started happening there in the last year."
And so this morning, after no earth movement on Thursday, another quaked rattled the area.
From the Dallas Morning News:
Well, we made it through at least one day without feeling an earthquake.
But following Thursday morning's pair o' mini-temblors near the former Texas Stadium site, the U.S. Geological Survey confirms your tweets and emails following some late-morning shaking going on in Irving.
Only this one was in Dallas.
Says the USGS, we had a 2.6-magnitude quake at 11:39 along Harry Hines Boulevard, near the Webb Chapel Extension split at Bachman Lake.
The ghost of Club Schmitz!
That's No. 15 since Tuesday's 3.5-magnitude quake that half the people in your office felt.
I've lost count how many that's been since September — something like 30.
Could be a thousand.
Hard to say. And as a Northwest Dallas resident, I'm also suffering from Phantom Quake Syndrome.
Or PTSD. Could just be those new cracks in the wall.
And really not part of time, more of a new occurence: 'Since 2008, more than 100 quakes have hit North Texas; 45 were in the Irving area alone and more than 20 happened in just the last three months. Before 2008, only one earthquake had ever been recorded in the area. So, historically, earthquakes are a very rare occurrence in North Texas.'
Swarms…
Much closer to my frightened ass is the swarm originating out of a region around Lakeview, Ore., in the southern part of the state, near the California border, and the 'sequence of earthquakes' started supposedly this past June, and continues seemingly unabated.
The latest in that area, a 3.1 early Wednesday morning, and the trend continues.
From OPB.Org last month:
Since mid-July, state and federal geologists have detected over 1700 earthquakes in the area where the Oregon, California, and Nevada borders meet.
Earlier this week scientists with the Nevada seismological lab sent out an e-mail to their regional colleagues noting that the swarm appeared to have stopped.
"An hour later there was a magnitude 4.2 earthquake and since then it has been just crackling along," says Ian Maden, Chief Scientist at the Oregon Department of Geology and Mineral Industries.
He says there has been at least an earthquake an hour since the swarm started again, though the reason is still unclear.
"If we understood what was causing this then we might have some sense as to why it turns and turns off. What we have learned is that it's a bad idea to say that it's over."
I've had my nervous eye on that area for awhile.
All this came with an earthquake way-near-me last Saturday. Although I hadn't felt a thing, a 2.7 rattler was near enough for my town,'Mckinleyville,' to be the landmark USGS label for closest city — first time I can recall that happening — and was recorded to be 18 miles due west of us, down about 12.5 miles. Supposedly hard for humans to detect quakes under 3.0.
Later that same morning, just north of Laytonville, down in Mendocino County, a 3.3-rated shaker, but longtime friends who reside right in the area, also said they felt nothing.
So swarm maybe not…
Right now at dusk, though, my USGS earthquake map shows clean for the entire US, a rarity, but an event that does happen on occasion. Only earthquake activity on the entire continent are the new-normal 'swarms' in Oklahoma…