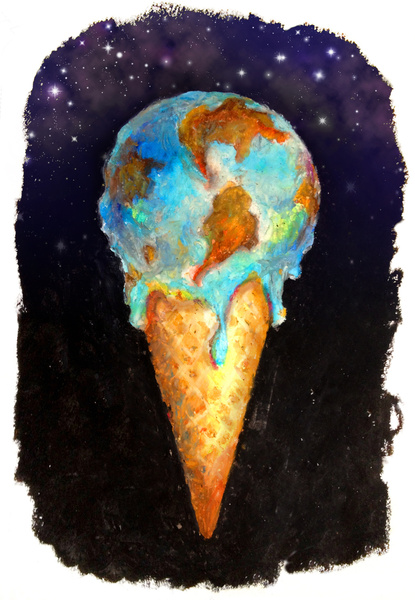 Near-about crystal clear this early Tuesday on California's north coast, and although there's a frost advisory for the area and we're just now a few degrees above freezing, cold weather is way-relative these days.
Seemingly, a vast relative contrast, too.
In an environment driven nutty — yesterday, science writer Bob Henson at WunderBlog, and February's extreme behavior:
'This year millions of people experienced either the warmest or coldest February for their locations, with records in some cases going back more than 100 years. A number of cities had their coldest average temperature for any month on record—truly stunning in a climate that's running close to a record-high global air temperature. Meanwhile, February proved to be the warmest winter month ever documented across a huge swath of the West.'
(Illustration above found here).
Biggest slice was the heat:
If we pull back to examine the winter as a whole, it's the western warmth that really stands out.
More than 20 reporting stations saw their warmest winters on record, including San Francisco, Las Vegas, Seattle, Salt Lake City, and Portland, Oregon.
December was very mild nationally (the 2nd warmest in 120 years of U.S. record keeping), which blunted the ability of the last few frigid weeks to set any coldest-winter records in the eastern U.S.
Flowers are blooming on California hillsides weeks ahead of schedule.
Pleasant as all this might seem to folks freezing in the East, the warmth and relative dryness have left much of the West vulnerable to major drought impacts in the coming summer.
And California's drought, thanks to all that warmth, is supposedly to become a future fixture — part of the modern Left Coast buzz.
Yesterday, a new Stanford study forecasts parchedness.
From the San Jose Mercury News:
"What has happened in California has been a clear warming trend over the historical record … that probably would not have happened without humans," said Stanford climate scientist Noah Diffenbaugh.
The continuation of global warming "will result in more frequent occurrences of high temperatures and low precipitation that will lead to increased severe drought conditions," said Diffenbaugh.
…
Reinforcing the drought's threat, one weather agency is reporting that many Bay Area cities have broken records for the warmest winter in history.
Average temperatures for December through February were 54.44 degrees in San Jose, up from the 54.42 degree record of 1996; 52.62 degrees in Livermore, up from the 51.72 degree record of 1996; and 57 degrees in San Francisco, up from the 55.70 degree record of 1970, according to Jan Null of Golden Gate Weather Services.
The Stanford study supports the growing recognition that warming temperatures can worsen a drought that is driven by declining precipitation, noted Richard Seager of Columbia University's Lamont-Doherty Earth Observatory, who was not involved in the research.
"This is happening all over the world — there is nothing unusual in terms of California," said Seager.
Everybody's California Dreamin' …or not…
Climate change is already here, with the worse aspects shortly to arrive, and not only does the planet have to get our shit collectively together, but here in the US, there's horror-show shit from some in our government.
Last week, Sen. James Inhofe, in a pure example of this, displayed a snowball during a Senate-floor speech, crying the hoaxness of climate change — Inhofe would be just another idiot-shithead in passing if he didn't chair the powerful Committee on Environment and Public Works.
However, apparently the asshole was rebutted in the same venue by Rhode Island Senator Sheldon Whitehouse — I hadn't heard about it until this morning.
Via Scientific American:
"You can believe NASA and you can believe what their satellites measure on the planet, or you can believe the Senator with the snowball.
The United States Navy takes this very seriously, to the point where Admiral Locklear, who is the head of the Pacific Command, has said that climate change is the biggest threat that we face in the Pacific…you can either believe the United States Navy or you can believe the Senator with the snowball…every major American scientific society has put itself on record, many of them a decade ago, that climate change is deadly real.
They measure it, they see it, they know why it happens.
The predictions correlate with what we see as they increasingly come true.
And the fundamental principles, that it is derived from carbon pollution, which comes from burning fossil fuels, are beyond legitimate dispute…so you can believe every single major American scientific society, or you can believe the Senator with the snowball."
Snowball's got a hog's fart of a chance…