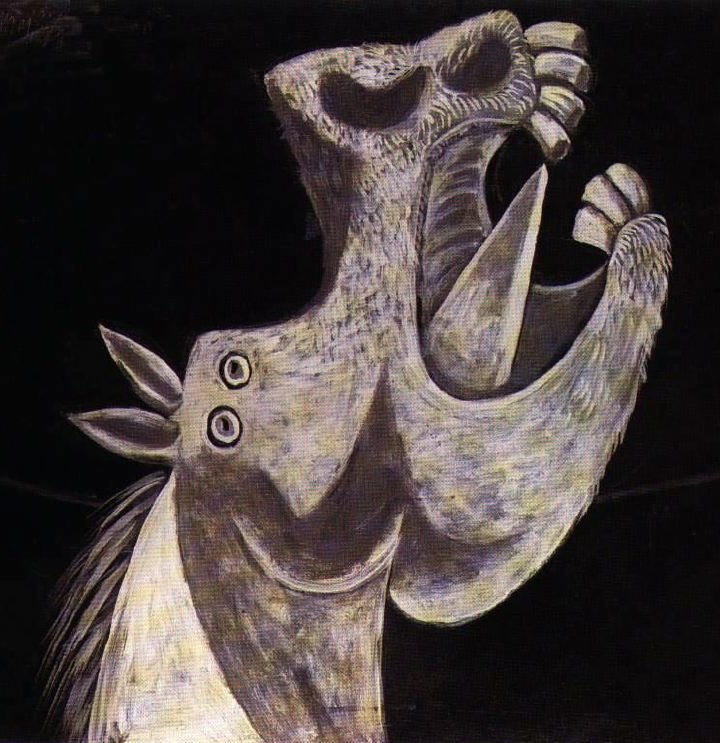 Clear and cold this early Wednesday on California's north coast, sunshine and just a few degrees above freezing — we're under a Frost Advisory again, too.
Tilting through a little dry spell right now it seems, and from the NWS anyway, the immediate-future forecast looks rainless until at least the end of next week. And how close/far is 'immediate-future' in real time?
In one indicator came yesterday via Santa Rosa's Press Democrat: 'California's third snow survey this winter found the Sierra Nevada snowpack is far below normal and leaning toward being the lowest on record in more than two decades.'
(Illustration: Pablo Picasso's 'The Head of the Horse,' found here).
Last weekend's Sierra snowfall delighted the ski crowd, but didn't do shit for the infamous California drought — the newest survey revealed a snowpack water equivalent of just 0.9 inches, in contrast to numbers from the last one, Jan. 29, which had 2.3 inches of water equivalent in the same spot.
Frank Gehrke, chief of the California Cooperative Snow Surveys Program: '"It's very meager and it is clearly flirting with being the lowest on record."'
Hence, the 'immediate future.'
And this 'future' is already 'immediate' right here on my little speck of the northern California coast — yesterday the Lost Coast Outpost more-localized the warming of warm temperatures: 'The US National Weather Service has been collecting temperature data here in Eureka since 1886. During those 129 years, no winter — defined, in this case, as the three month span from the beginning of December to the end of February — has ever been warmer than this one.'
Climate change is more-than–way-likely the gravest threat mankind has ever faced in one, catastrophic swoop, and again, more-than-way-likely, cannot be averted to any great extent, at least at the current rate of attention. The horror is how subtle the approach, despite red flags, warnings, alerts and all kinds of studies/research papers supporting the coming onslaught the past nearly 30 years — in some cases, further back in time — and a situation where actual action required to ward-off disaster is quickly approaching the old newspaper cliché for a new-major development in a major story: "Stop The Presses!"
Except in this particular case, it's "Stop Everything, Now!"
And likelihood of that happening?
Just about every week a new scientific thingy on climate change, revealing bad shit in the Arctic, in Russia, or wherever, and this week is no different with a report on subtly-acting tree leaves.
Yesterday, from Grist:
Basically, a new study published yesterday in the journal Nature Climate Change shows that vegetation patterns around the world are shifting thanks to climate change.
Between 1981 and 2012, the timing of leaf emergence ("leaf-on") and death ("leaf-off) apparently "changed severely" on 54 percent of the planet's land surface.
That means leaf life-cycles around the world are changing — which could, in turn, mean more changes to the global climate.
The specific forces behind these shifts could be a variety of things — local precipitation changes, temperature changes, shifts in atmospheric CO2, etc. — but one thing's for sure: As much as climate change can mess with vegetation, vegetation can mess right back.
Among climate-altering capabilities, plants have the power to tweak cloud formation, to change the amount of sunlight reflected away from the earth, and to alter heat exchange between the land and the atmosphere.
Plus, subtle changes in vegetation can also mess with ecosystems: Some bird and insect species have already felt the effects of these changes as their life-cycles have fallen out of sync with the plants around them, according to Steven Higgins, one of the researchers behind the study.
A wide-reaching phenomena, to say the least, especially when everything appears 'out of sync.'