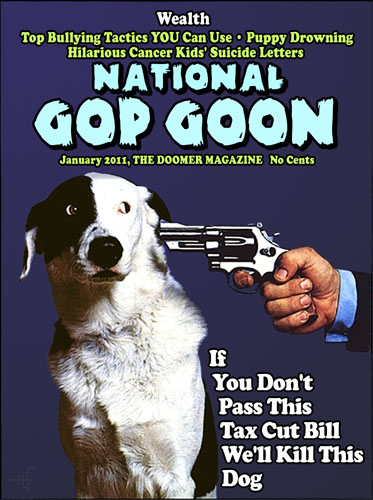 Rain in the gutters this early Wednesday on California's north coast — the NWS calls it 'showers,' and this system is forecast to be fairly light, pass-by-gone by tomorrow, and more possible wetness over the weekend.
One hot news item — the GOP's Iranian letter, "unprecedented" maybe in American history.
Veteran political writer Michael Tomasky at The Daily Beast this morning offers most-likely the most-appropriate response: 'This Senate letter is the definite low of all time. I didn't think these people could shock me, but this one genuinely was shocking in so many ways — not least the dishonor it brings on the United States Senate — that every other nutso thing they've done drops down one notch on the charts.'
Indeed, 'charts' in degrees of malignant lunacy.
(Illustration found here).
If you've been following this bullshit, these 47 asshole-Republican senators, apparently led by nit-twit freshman Tom Cotton of Arkansas, penned an open letter this week to the Iranians, attempting some half-assed ploy to create mischief in the current nuclear arms/control talks, but apparently idiots are either dangerously ignorant, or they just don't give a shit (via ABC News):
Cotton and his colleagues in Congress are waging that old struggle anew. Whether their "open letter" to the ayatollahs is wise is another matter.
(Cotton apparently fancies himself a constitutional scholar. In fact, he declares that the Iranian leadership "may not fully understand our constitutional system." But his letter contains a pretty egregious constitutional error, one that would get him marked down sharply on a first-year con-law paper).
He writes that "the Senate must ratify [a treaty] by a two-thirds vote."
But the Senate does not "ratify" anything.
Ever.
The Senate advises and consents to treaties and other international agreements, and the president, in the name of the United States, ratifies them as binding law on the country in its international relations.
This fact is not obscure.
It is not hard to find.
Indeed, a senator can find it on the Senate's own webpage: "The Senate does not ratify treaties. Instead, the Senate takes up a resolution of ratification, by which the Senate formally gives its advice and consent, empowering the president to proceed with ratification."
Supposedly, those Cotton and his idiots also might have broken the Logan Act of 1799, which can lead to three years in the hoosegow if convicted — and apparently won't (US News and World Report):
Fortunately for Republican Sen. Tom Cotton of Arkansas and the 46 Senate co-signers of his open letter to Iran, the law is not enforced and is likely unconstitutional.
"They probably were in violation of the act, yes," says Stephen Vladeck, a professor at the American University Washington College of Law.
House Speaker John Boehner, R-Ohio, probably broke the law, too, by working with Israeli Prime Minister Benjamin Netanyahu to undermine the nuclear negotiations with Iran, he says.
But Vladeck, co-editor-in-chief of the legal blog Just Security, says senators could argue they were indeed acting with the authority of the United States or more convincingly that the act violates the First Amendment.
"The Logan Act is a vestigial and anachronistic holdover from a bygone era," he says.
"There's never been a successful prosecution under the act, and the last indictment was in 1803."
The Republican party is nothing more than a crazed crowd of crazies. Most-likely since Ike, the GOP has eroded into a self-centered, elitist-gibberish-sprouting bunch of useless fucks, especially since John McCain introduced idiot-queen Sarah Palin upon the ignorant, mean-spirited masses.
And obstruction became a governing tool.
Yet even in the nefarious jaws of old-school GOP, Dick Cheney's recent meeting with members of the House Republican whip team drew this bit of horrid advice from Randy DeCleene, Cheney's deputy press secretary from 2004 to 2005, at The Hill, also this morning,
Despite the unfair shake he gets from the media as well as Democrats — excuse the redundancy — Cheney is one the greatest statesmen of this generation.
People with resumes like Cheney's should be praised and have buildings named after them.
He served as White House chief of staff, in the House of Representatives, as secretary of Defense and as vice president, all with distinction, dedicating most of his adult life to public service.
So everything after that paragraph goes straight into the shredder of sense, ending with: 'Currently, we have the worst foreign policy and most ineffective president of the United States since Jimmy Carter. It is imperative for the GOP majorities in the House of Representatives and Senate to get as many substantive things done as possible. To get there, they'd be wise to heed the example of Dick Cheney.'
Of course, the entire matter would be mega-hilarious if the consequences weren't so stupidly dire — who can write such shit with a fact-based, straight face?
A fucking, dangerous idiot.