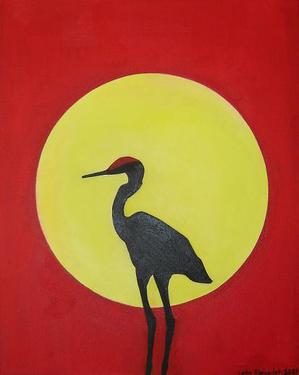 Clear and chilly this early Thursday on California's north coast — a light, moist vapor apparently seems to be thinly to the east, making an otherwise explosive sunrise a bit on the muted side, hazy and undefined.
According to the weather folks, no rain on the horizon until the middle of next week, and pretty warm. We could see 70-degrees today, maybe, supposedly.
A crazy, delusional spin to our drought comes via a piece yesterday at Curbed LA, and water worries for the mega-rich in Rancho Mirage, south of Palm Springs: 'The city is served by the Coachella Valley Water District, whose residents used a thirsty 282 gallons of water each per day in February (compare to Beverly Hills, one of the highest per capita water users in the Los Angeles area, which used 162 gallons per person per day in February).'
(Illustration found here).
Yet the district issues no new water meters since '"there is no surplus capacity in the domestic water system for domestic water demand…"'
One way to overcome that obstacle is for the community to acquire its own supply: 'They're working on it, though, and planning is underway for a 3.2-million gallon reservoir north of the 10 Freeway that's expected to be ready by the end of the year. "Once it's done," Gleim says, "they'll start issuing meters again."'
A created-surreal situation in light of California's current/future statewide water/drought problem — the Curbed LA story supposedly came off a photo illustration from a New York Times feature on how insane the predicament.
An example of the 1-percent style of the folks dwelling in Rancho Mirage — a "home" up for sale earlier this year, a $16.9 million 'jaw-dropping (Mediterranean) mansion..in the exclusive guard-gated community of The Renaissance.'
Hence, "home' doesn't mean the same to all
Terrible display of bad-form, and idiotically ironic.
Odd, too, overall water use in the US has been dropping — via Capital Public Radio:
The Pacific Institute, an Oakland-based think tank that focuses on water issues, released a report Wednesday that shows total water use in the United States declined over a period that ended before the current California drought began.
The report shows total water use in the five-year period ending in 2010 is lower than in 1970, despite continued population and economic growth.

The report analyzed data from the U.S. Geological Survey.
"Remarkably, water use in 2010 was down in all sectors — agriculture, municipal and industrial, and thermoelectric power," said Heather Cooley, the Institute's Water Program Director and report co-author.
"Reductions in water use for thermoelectric power generation — the single largest use of water in the U.S. — accounted for nearly two-thirds of the reduction in water use between 2005 and 2010.
"This represents an important reversal of a 25-year trend of increasing water use to produce energy."
…
Even with the improvements in water management, Cooley warned that the current rate of use is not sustainable.
"Despite the reductions we've seen, national water use remains high and many fresh water systems are under stress from overuse," said Cooley.
"We also know that population growth and climate change is going to affect the supply and demand for water."
Water is will always be in demand — supply the problem.