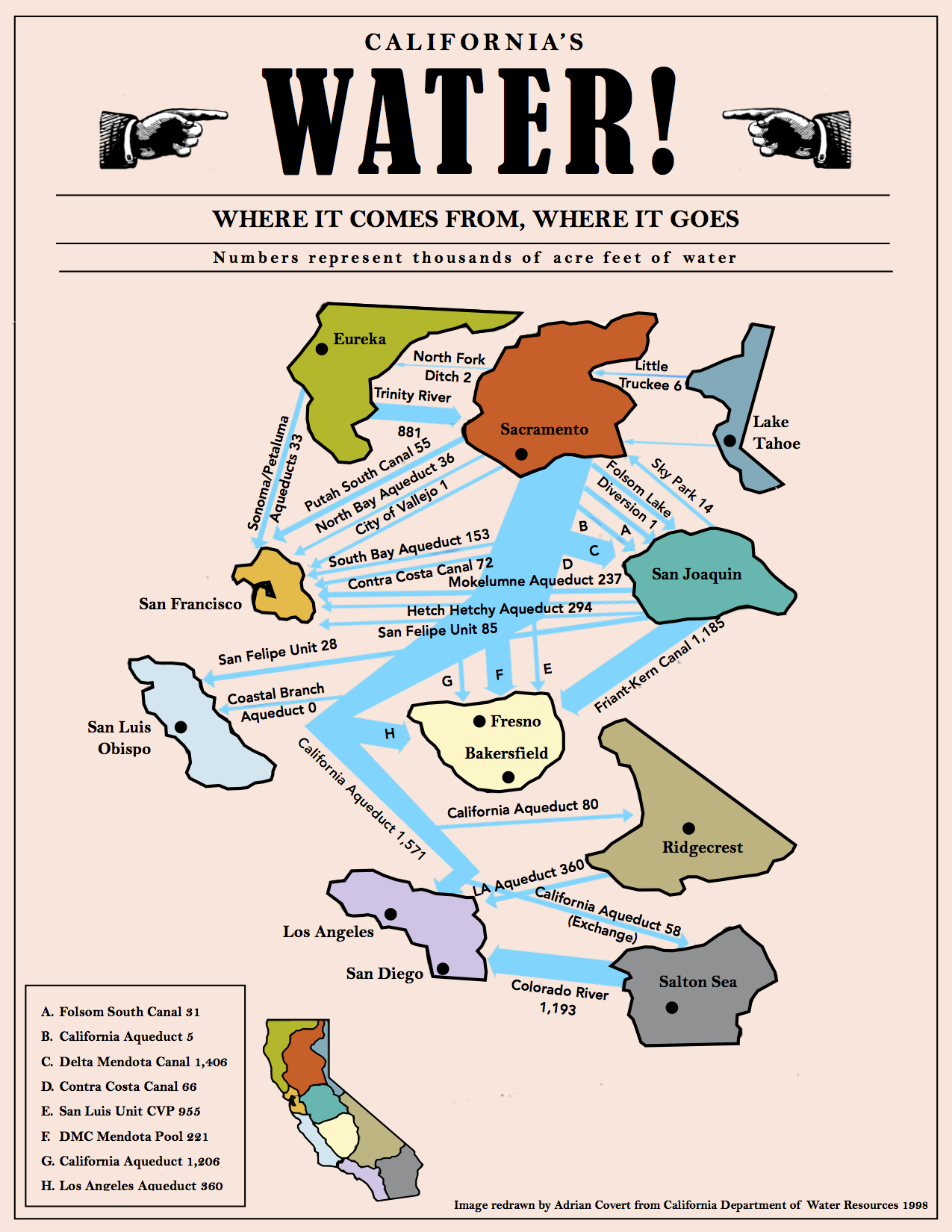 White-bright sky this Wednesday afternoon on California's north coast — way-thin clouds floating about the skyline filters sunshine into a muted-pale hue, which on turns, can be really vivid.
Couple that shit with a slight breeze, temps in the low-60s, and there you got it — seemingly not unpleasant at all in the big, old outside.
A facade, maybe, or 'seemingly' as it is seeming to be?
Sitting here typing at the laptop, way-however, is different than out back on my patio, and in a similar allegory, drinking clean, cool water right from the tap any time I get thirsty, or just to keep myself fully hydrated, can also seemingly appear so normal, and so taken-for-granted.
Good drinking water is a pure-must — whatever else in life, water is way-required to survive. And we way-don't survive very long without it. (I so do way-enjoy use of the word, 'way,' attached to verbs/nouns/adjective as a modifier to signify explosive-intensity).
As in maybe, our drought here in California is getting way-bad, and if there's no change in the weather, going to get way-worse.
And water is key — even to species removal. Yesterday, California Republicans in the state House finally won committee approval for a study on the status of the protected Delta smelt, which supposedly, according to farmers, is to blame for reductions in irrigation water deliveries.
GOPer Rep. David Valadao in a statement: '"My constituents are suffering; our entire state is suffering. We cannot continue to prioritize the hypothetical needs of a small bait fish over the needs of people."'
However, last Friday the State Water Resources Control Board issued a historic edict, and  '…ordered farmers and others who hold some of the strongest water rights in the state to stop all pumping from three major waterways in one of country's prime farm regions.'
First time in nearly 40 years since senior water-rights people were ordered to stopped pumping.
Blowback from the orders: 'It will force thousands of water users in the state to tap groundwater, buy water at rising costs, use previously stored water, or go dry.'
My underline emphasis due to results of major research released yesterday on the world's groundwater aquifers, and how they're frightfully 'stressed,' and becoming depleted at an alarming rate.
The studies from the University of California at Irvine, with data from NASA's two Gravity Recovery and Climate Experiment satellites, a system known by the acronym GRACE, also included our own here in California, the Central Valley aquifer system, labeled as 'highly stressed' and suffering from rapid depletion.
Statewide we're currently tapping aquifers for 60 percent of our water use — a 20 percent increase.
More on the series of studies from Mashable:
The picture these studies paint is a world in which we're consuming water that has been stored by the Earth for hundreds, if not thousands, of years, and cannot be quickly replenished.
We're consuming it at ever faster rates, without knowing when to slow down.
The aquifers may be water savings accounts (or rather credit cards, since their overuse comes at a price).
But they're being treated like a checking account.
The fact that the majority of the world's groundwater accounts "are past sustainability tipping points" was not known before, according to James Famiglietti, an author of both studies and a professor of Earth system science at the University of California, Irvine and senior water scientist at NASA's Jet Propulsion Laboratory.
Such points are crossed when groundwater aquifers are no longer being replenished as quickly as they are being depleted, Famiglietti told Mashable in an interview.
Both studies appear Tuesday in the journal Water Resources Research.
Famiglietti and his coauthors call for a global effort to determine how much water is left in the world's most important aquifers.
"The message we want to get out there is this is really unacceptable," he said.
"We really better get on some kind of major exploration program."
"What I am afraid of is people will say, 'oh, we don't know how much water there is, and maybe we have a ton,'" he said — but maybe we don't.
"The signs of stress are all there."
…
They concluded that the time to depletion of many aquifers is likely far less than previously estimated by researchers decades ago.
"We don't actually know how much is stored in each of these aquifers. Estimates of remaining storage might vary from decades to millennia," Richey said.
"In a water-scarce society, we can no longer tolerate this level of uncertainty, especially since groundwater is disappearing so rapidly."
Famiglietti, Richey and their coauthors are in favor of a global campaign to directly measure the amount of water stored in the world's groundwater aquifers, which in many cases requires drilling to reach bedrock.
"I believe we need to explore the world's aquifers as if they had the same value as oil reserves," Famiglietti said in the release.
As I noted earlier, water is a survival must — oil is just fucking oil.
Dude, get the priorities right.
(Illustration above: 'California Water Map,' found here).