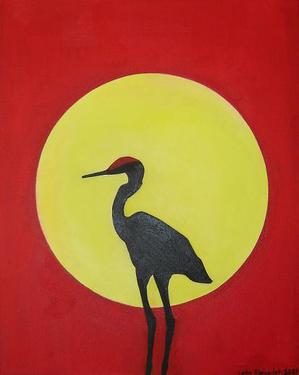 Sunshine just a little while ago, now coastal fog has replaced the upswing brightness this Monday morning here on California's north coast, and like a mental patient with mood swings, the shoreline weather is all over the place.
And hot, too. Reportedly, this is to be one hot week, especially of course, for the interior, but according to the NWS, 'Temperatures along the coast will rise above 70 degrees with records in jeopardy.'
We're forecast for the mid-80s by Wednesday, high-70s for days after.
Yet we're still the place to be: '"The further you get from the water, the worse it'll get, and Wednesday looks like the apex," said Diana Henderson, a forecaster with the weather service.'
(Illustration found here).
And this heat don't help the forest fires — northeast of where I'm situated on the coast, is the 200-acre Queen Fire, which this morning Cal Fire called just 30-percent contained, but it's pretty-much isolated. However, four firefighters sustained burn injuries this past weekend fighting a wildfire in the foothills of the Sierra Nevada — the Lowell Fire over in Nevada County has now burned 1,500 acres, and only 15 percent contained.
And to harp further on a heating-up world — from Climate Central (pdf) three years ago and a bit on our wildfire future:
The National Research Council reports that for every degree Celsius (1.8F) of temperature increase, the size of the area burned in the Western U.S. could quadruple.
According to the IPCC 4th Assessment Report, summer temperatures in western North America could increase between 3.6F and 9F by the middle of this century.
…
Rising spring and summer temperatures across the West appear to be correlated to the increasing size and numbers of wildfires.
Spring and summer temperatures have increased more rapidly across this region than the rest of the country, in recent decades.
Since 1970, years with above-average spring and summer temperatures were typically years with the biggest wildfires.
This year is supposedly on tap to be the hottest ever…and dry…and full of drought.