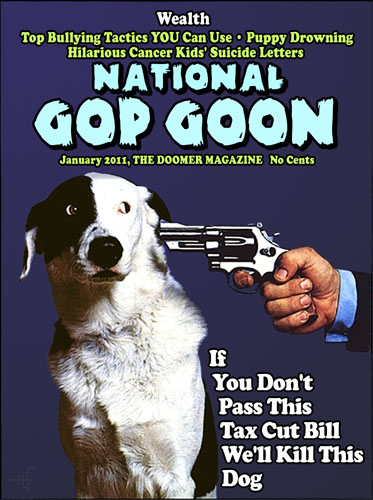 Near-noon this Thursday with another one of those hallucinogenic cloud covers — a bit of marine fog, and maybe a whole-lot of drifting smoke, creating a surreal ambiance.
Nearly-pure jaundice look to the weak-as-shit sunshine, whenever it appears.
A good round-up for right now on the forest fires burning east, south and beyond us can be found at Redheaded Blackbelt, including the massive Rocky Fire in Lake County, now nearly 40 percent contained.
Meanwhile, the really way-surreal scene will actually be tonight in Cleveland — the first 2016 Republican debate, and way-naturally, hosted by Fox News.
Ten assholes all in a row (seven lesser assholes with a 'kids table' debate first) — a collection of clueless, heartless and pure-dumb-ass clowns, none with any knowledge, or care, for the word, 'govern.'
(Illustration found here).
If anybody figured 2012 could be topped for simple, shit-brained tomfoolery, tonight's escapade will pop the barrel. The clod-clown acts would be some great-humorous relief if not for the serious reason for the event — selection of the next president. And America, as we anywhere-near now know it, would collapse into a real-way-beyond-the imagination fucked-up piece of shit if one of these assholes actually won the White House.
Jeb! Scott Walker, Marco Rubio, Mike Huckabee, Ted Cruz, Rand Paul, Ben Carson, Chris Christie, John Kasich, and of course, the wild-eyed, numero uno man of the Republican moment, The Donald.
And popular social media will scatter the ashes.
A horror of cosmic-comic proportions.
Via CBS:
And Trump, the man of the hour, has emphasized that he's not a practiced debater, like some others in the GOP field — but that doesn't necessarily mean he's spending extra time in practice.
"I don't stand up and debate like these politicians. They are all talk, no action. All they do is, their whole life, they debate and then they don't get things done. I get things done," he said on CBS' "Face the Nation" Sunday.
Trump said he's preparing "by seeing what's going on" rather than using pollsters to test his message — a practice that he said leaves other politicians "frozen."
At least one of Trump's advisers has confirmed Trump's come-what-may approach to debate prep.
"Trump doesn't rehearse," a senior Trump advisor told ABC News on Wednesday.
"I have no idea what to expect…I'm just as clueless as you about what he'll do."
In fantasy, the Quicken Loans Arena, home of the NBA's Cleveland Cavaliers, might ensemble the famous warning: '"Mos Eisley spaceport: You will never find a more wretched hive of scum and villainy. We must be cautious."'
And drink if you dare…Matt Taibbi at Rolling Stone yesterday had a fairly-good set of alcoholic-beverage-drinking rules for the debate — a list 25 words/phrases which most-likely will appear tonight.
Taibbi's pretty cool, especially this note of the lessors' debate: 'They will be debating at a kiddie table separately from the other candidates, and will reportedly be euthanized by a veterinarian after the event.'
I don't drink anymore, but truly-understand the concept…