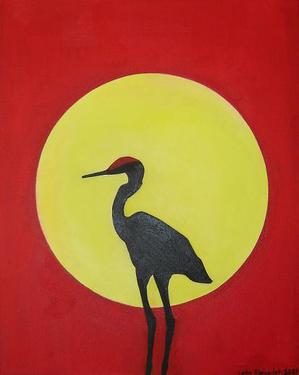 Although some 'isolated showers' are forecast for this Thursday afternoon on California's north coast, right now it's warm with big, fluffy clouds and lots of sunshine.
Rainfall totals for our area aren't available yet, but we felt a couple episodes of heavy downpours yesterday, and I could hear rain pattering early this morning. Hopefully the dry interior was more-densely drenched, however, most-likely the numbers won't be too high.
And also this morning, the NOAA reported a way-low tsunami alert for our coastline from off the Chilean 8.3 earthquake yesterday, 'Tsunami heights of between 2 and 10 inches are expected…', supposedly happened at daybreak.
What we need is a tsunami of cool…
(Illustration found here).
Not happening, even with a "super El Niño" bearing down upon us, heat is not only here to stay, but the future, too. From Dr. Jeff Masters at WunderBlog this morning:
August 2015 was Earth's hottest August on record, and the Northern Hemisphere summer period of June-July-August was the hottest summer since record keeping began in 1880, said NOAA's National Centers for Environmental Information (NCEI) on Thursday.
NASA rated August 2015 as the 2nd warmest August on record, a scant 0.01°C from tying August 2014's record mark.
August 2015's warmth makes the year-to-date period (January – August) the warmest such period on record, according to both NOAA and NASA.
NOAA said that August 2015 was the sixth month in 2015 to break its monthly temperature record, joining February, March, May, June, and July.
August 2015 tied with January 2007 for the third warmest monthly departure from average of any of the 1628 months since records began in January 1880 (the record warmest departures occurred in February 2015 and March 2015).
…
The UK Met Office put out a press release earlier this week predicting that 2016 will continue to see record or near-record levels of global heat, and it is quite possible that Earth will see three consecutive years with record-breaking surface temperatures: 2014, 2015, and 2016.
…
Global satellite-measured temperatures in August 2015 for the lowest 8 km of the atmosphere were the 3rd warmest in the 37-year record, according to the University of Alabama Huntsville (UAH).
The lowest 8 km of the atmosphere heats up dramatically in response to moderate to strong El Niño events, with a time lag of several months–as occurred during the El Niño events of 1998 and 2010, the only two years that had warmer August temperatures than 2015.
Earth's lower atmosphere temperature will likely hit record levels by early 2016.
Rain, and snow…come forth…