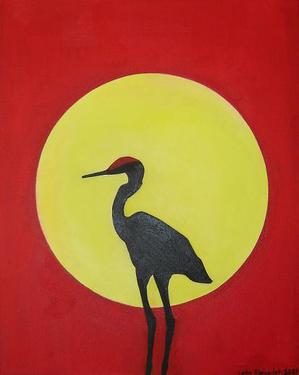 Clear and cold this Wednesday morning on California's north coast, and a first this season, at least for my area, frost seen on surrounding rooftops.
Indian Summer is history.
The chill factor prompted the NWS to issue a 'Hard Freeze Warning' with temperatures tonight here along the shoreline near the 30s, while farther inland, temps maybe 10-degrees colder.
I for one don't relish the future/and-here-now winter.
Coming in from the cold (Scientific American): 'Global average surface temperatures in 2015 are likely to reach what the WMO called the "symbolic and significant milestone" of 1.0C above the pre-industrial 1880-1899 era, and around 0.73C above the 1961-1990 average.'
(Illustration found here).
This morning, the World Meteorological Organization announced 2015 will soon be the hottest on record, and influenced by the currently-spawning El Niño event, next year could be even hotter — indicating '…inaction on climate change could see global average temperatures rise by 6 degrees Celsius or more.'
Further from SA:
WMO director-general Michel Jarraud said it was still possible for a global climate summit starting in Paris on Monday to agree steps to could keep the rise within 2C (3.6 Fahrenheit) over pre-industrial times, a target set down in 2010 to try to prevent a dramatic increase in extreme weather.
"But the more we wait for action, the more difficult it will be," he told a news conference.
"You have scenarios assuming very strong decisions, very quick and sharp reduction of greenhouse gases, and you have other scenarios with business as usual, where you end up with predictions of additional warming of 5, 6 degrees, maybe even more.
"That will very much depend on the decisions (in Paris)."
Jarraud said there was no "silver bullet" to stop climate change.
As well as a strong deal in Paris, it needed citizens to choose public transport over cars and insulate their homes, and industry to tackle sources of greenhouse gas emissions such as power stations, transport, cement, farming and fertilisers.
Jarraud rejected climate sceptics' arguments that the science underlying predictions of man-made climate change was flawed.
"It's not about believing or not," he said.
"It's a matter of seeing the facts. The facts are there."
Salt to the seared wound so to speak, Jarraud piped about those facts: '"This is all bad news for the planet," he added in a statement.'
WMO's data also indicates temperatures over land and sea would be at their highest level ever measured this year, besting record highs in 2014.
Brief details of those 'facts' via Phys.org:
China had its warmest January-to-October period on record, Africa is experiencing its second warmest year on record, while temperatures have also soared in western North America, large parts of South America, Africa and southern and eastern Eurasia.
Severe heatwaves have hit India and Pakistan, as well as Europe, North Africa and the Middle East.
The soaring temperatures this year appear to be part of a trend, with WMO indicating that the years 2011-2015 marked the hottest five-year period ever measured.
The past five years have been 0.57 degrees Celsius (1.01 degrees Fahrenheit) above the 1961-90 average, it said, referring to preliminary data up to the end of September, WMO said, explaining that its five-year analysis provides a better indication of how the climate is changing over time than its annual reports.
The five-year period had seen numerous extreme weather events that were influenced by climate change, WMO said, adding that the warming climate had increased the probability of heat waves by a factor of 10 or more in some cases.
The pending heat records come after concentrations of carbon dioxide and other greenhouse gases in the atmosphere hit record highs in 2014, prompting WMO earlier this month to warn that climate change was moving the world into "uncharted territory."
Wednesday's report also comes as El Nino, a natural phenomenon that sparks global climate extremes, is at its strongest in more than 15 years and still gaining strength.
Yet here on my little stretch of the earth, although chilly, is still pretty-nice — ready for a nice walk to Safeway…