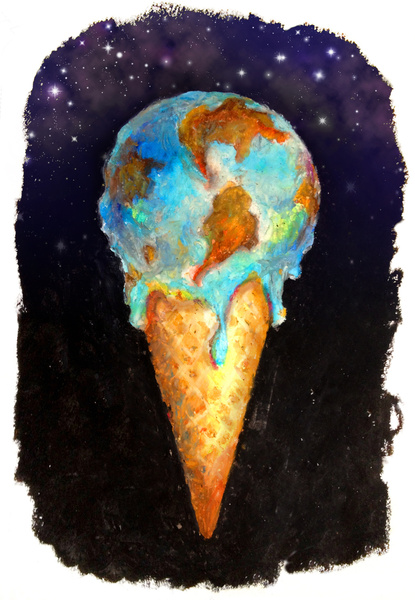 In Paris this morning at the opening of COP21, the UN climate talks, and President Obama (Reuters):
"What should give us hope that this is a turning point, that this is the moment we finally determined we would save our planet, is the fact that our nations share a sense of urgency about this challenge and a growing realization that it is within our power to do something about it."
Meanwhile, results today from an ABC News/Washington Post poll: 'While 63 percent of Americans found it to be a serious threat, that is a drop of 6 points in the last year and a half in the same survey. About 36 percent said it was not a serious problem.'
Shit, serious-as-a-heart attack — Paris most-likely just theater of the absurd, due to the hard-fact the world must make an emissions full-stop or we're cooked.
(Illustration found here).
Emphasis of the whole Paris gathering is to reach some agreement on how to keep the earth to less than 2 degrees Celsius (or 3.6 degrees Fahrenheit) above pre-industrial temperatures. Supposedly, the earth warmed by 0.85°C between 1880 and 2012,  according to the latest consensus science reported in September 2014.
This year is the hottest on record, and 2016 is expected to top that — various estimates project it could reach a disastrous 3 to 5 degree increase by the end of this century.
A good explanation for all this degrees/carbon shit comes from science writer Chris Mooney at yesterday's Washington Post. He details the data, but points toward this: 'And then there's the simple, discouraging fact that two degrees may not be a "safe" level of global warming anyway.'
Read the whole piece, excellent insight into the Paris meeting.
Another realistic overview of the climate talks comes from noted environmental writer Elizabeth Kolbert at The New Yorker this week, and also taps the key point:
This bring-your-own-plan approach should reduce the chances of a stalemate; still, some major — and potentially deal-breaking — issues need to be resolved by negotiators this week.
One of these, which may seem paradoxical, is what to do about the fact that the plans are inadequate.
Several independent studies have concluded that, even if every country lives up to its target, warming will far exceed two degrees Celsius (3.6 degrees Fahrenheit).
This is the limit that many of the same world leaders who are meeting in Paris vowed five years ago not to cross.
And we churn-on through the year…