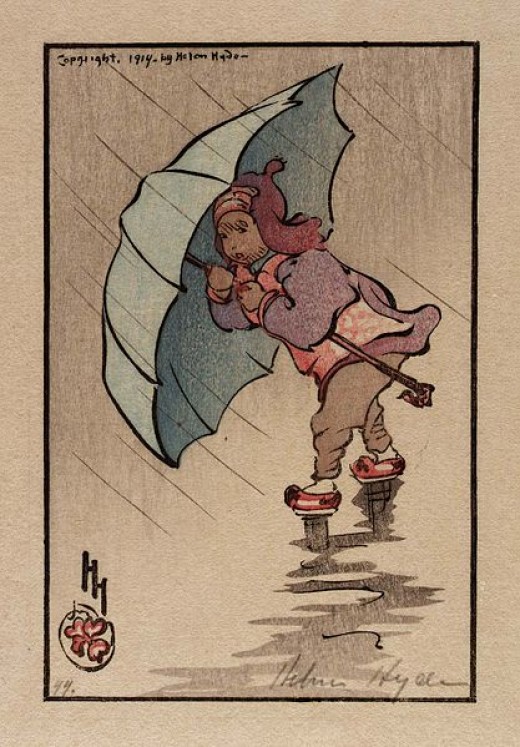 Overcast with an occasional heavy-downpour this early Monday afternoon on California's north coast — we've been drenched the last three days, and apparently we're going to remain drenched into the whole-coming week.
According to the NWS weather-conditions thingy, my little drowned-spot/area received more than a good-inch of rain since midnight, and from all indications, the pattern should remain in place until at least Friday.
Rain and more heavy-rain — the NWS this morning: 'Rainfall totals are expected to be 2 to 4 inches with local amounts up to 7 inches in the mountains of Humboldt, SE Del Norte, & N Mendocino counties. Area creeks, streams, and rivers will see significant rises beginning late on Monday and continuing through Tuesday. Several rivers are forecast to reach monitor stage.'
Prompting a no-brainer, 'Flood Watch'…
(Illustration: 'The Blue Umbrella 1914,' by Helen Hyde, found here).
Apparently, in this particular rainy season under the hot influence of a record El Niño, more than just rain is found along California's coastline — a couple of weeks ago (I just read about it this weekend), a guy working a clean-up event at a beach north of LA found a "highly venomous" black-and-yellow snake dead on the sand. The snake, the second one discovered in the last two months, usually thrives in warmer waters off the coasts of Mexico, Africa, Asia and Australia — El Niño inspired.
Via the Sacramento Bee:
The dead 27-inch-long male yellow bellied sea snake was discovered last week during a Surfrider Foundation coastal cleanup campaign in Huntington Beach.
A 2-foot-long yellow bellied sea snake was discovered in October after slithering onto Silver Strand State Beach in Ventura County.
It died shortly after being taken to a local U.S. Fish and Wildlife Service office.
The species, known to scientists as Pelamis platura, was first seen in Southern California in San Clemente in 1972 during an El Nino.
Greg Pauly, herpetological curator at the Natural History Museum of Los Angeles County, believes the reptile in Huntington Beach may have been prompted to navigate north of its normal tropical habitat by the spread of abnormally warm ocean temperatures because of a strong El Nino this year.
"It is incredible and fascinating to have two of these aquatic, highly venomous snakes suddenly show up around here," he said.
"But this is not an invasion, and no one has ever died from the bite of this animal."
"Their fangs are tiny and they can barely open their mouths wide enough to bite a person," he said.
"So, unless you pick one up, the biggest safety concern with going to the beach is with driving there and then driving home."
Just so long it don't start raining snakes….