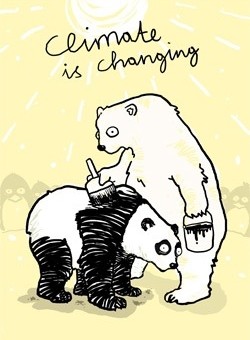 Rain and darkly overcast this early Monday, the real-start to 2016, and here on California's north coast, we also commence another in our now-normal, on-going series of 'conveyor-belt' weather fronts.
According to the NWS, at least two storms this week, the first started yesterday afternoon, and supposedly after a slight pause late tomorrow, another due by Wednesday — maybe some clear weather in the vicinity of Friday.
These particular storms could announce apparent event arrival — Bob Benjamin, a forecaster with the National Weather Service, and a quick-summary this morning (via SFGate): '"This does have El Niño DNA associated with it. We're getting some tropical moisture with the systems coming across the mid-Pacific…It's just going to be bang, bang, bang…It's going to transition one into the other. There will be very little break."'
(Illustration by Handoko Tjung, found here).
And online top story, also this morning, from the LA Times: '"Today is definitely more of a preview of what's to come," said National Weather Service meteorologist Emily Thornton. "Everybody's going to have a chance at some rain this week at some point."'
Apparently, the heat is on…
In the context of local weather as cog in the understanding of climate change, a recent study on environmental perception reveals observational-research a key.
From PsyPost on Sunday:
According to research published in the journal PLOS One, people who pay more attention to their local TV weather forecasts are more likely to believe in climate change.
…
"Results of the study suggest that exposure to local TV weather forecasts can increase viewers' perceptions of extreme local weather events, which in turn can increase their awareness about the impacts and reality of climate change," Brittany Bloodhart and her colleagues said in their study.
The researchers found that people who paid more attention to local TV weather forecasts were more likely to perceive extreme weather changes like hot days, severe droughts, and intense storms.
Paying attention to weather forecasts also weakly predicted certainty that climate change is happening, but this effect was increased when viewers had greater trust in TV weather forecasters.
And even beyond reality: 'The researchers also found differences based on political ideology. Paying attention to local weather information did not significantly influence liberals' perceptions of climate change. However, it did increase perceptions of climate change for both moderates and conservatives.'
Just something way-off about a GOP-infested brain…