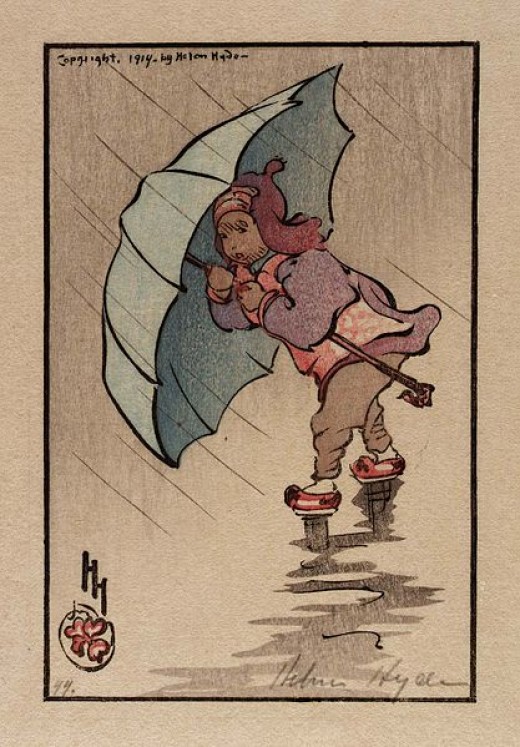 Cold, drizzling rain this near-noon Wednesday on California's north coast and we're expecting maybe some thundershowers later on toward evening.
According to the NWS, we should catch a small break tonight and into early Thursday, but another round of wet weather due by the weekend — and then rinse, and repeat.
Michelle Mead, warning coordination meteorologist with the weather service's Sacramento office, told the Sacramento Bee this week's particular series of storms is a shift in patterns — no longer part of the northern polar jet stream, but now driven by southern subtropical weather patterns, or the fabled El Niño.
A starting-gun effect: '"The typical El Niño weather pattern has developed this week," Mead said. "That will usher in a series of storms. It is happening quite textbook."'
Outside the classroom, of course…
(Illustration: 'The Blue Umbrella 1914,' by Helen Hyde, found here).
And for the real-first time this season, southern California is getting whacked — via KTLA: 'Wednesday's storm system comes a day after more than 2 to 3 inches of rain fell in parts of L.A. and Ventura counties, and downpours broke a record at the Los Angeles International Airport, with 1.42 inches.'
And hence, 'conveyor-belt' systems riding roughshod, El Niño style:
"El Niño storms: it's steady, not spectacular. But it's relentless," Bill Patzert, a climatologist at NASA's Jet Propulsion Laboratory in La Cañada Flintridge, told the Los Angeles Times.
"It's not 10 inches in 24 hours and nothing afterward. It's a 1-inch storm, a 2-inch storm, followed by a 1-inch storm, followed by a 2-inch storm."
Although we've had some heavy rain up here this past month, it's been mostly fairly-rare and short-timed. However, we do understand the real meaning of 'relentless,' with an emphasis of seemingly never-ending.