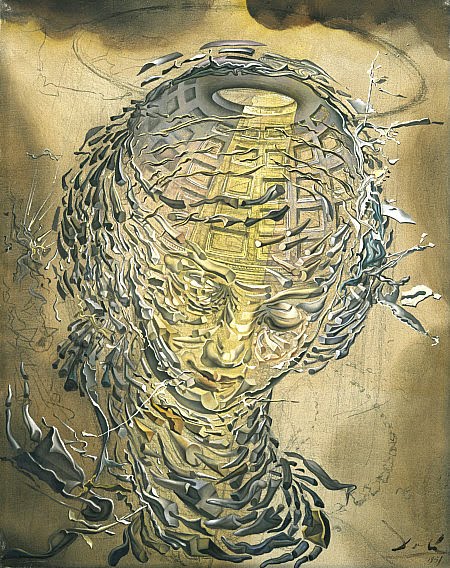 Gray-moist change-of-pace this early Friday on California's north coast — a switch from bright-sunshine daybreaks this past week, to a gloomy marine layer this morning that's got us all fogged.
However, just 'normal' for Humboldt County.
A preview for return to rain forecast starting this afternoon, beginning with the drizzle and ending with a fairly-decent storm on Sunday, which according to our local NWS, will preview another storm Tuesday that could drop one-to-three inches across the northwest part of the state, including us on the shoreline, maybe five inches in the mountains.
Despite the strongest El Niño ever, California's drought will continue — NOAA's Rob Hartman, explains in easily-understood words: '"We've dug a very deep hole."'
(Illustration: Salvador Dali's, 'Exploding Raphaelesque Head,' found here)
Climbing out the easy part, natural forces in the near-future the hard (via KPCC yesterday): 'NOAA's annual spring outlook predicts above average precipitation in parts of California, like the Central Valley, but not in the south. Overall, temperatures are expected to be warmer than average as El Niño's effects wane.'
The drought effect not really statewide, and up here we've done okay.
From the LA Times on Tuesday:
Together the Lake Shasta and Lake Oroville reservoirs have a capacity of more than 8 million acre-feet of water.
After a wet weekend in Northern California, Lake Shasta was above its average for this time of year, and by 4 p.m. Monday Lake Oroville had surpassed its historical average, said Department of Water Resources spokesman Doug Carlson.
The rising reservoirs, along with growing snowpack in the Sierra Nevada, are important because both are key sources of water for California.
The snowpack now stands at 92 percent of normal statewide, with the northern area now at 102 percent of normal.
More of a photo essay on the changing reservoirs with some startling pictures..
California's drought is just one story in the Naked City — in a world that's apparently melting away quickly away, from February becoming the warmest month in recorded history, to last year and scientists measuring the highest CO2 concentrations also ever recorded in our atmosphere, and to this year, the warmest winter in the US, also in for ever.
And the list goes on and on, prompting climate scientist Professor Stefan Rahmstorf to mutter: '"We are in a kind of climate emergency now."'
One would think an alarm would sound, but no. If the actual in-your-face physical shit isn't bad enough, how about some crimes against humanity, which is happening right now with the US House Science, Space, and Technology Committee, chaired by major GOP asshole Rep. Lamar Smith of Texas.
Smith, who has received over $600,000 in donations from the fossil fuel industry and is a supreme climate-change denier, is battling NOAA Administrator Kathryn Sullivan over the agency's budget, linking funding to what he called the NOAA "altering the data" on global warming.
Smith has subpoenaed NOAA, demanding that all internal communication between the authors of a particular climate-change study be turned over to his committee for examination.
Sullivan, citing the importance of scientific autonomy, said fuck you, asshole.
During hearings Wednesday, the shit be told.
Background from the Christian Science Monitor:
The Smith vs. Sullivan feud goes back to last June, when NOAA scientists published a study arguing that a "pause" in global warming never existed.
…
Smith devoted almost his entire 729-word opening statement what he called NOAA's biased climate change agenda.
NOAA's budget request included $190 million for climate change research: a little more than three percent of the administration's overall proposed budget.
"Instead of hyping a climate change agenda, NOAA should focus its efforts on producing sound science and improving methods of data collection," said Smith.
"NOAA should prioritize areas of research that significantly impact Americans today, such as ways to improve weather forecasting.
Unfortunately, climate alarmism often takes priority at NOAA."
Dr. Sullivan responded that her administration works to protect the US from more than just hail storms.
"NOAA forecasts help communities prepare and respond to weather events, including the severe storms that swept through Texas last year, tornado events across the mid-west and Florida, and the recent winter storm that struck the Northeast," writes Dr. Sullivan in her statement.
"But the greater demand for our services goes beyond just extreme weather."
And maybe to a planet melting…