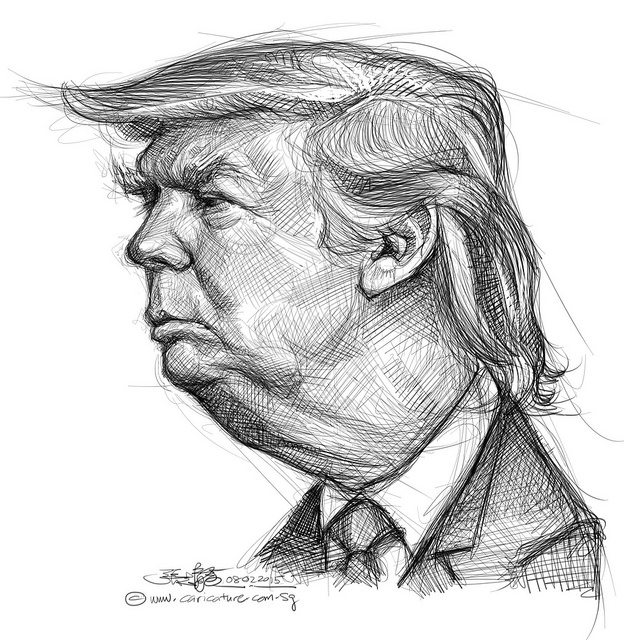 Overcast overshadowing coming rain-showers this near-noon Tuesday on California's north coast — sunshine earlier, but gray now, and as the NWS ambiguously-noted, 'Scattered
Showers then Showers Likely,' for tonight, 'Showers Likley' for Wednesday.
CYA poetic for not much real-rain 'likely.'
And also most-likely, the news cycle today dominated by US politics — the so-called Acela primary. Yesterday in setting the ambience, The Donald went all-presidential in describing John Kasich and food: '"This guy takes a pancake and he's shoving it in his mouth. It's disgusting. Do you want that for your president? I don't think so. I don't think so. Honestly — it's disgusting."'
(Illustration: Donald Trump, 'Basic Shapes,' by caricaturist/illustrator Chong Jit Leong, found here).
One of the most-bizarre assholes on earth continued in a later rally in Pennsylvania:
"Do I look like a president? How handsome am I, right? How handsome?" Trump proclaimed.
"Somebody said 'He really does look good but you know I don't know if he's presidential.'
"And I'm looking at this stage of people — my competitors. Does Hillary look presidential?"
When the crowd responded with a thunderous "no," Trump dug in further, saying that Clinton doesn't have the strength or energy to be president.
Any person my age with any kind of walking-around sense would wonder, WTF! America is close to shit-can level if someone like The Donald has a reasonable chance at becoming president.
And to paraphrase, 'disgusting'….