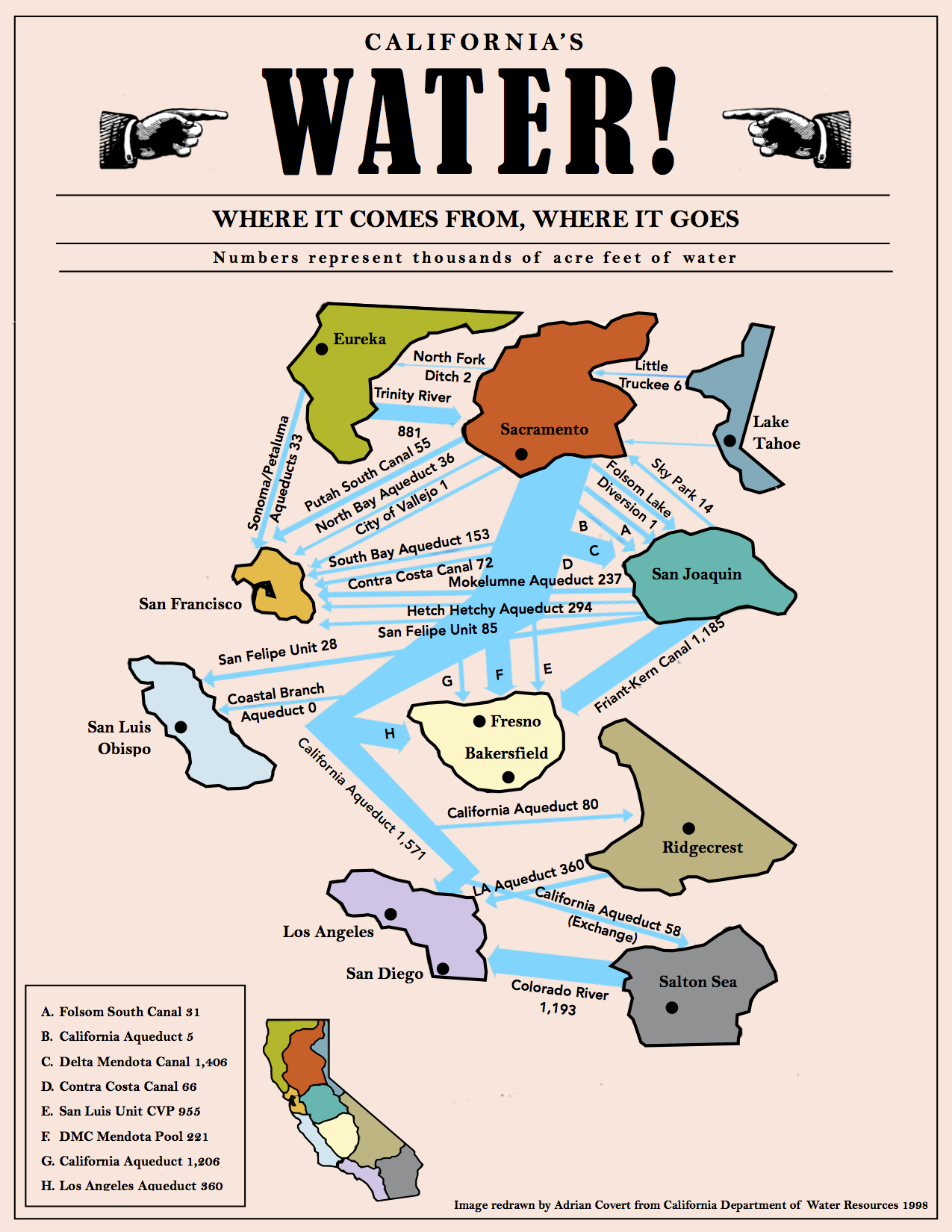 Sunshine and a sharp, Arctic-like wind this Thursday morning on California's north coast as a bit of 'unsettled' weather enters the picture later today — according to the NWS, an 'unusually strong late-season storm' is expected to be wet, but no 'widespread washout.'
This system supposedly will peak over the weekend, and back to the norm next week.
Also this morning, the NWS released preliminary rainfall totals for last month and my little spot not far from the Eureka/Arcata Airport was reportedly 75 percent of normal for this time of year — at 3.27-inches in April, about an inch above last year's mark, but more than an inch below the 'normal.'
Not a drought-quencher for sure, although 'loosening' water restrictions might not be the most-correct direction…
(Illustration above: 'California Water Map,' found here).
Yesterday, the California Water Resources Control Board decided to localize 'statewide' water in a "self-certify" program to allow water districts to set their own conservation goals — action which let's down the old guard. This past winter was wet up here in the north, but not so in the south.
New US Drought Monitor status-board for California was also released today, and indeed the Southland looks acrid — almost all of the area south of the Bay Area is listed as being in 'Severe Drought,' a huge chunk even worse, either 'Extreme,' or 'Exceptional,' high-order of shitty-dry-drought.
This past winter, despite the state's major water-holding tanks in northern California being full-to-overflowing, the rains did not fall in South California much to any degree, and once the plug is pulled on them tanks, they'll be emptied fairly-quick.
Our water system depends upon snowpack — on April 1, the Sierra snowpack was at 85 percent of normal; on Tuesday, Lake Shasta was 93-percent full, Lake Oroville at 96 percent, and Folsom Lake at 86 percent full.
And the big story out of this past winter, the fabled El Niño, is already fading into history.
In that context, there was a good info-post yesterday at WunderBlog on the news this past weekend of quickly-rising global temperatures — April being the hottest month ever recorded — and the waning influence:
El Niño conditions weakened to the "moderate" classification during April 2016, and El Niño continues to weaken rapidly.
The event peaked in strength in late November 2015, when the weekly sea surface temperatures (SSTs) in the so-called Niño3.4 region (5°S – 5°N, 120°W – 170°W) peaked at a record 3.1°C above normal.
By the week of May 16, 2016, the Niño3.4 SST anomaly had fallen to 0.6°C above average — barely above the 0.5°C threshold to be considered an El Niño.
And no real, drought-busting rainy season, either.
A hard concept is reality — the dry is here to stay, and our problems are just beginning.
A view from Wired last week:
But in California, drought is a but a geographic construct.
A statewide network of reservoirs, canals, pipes, and pumps connect the dry places to the wet.
"We import from Northern California and the Colorado River, and we saw an improvement in supply conditions, particularly up north, that allows us to ease restrictions on our allocation," says Bob Muir, spokesperson for the agency.
Who needs rain when you've got plumbing?
Not everyone is convinced.
"I'm not opposed to giving districts more leeway in determining what they do," says Peter Gleick, president and co-founder of the Pacific Institute, a water think tank based in Oakland.
"But I do worry that this is too soon to be easing up on the conservation and efficiency measures that have just barely been put in place over the past couple of years."
Gleick worries that consumers will get the wrong message and think the drought is coming to an end.
(Which — this bears repeating — it is not.)
In the recent words of hiker Sydney Sharp on the North Fork of the American River: '"When I think about all the snow melting because of the high temperatures, it makes me upset, like we should do something about global warming."'
Rain on the parade…