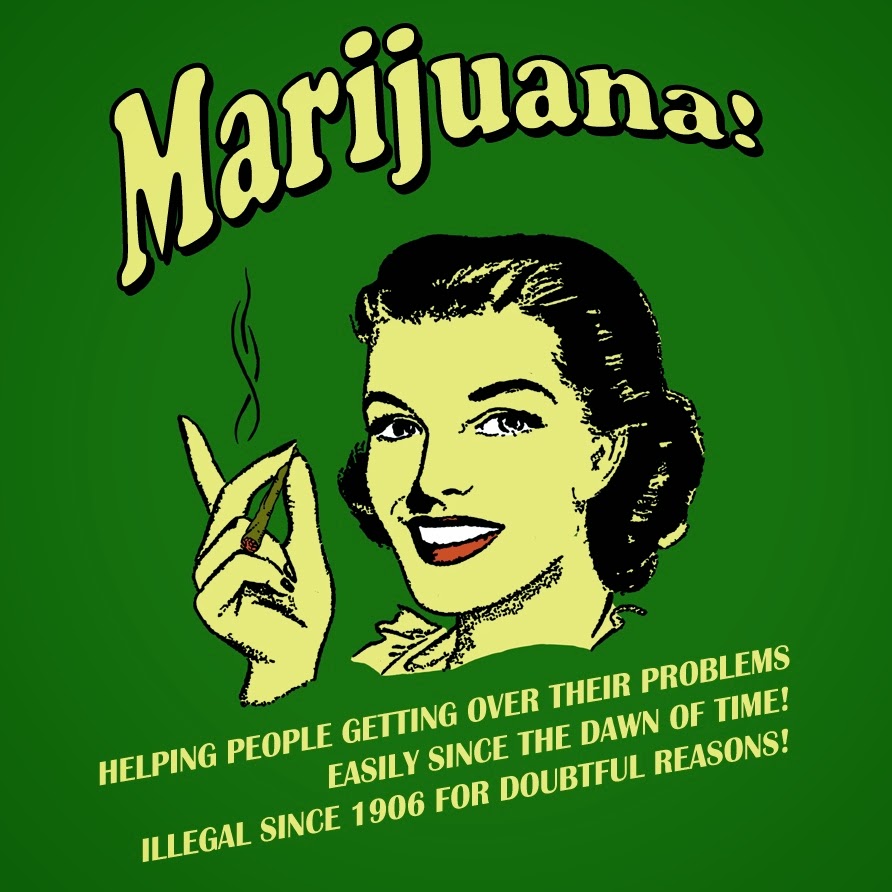 Damp gray air this near-noon Thursday on California's north coast, and according to the precipitation-percentage thingy at WunderBlog, chance of rain is zero to well-under 10-percent the next week or so — here along the shoreline, a lot of gray in the mornings, though.
Normal for the area. And getting more 'NORMAL' is marijuana — new pot research (via the Guardian last night): '"It's obvious that the whole concern about youth drug abuse is bogus," said Dale Gieringer, director of the National Organization for the Reform of Marijuana Laws' chapter in California, where residents will vote on recreational pot in November.'
(Illustration found here).
Details:
Rates of adolescent marijuana use and abuse have declined across the US, according to an unprecedented study that casts doubts on one of the central arguments against legalizing weed.
Researchers from the Washington University School of Medicine in St Louis surveyed 216,852 teenagers from all 50 states and found that the number of adolescents with marijuana-related disorders dropped by 24 percent from 2002 to 2013.
During that period, overall teen pot use also decreased by 10 percent, despite the fact that more than a dozen states legalized medical marijuana and decriminalized the drug during that time.
…
The Washington University survey is the first study to examine trends in teens with "marijuana use disorders," such as becoming dependent on the drug or struggling in school or in relationships as a result of cannabis use.
The findings add to a growing body of research that suggests that decriminalizing weed and making pot legally accessible do not lead to the disaster scenarios of youth drug use that critics have long feared.
…
A key finding from the research, which collected data from teens aged 12 to 17, is that patterns in youth marijuana use are closely tied to broader trends in adolescent behavior –– a connection that the authors say is much stronger than any potential correlations between use and legalization.
The study found that the decline in teen pot abuse was linked to overall reductions in behavioral problems, such as fighting and stealing.
In other words, as youth over time have become less likely to engage in bad behavior or criminal activity, they have also become less likely to abuse pot.
…
In 2014, the first year that Colorado and Washington sold recreational marijuana, the rate of teen pot use didn't change, according to a recent federal survey.
A California study found that decriminalization in the state in 2011 did not lead to an increase in teen crime, drug overdoses, cases of driving under the influence or dropout rates.
Legalizing medical marijuana also has not increased youth use, a 2015 analysis found.
When California became the first state in 1996 to pass medical marijuana, critics said it would send the wrong message and would lead to increases in abuse. But Gieringer said the opposite happened, and high school marijuana rates declined.
"I've been dealing with this issue for 30 years. The fears of opponents never materialize."
Dude, maybe the tide is turning. Of an oddity in a Republican surfer and medical marijuana — via yesterday's TechTimes:
GOP Congressman Dana Rohrabacher, R-Calif, admitted that he used medical marijuana to ease arthritis pain.
He seemed pleased with the experience because he claimed it actually worked.
In a meeting with a group of marijuana advocates on Capitol Hill, the 68-year-old U.S. representative spoke about the federal issues surrounding the legalization of marijuana all over the country, followed by his very striking admission.
He was the only Republican among the five speakers in the gathering.
Rohrabacher recalled how he used to surf for more than 30 years and how the physically-demanding hobby affected his physical health.
…
Rohrabacher's use of medical marijuana started when he went to a San Bernardino hempfest.
A vendor came up to him and showed a topical solution with cannabis contents, which he can use for his aching shoulder.
The congressman tried it about two weeks ago and for the first time in a year and a half, he had a good night's sleep because the pain from arthritis was gone.
"Now don't tell anybody I broke the law," he said sarcastically.
He added that authorities will break in his door and grab whatever they can use against him.
In the end, they will really find cannabis in there — the thing that makes him sleep these days.
Indeed.
And stoney business at a medical marijuana panel in Nevada — from the Las Vegas Sun, also yesterday:
"Hundreds of thousands of people medicate every day using marijuana," Brookings Institution scholar John Hudak said today during a symposium at UNLV's Hank Greenspun School of Journalism and Media Studies auditorium.
"They're self-medicating; they're self-dosing; they're taking guesses of cannabinoids, of what kind of strains are going to help them," said Hudak, the institution's deputy director of the Center for Effective Public Management.
"A lot of times it's a trial-and-error process."
…
Dr. Sue Sisley, medical director of The Grove dispensaries in Nevada: Sisley noted that per U.S. Food and Drug Administration regulations, marijuana is more difficult to research than other Schedule 1 drugs such as LSD, MDMA, ecstasy and bath salts.
While studying other drugs requires approval from the FDA, the Drug Enforcement Administration and the Institutional Review Board, marijuana researchers also need approval from the U.S. Public Health Service and National Institute on Drug Abuse.
Getting those extra OKs can take six to 10 years, making some research projects obsolete by the time they are approved, she said.
"There are myriad ways in which the U.S. government has systematically defeated marijuana efficacy research" Sisley said.
"It's classic federal government overreach, and it's unnecessary."
Unlike other drugs, marijuana used for research must come from National Institute on Drug Abuse-funded labs at the University of Mississippi, and they are not representative of the countless marijuana sources across the country, Sisley said.
Insane, but it's getting there…