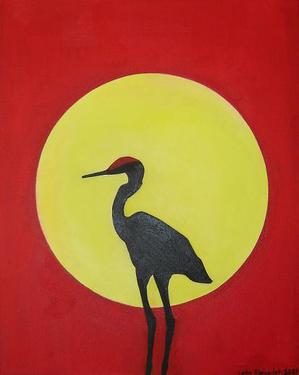 Clear-warm sunshine made even-easier by a nice, gentle, ocean breeze — weather-portrait of a near-noon Tuesday here on California's north coast, and according to the NWS this morning, 'unseasonably warm' temperatures ahead for at least the next few days.
The 'heat' a big effect off a strong ridge of high pressure building across the region. Classic, 'good-as-it-gets' type day.
Heat the word (KRCR): 'A slightly stronger onshore flow tomorrow and Thursday may bring slightly cooler highs but still well above average. By Friday and into this weekend the ridge will re-amplify over Northern California, bringing the warmest highs of the week. Areas away from the coast may see afternoon highs 20-25 degrees above average.'
(Illustration found here).
Despite the 'heat,' which for these parts is way-relative. As this reflection from Emily Dickinson — "Hope" is the thing with feathers:
"Hope" is the thing with feathers –
That perches in the soul –
And sings the tune without the words –
And never stops – at all –

And sweetest – in the Gale – is heard –
And sore must be the storm –
That could abash the little Bird
That kept so many warm –

I've heard it in the chillest land –
And on the strangest Sea –
Yet – never – in Extremity,
It asked a crumb – of me.
Location, location, location…