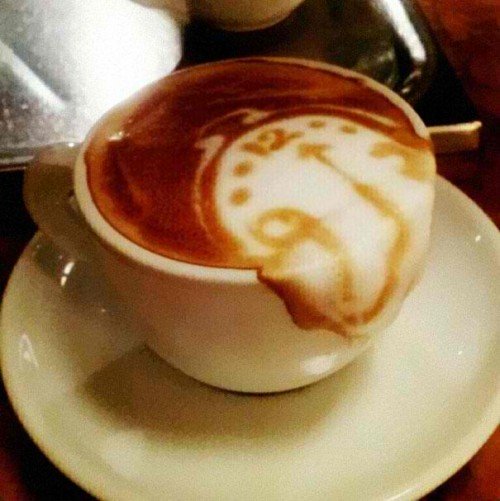 Cloudy-gray with sunshine prying/trying to pour bright into this early Wednesday on California's north coast, which on-occasion creates a faded yellow tint to the air.
Supposedly, the dry ends tonight with rain forecast, but amounts way-most-likely minuscule — hence,  the NWS preliminary rainfall totals for last month is no shock/surprise.
In this frightful, crazy-strange nowadays comes a bonding for a huge chunk of humanity in the continuing health benefits of coffee — the World Health Organization says the only apparent hazard is how hot the joe, not the brew.
Ye sippers note, each day 1.1 billion cups of coffee are absorbed worldwide.
(Illustration: 'Surrealist Cup,' by Japanese Latte Artist Kazuki Yamamoto, found here).
Similar to marijuana the last few years, research has found coffee to be of a higher health perk than anywhere-near previously known, and this latest from the WHO continues that trend — (the Guardian): 'The World Health Organisation has cleared coffee of causing cancer, but a detailed investigation has found that very hot drinks may be linked to cancer of the oesophagus, or gullet.'
Ugly.
Although in 1991, the WHO's International Agency for Research on Cancer classified coffee as a possible cause of cancer, after a recent review, the problem is in the heat — in that regard, the IARC also checked-out the herbal drink mate, widely consumed in South America, where oesophageal cancer is more common than in other parts of the world. And drank way-way hot.
Remove the fire: 'Coffee and mate served cold are in group three, which means there is insufficient evidence to believe they cause cancer. IARC's conclusions are published in the Lancet Oncology journal.'
Other views of the WHO report — (Aljazeera):
"I'm not really sure why coffee was in a higher category in the first place," said Owen Yang, an epidemiologist at the University of Oxford who has previously studied the possible link between coffee and cancer.
He was not part of the IARC expert group.
"The best evidence available suggests that coffee does not raise the cancer risk," he said.
And from the UK's Express some prejudicial rejoicing:
Bill Murray, president of the National Coffee Association: "The World Health Organisation's IARC finding is great news and highly significant for coffee drinkers and confirms evidence from an avalanche of studies by highly respected and independent scientists.
"IARC considered all the science and concluded that regular coffee consumption could reduce the risk of liver cancer and a cancer in the lining of the uterus.
"Separate analysis, from Harvard University amongst others, that followed millions of people suggests that coffee drinkers live longer than non coffee drinkers.
"In fact, research suggests this amazing beverage may actually help lower the risk of many different cancers and drinking between one and five cups a day is associated with lower rates of heart disease, neurological disorders and liver disease."
…
"Coffee is the number one source of antioxidants in the US diet.
"Studies show coffee drinkers live longer," said Bill Murray.
"Studies show coffee drinkers are more alert. Studies show coffee drinkers perform better at sports.
"Coffee drinkers have known for a long time that their go-to beverage is a super food.
"Today we can brew or buy a cup with even more confidence thanks to science."
Two cups and I'm ready…