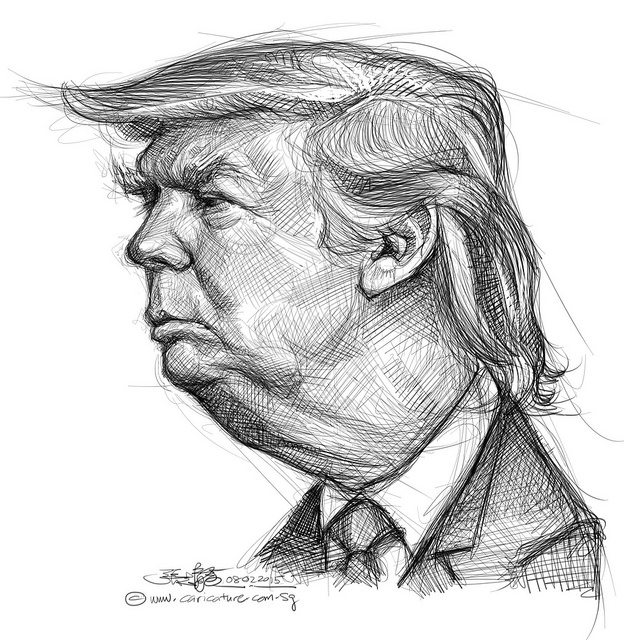 Bright sunshine once again this early Friday on California's north coast, accompanied by a slight, cool breeze — apparently another beautiful day, 'weather-wise.'
Otherwise, shit is piling-up in the corners. Yesterday, Britain voted to leave the European Union, and you-know-what has hit the fan, maybe in far-reaching ways. (Good nutshell of 'Brexit' at FiveThirtyEight).
Beyond the financial — the Dow free-fell more than 400 points right after opening this morning — the horrible, scary part is the event could reverberate across the Pond.
Especially if it puts a "shit stain" in the US White House.
(Illustration: Donald Trump, 'Basic Shapes,' by caricaturist/illustrator Chong Jit Leong, found here).
And there's apparently a 'yuuge' — "Bigly" — shitload of ignorant, dumb-ass types worldwide, and the breathing room for a political/social catastrophe worldwide took a leap closer on the Brits EU decision. Another nutshell at The Week this morning: 'America has its own big decision coming up, and if you are a supporter of Trump, Britain's decisive vote to leave the EU is glad tidings, a ray of sunshine after a few weeks of soupy London fog. If you don't want Donald Trump to be president, the Brexit vote is a wake-up call.'
Mainly and supposedly due to that shitload of people '…angry, scared, and more than willing to jump into the abyss.' The intentional ignorant.
Worse still maybe, the fright of the ignorant on people other than white, and a sense of being mistreated — idiots combo.
The Donald is a bullshit artist, and the Brexit situation way-amplifies the nightmare of the shithead becoming the most-powerful man in the whole, wide world. Typical Trump nonsense reveal the genius on the Brexit outcome — he's reacts to a press question this morning:
"Yeah. I think I see a big parallel. I think people really — I think people really see a big parallel. A lot of people are talking about that, and not only the United States, but other countries."
However, the asshole in an interview earlier this month:
"And Brexit? Your position?" I ask.
"Huh?"
"Brexit."
"Hmm."
"The Brits leaving the EU," I prompt, realizing that his lack of familiarity with one of the most pressing issues in Europe is for him no concern nor liability at all.
"Oh yeah, I think they should leave."
I guess, getting near-time to panic…