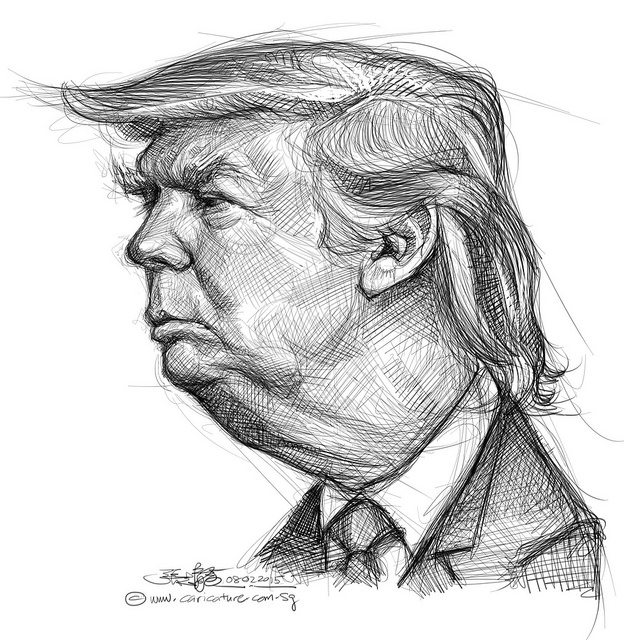 Dark overcast this early Friday on California's north coast as we continue through a series of rainstorms, leaving a blanket of damp on everything, though, no downpour right now.
More rain expected later today, however, as the season continues…
Unabated also is T-Rump and the horror of the loser.
Interesting tidbit yesterday, from Bloomberg: 'Republican presidential nominee Donald Trump rebuffed political aides' requests to research his past, people familiar with the matter said, a decision that contributed to his campaign being caught unprepared for the past week's barrage of claims he mistreated women.'
(Illustration: Donald Trump, 'Basic Shapes,' by caricaturist/illustrator Chong Jit Leong, found here).
This entire election has way-fallen through the cracks of reality, at least for 200 years or so. The real horror is T-Rump losing, and his band of idiots go crazy, this election is 'rigged' spree of revenge, or whatever.
Also yesterday, John Cassidy at The New Yorker laid-out the situation — key points:
On Thursday afternoon, Trump indicated he would fight on.
"I take all of these slings and arrows for you," he said at a rally in West Palm Beach, Florida.
"I take them for our movement, so that we can have our country back."
Trump dismissed the new allegations against him, declaring, "These claims are all fabricated. They are pure fiction."
He criticized the appearance of one of his female accusers, a reporter for People magazine, telling the crowd, "Look at her. Look at her words. You tell me what you think. I don't think so."
And he also claimed he was the victim of an organized plot, saying, "This is a conspiracy against you, the American people, and we cannot let this happen."
With three and a half weeks left until Election Day, Trump's campaign has blown up in a manner never witnessed before.
As a competitive contest, the election almost certainly ended last Friday afternoon, when the Washington Post published its blockbuster article about Trump's 2005 hot-mic conversation with "Access Hollywood" 's Billy Bush.
Even before the Post story came out, the polls had already turned against the Republican candidate, and he looked to be in serious trouble.
After the "Access Hollywood" video, in which Trump could be heard boasting about kissing women unbidden and groping their genitals, was put in front of voters, Trump's condition deteriorated from serious to critical.
Now it is terminal.
…
Tellingly, just one in four of Trump's supporters in Pennsylvania said the tape concerned them greatly.
That's consistent with the evidence from national polls taken since last Friday, which have shown Trump polling at just under forty per cent.
His core supporters haven't deserted him en masse: many of them were enthused by his aggressive performance at the second Presidential debate, on Sunday night.
But the chances of Trump catching up with Clinton and then amassing two hundred and seventy votes in the Electoral College on Election Day are very slim, and have diminished greatly.
This fact is reflected in the polls-based forecasting models, some of which now estimate the probability of a Clinton victory at ninety-five per cent, or even higher.
…
Such a blitzkrieg strategy makes no sense, of course.
If there is one thing that is guaranteed to get Democrats to the polls, it is the sight of Trump going around the country for the next three and half weeks inciting bigotry and racial hatred, launching personal attacks on his opponents, and generally acting like a deranged person.
But, as my colleague Ryan Lizza pointed out on Wednesday, there is reason to believe that Trump's true motivation is no longer winning: it is finding someone to blame for his upcoming defeat.
And the shit hits the fan…
As if — via TPM this morning:
Two Donald Trump supporters openly carrying firearms sat outside the campaign office of a Democratic candidate for Congress in Virginia for nearly 12 hours on Thursday, according to CBS affiliate Newsplex in Charlottesville.
One of the protesters, Daniel Parks, told Newsplex that he held the protest to support Trump.
"I'm just trying to provide a voice for someone who might be closet supporters of Trump. Other people that are a little worried to speak out because of possible persecution," he said.
And scary-irony lost:
Parks told Newsplex that he was not a threat and that he was carrying a gun legally.
"We're not a threat to anybody, the only threat is ignorance, and ignorance will breed fear," he said.
This country is in a convoluted, political pickle…