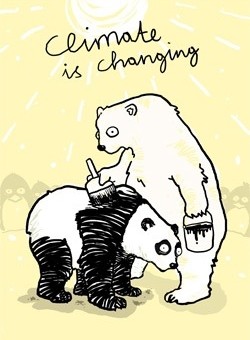 Crystal-Clear and crispy-cold this early Thursday on California's north coast, a combo that makes for some bright, sharp sunshine.
According to the NWS, nice weather, but on the chilled-side until at least maybe Sunday.
Also a first for us on the shoreline this morning, I think, was our first 'Frost Advisory' of the season. However, I don't think we dropped below freezing — right now about 35-degrees near the Arcata/Eureka airport — yet there was a white-dusting on rooftops earlier.
Shifts in the seasons…
Even as we're flowing green and colorful with all the rain we've gotten so far this year up here in northern California, nearly two-thirds of the state is still in severe drought — of that, 20-percent is in exceptional, or the worse kind of drought.
Yesterday, the state water board recommended tighter controls as apparently we can't get the handle on handling the drought.
(Illustration by Handoko Tjung, found here).
Although we suffering drought conditions, California isn't the center of the world (we do think that way a lot) as drought is a increasingly danger worldwide.
Crux of the problem, of course, is overcoming earth's climate accelerating out of control. We fairly-fucked if we don't do something drastic, and quickly.
In this T-Rump-infected crowd of climate change denial asshole-ness, there is a glimmer of high-end rescue — via New York Magazine this morning:
But don't worry!
No need to burst into tears the next time you see a small child: Trump's top campaign surrogate has decided to make climate change one of her "signature issues."
A source close to Ivanka Trump has told Politico that the soon-to-be first daughter plans to use her new mantle to "speak out" about climate change.
"The issues she's talking about are ones she's always talked about," the anonymous source told the news outlet.
"These are totally consistent with what she's developed with her brand. She is playing a critical role in being able to have issues that moderate and liberal women care about — and creating a bridge to the other side."
WTF!
What-the-fuck, 'bridge to the other side' bullshit?
We hurting…
Add to the pain, a new study indicates we're putting more shit into the air than figured, and even the military is again crying, help..
Per AOL, also this morning:
Brigadier General Stephen Cheney, chief executive of the American Security Project and member of the US Department of State's foreign policy affairs board, said: "Climate change could lead to a humanitarian crisis of epic proportions.
"We're already seeing migration of large numbers of people around the world because of food scarcity, water insecurity and extreme weather, and this is set to become the new normal."
The impacts of rising temperatures, such as droughts, are acting to increase instability on Europe's doorstep and there were direct links to climate change in the Syrian war, the Arab Spring and the Boko Haram terrorist insurgency in Africa, he said.
Unless countries tackled the root causes of global warming and cut greenhouse gas emissions, the national security impacts would be "increasingly costly and challenging".
…
Rear Admiral Morisetti said climate change was a "threat multiplier" for security concerns.
"Climate change is a strategic security threat that sits alongside others like terrorism and state-on-state conflict, but also interacts with these threats.
"It is complex and challenging; this is not a concern for tomorrow, the impacts are playing out today," he said.
The remarks came from a top worldwide military-brass conclave currently being held in the UK.
War and climate — climate wins…
Now a scientific study that draws the environment together — another warning.
Via Yale News yesterday:
A new Yale-led study in the journal Nature finds that warming will drive the loss of at least 55 trillion kilograms of carbon from the soil by mid-century, or about 17-percent more than the projected emissions due to human-related activities during that period.
That would be roughly the equivalent of adding to the planet another industrialized country the size of the United States.
Critically, the researchers found that carbon losses will be greatest in the world's colder places, at high latitudes, locations that had largely been missing from previous research.
In those regions, massive stocks of carbon have built up over thousands of years and slow microbial activity has kept them relatively secure.
Most of the previous research had been conducted in the world's temperate regions, where there were smaller carbon stocks.
Studies that focused only on these regions would have missed the vast proportion of potential carbon losses, said lead author Thomas Crowther, who conducted his research while a postdoctoral fellow at the Yale School of Forestry & Environmental Studies and at the Netherlands Institute of Ecology.
"Carbon stores are greatest in places like the Arctic and the sub-Arctic, where the soil is cold and often frozen," Crowther said.
"In those conditions microbes are less active and so carbon has been allowed to build up over many centuries.
"But as you start to warm, the activities of those microbes increase, and that's when the losses start to happen," Crowther said.
"The scary thing is, these cold regions are the places that are expected to warm the most under climate change."
And onward, downward…sunshine today, though.