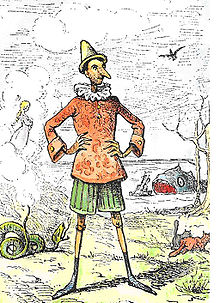 Dark, gloomy overcast this early Thursday on California's north coast. This rain will seemingly never end…
Just one day away and like the weather, also darkly through the looking-glass — via The Hill yesterday:
President-elect Donald Trump said in an interview published Wednesday that he doesn't like to lie.
"I don't like to lie, no," the president-elect told Axios.
"It's not something that I would like to be doing."
When pressed about whether it is ever OK to lie, the president-elect declined to give a response.
"I don't want to answer the question," he said.
"Because it gets to, you know, a different level than what we're talking about for this interview."
One creepy, conniving charlatan…
(Illustration: 'Pinocchio' by Enrico Mazzanti (1852-1910), found here).
T-Rump has lied so much during his entire life, the last 18 months has just accelerated the bullshit, only on a much-wider, more-encompassing scale. There's a good review of Trump whoppers of 2016 at FactCheck.org. and some detail on the bigly ones.
And this from last September: 'According to POLITICO's five-day analysis, Trump averaged about one falsehood every three minutes and 15 seconds over nearly five hours of remarks. In raw numbers, that's 87 erroneous statements in five days.'
Day-after-day-after-day…
In interviews yesterday with Axios, Fox News and the Washington Post, T-Rump continued the process with incoherent, twisted bullshit.
Compilation of other key shit via Salon:
Despite a weekend interview with Germany's Bild and the Times of London that made it sound an awful lot like Trump is preparing to abandon Europe to Putin's imperialist ambitions, Trump insisted to Axios that " all I said was that I give everybody an even start; that's all I said . . . So, I give everybody an even start; that right now, as far as I'm concerned, everybody's got an even start…I think people start off on a somewhat equal footing."

One of Trump's complaints was that intelligence briefings, which he has been criticized for refusing to read, are simply too long.
"I like bullets or I like as little as possible," he said to Axios.

"Look, I don't like tweeting. I have other things I could be doing," he told Fox.
"But I get very dishonest media, very dishonest press, and it's my only way that I can get out and correct."
Just a small sample of the wit and wisdom of soon-to-be most-powerful man on the planet…