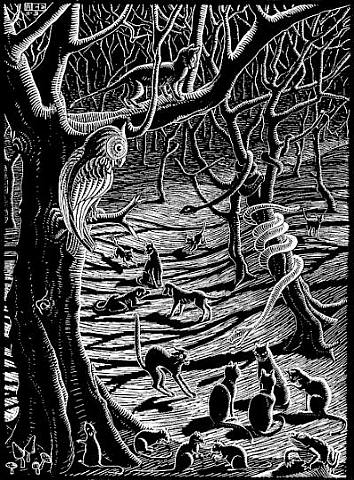 Pretty-much shit for weather this Monday morning on California's north coast, as a cold, rain/hail mix keeps us jumping — this is turning out to be one long-ass winter.
And continues, per the NWS for today: 'Bursts of snow will be possible to as low as 400 feet early this morning, with small hail possible to sea level through the day. These may result in hazardous road conditions.'
Really, weather is pretty shitty about everywhere nowadays — climate change: Duh!
Beyond normal felonies-misdemeanors committed by the T-Rump, how about crimes against humanity? Noted climatologist Dr. Michael Mann (ThinkProgress): '"The truth is now laid bare…Trump and his cronies are serving as agents for fossil fuel interests like ExxonMobil and the Koch Brothers in dismantling scientific programs that deal with the inconvenient science of human-caused climate change…It's an all-out assault on Earth…"'
(Illustration: M.C Escher's 'Scholastica,' found here).
In even the latest T-Rump waist-deep bullshit — Obama wiretapping his ass — he maintains his shit-sense of not giving a fat-rat's-ass about anything, or anybody.
The lying face of a bullshit liar in his facade of a speech last week, and the problem with the environment: '"What kind of a country," he asked, "will we leave our children?"'
Fat-fucking freak…
A somewhat explanation from behavioral economist Hersh Shefrin at Forbes in January and a deeply-disturbed mind at the helm:
What are we to make of the gap between the President's view and the view of the mainstream scientific community?
As a behavioral economist, the first thing that comes to mind is that the gap is psychological.
Those of you who know the musical West Side Story might remember a line in the song "Gee, Officer Krupke" about a character being "psychologically disturbed."
If President Trump were a character in the musical, that line might just fit.
Although the line is a joke in that song, climate change is no laughing matter.
I would argue that there is a dangerous psychological quartet at work in how the new President, and some of his advisers and supporters, underestimates the importance of global warming.
The elements of the quartet are: cognitive dissonance, confirmation bias, motivated reasoning, and aversion to a sure loss.
Pass the bubble of shit — via the UK's Indepedent this past Saturday:
Seven in 10 Americans believe global warming is happening, but less than half think it will harm them personally, a new Yale University study estimates.
Most Americans, however, are still worried about climate change, and believe it will hurt future generations both in the United States and in developing countries, the report found.
…
The study also showed that most Americans feel global warming is an issue that will mainly affect others.
Only 40-percent believe climate change will harm them personally, despite worsening problems across the country with drought, flooding, forest fires and more intense storms.
A majority of people surveyed, however, feel global warming could hurt others in the United States, as well as people in developing countries, future generations and plants and animals.
"For many Americans, even those that do accept that global warming is real and important, they still tend to think of it as distant," Leiserowitz said, both in terms of when impacts will come and where they will happen.
That means, for many people, "it doesn't seem like a high priority", he said.
Maybe T-Rump's only skill, the art of distraction…