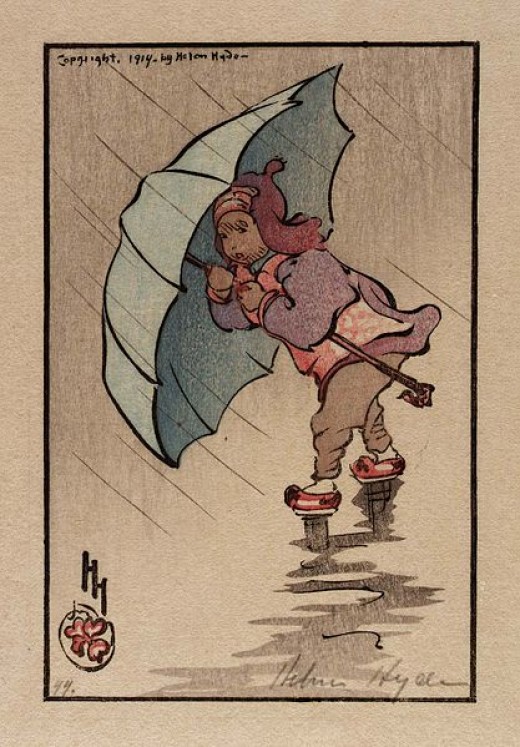 A sad-sense of 'brown eyes crying in the rain' this Tuesday morning on California's north coast, or maybe weeping — juxtaposition-ed between a Low pressure to the north, and a High to the south, we're really, really getting seriously wet.
Supposedly, a mild break maybe starting Thursday, but mostly rain from here to whenever.
Despite the near-drought ending deluge this season, the topic now is water containment — California Natural Resources Secretary John Laird (McClatchy this morning):
"Our hydrology and climate are changing. Our infrastructure is aging…As the assumptions and understandings of the earlier eras give way to better science, advances in technology and new understandings, the limitations of today's failing water infrastructure means we must invest in the infrastructure of tomorrow."
Problem being, however, due to climate change, 'tomorrow' is way-today…
(Illustration: 'The Blue Umbrella 1914,' by Helen Hyde, found here).
In our area, Ruth Lake is our drinking-water facility, and its full, and got that way in record time — last November, the Humboldt Bay Municipal Water District reported Ruth Reservoir was filled to capacity (Lost Coast Outpost): 'This is the earliest in the water year that Ruth Reservoir has filled during the past ten years.'
And that doesn't include the seemingly never-ending rainfall since then, and all those freakin'  'atmospheric rivers.'
And because of climate change, California as a whole can expect more and more rain. In itself good, but keeping civilization intact requires work — via the HuffPost last Friday:
But that rain and snowfall is no end to California's water woes.
In fact, it may just be the beginning.
"This has kind of given us a glimpse of what the future might look like," said Jeffrey Mount, a senior fellow at the Public Policy Institute of California's Water Policy Center and a water expert at the University of California, Davis.
Heat is a powerful force, rain or shine.
"While more and more people understand that humans are changing the climate, most only know that the planet is warming up," Peter Gleick, president emeritus and chief scientist of the Pacific Institute, said.
"That effect, however, leads to a wide range of other consequences, including rising sea levels, disappearing ice, and most relevant for recent events in California, an increase in extreme weather, including both droughts and floods."
…
"We're already in a place that has wet wets and dry dries, but those differences are supposed to become even greater over time" as global temperatures rise, Mount explained.
The future will leave California with even "wetter wets and drier dries," like those of the past seven years, he said, noting that temperatures were extremely high during the drought and are still slightly above average during this wet winter.
And a common refrain nowadays: '"We are long past the point where we should be planning — and acting — to adapt to now unpreventable climate changes," Gleick said.
"We see this in California because we pay more attention to California. But these changes are happening everywhere around the world."'
An also-old refrain, 'rainy night in Georgia,' which has really come to feel like indeed, it's raining all over the motherfucking world…