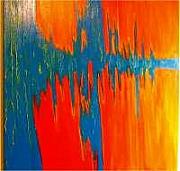 Felt the shift, a gentle shudder as I had just sat down in front of my laptop — the reaches here off a decent-sized earthquake northwest of Ferndale, and about 65 miles southwest from where my ass had plunked down.
According to the USGS, a 5.1 shaker rattled this Friday afternoon, a couple minutes after five o'clock — first biggie in awhile.
Details indicated a 2.2 intensity just a couple of miles from my apartment, yet the span of shaking was apparently widespread.
After I felt that initial (and so far, the only) movement, I quickly went to the USGS main site, but no indicator there of a quake. Earth movements are odd, a near-surreal flutter of motion, and living in 'quake country' influences the senses — there's nothing like the sensation.
So I continued surfing the afternoon news sites — I follow a set list of 'favorites' — until I reached Lost Coast Outpost. Somebody's quick on the handle there as they'd just posted about it.
I quickly-clicked on the USGS, and there it be.
Although there has been no reports of damage or injury so far, this via SFGate did express a sense of nature: '"It felt like a big truck hit our building," said Gretchen Anderson, an employee at Aalfs Evans LLP in Eureka.'
Updates maybe later in the evening…
(Illustration above found here).