Cold and bright this Tuesday afternoon on California's north coast with lots of sunshine, but chilled-out temperatures — high supposedly just 51 and down close to freezing temperatures last night, and probably again tonight.
No rain forecast until a week from tomorrow…
Way-way ahead of its time — sadly 'only' two years ago:
Some old near-forgotten lore, though still funny, now after time, we realize the situation is worse than we figured back then, and real, real ugly. The crazy right-on words of the flesh, despite the crazy.
Centerpiece of our current history occurs about a minute, 15 seconds into the clip — just before the T-Rump takes the oath, he and and Obama hug, whisper:
Trump: "Now pretend I like you, but I hate you inside."
Obama: "You're a creep."
Earlier this afternoon, I'd been listening to some music on my iPad, and on some song-video there first popped up a Trump advertisement, one where there's some kind of call-in thingie, and he (the T-Rump) wants to see your name on some list — the ad caught me by surprise, and now I can't find it again, although there was a similar thing from last month by the T-Rump's 2020 campaign manager Brad Parscale, who then claimed: '"President Trump has achieved more during his time in office than any president in history."' (The Hill)
In the one I saw today, it's the T-Rump saying the same thing, but out of his nasty-looking face, blubbering-off about how great America, and way-how-much shit he's accomplished in such a short time, and as foretold, probably the greatest president in all history. The T-Rump even talks creepy about his critics agreeing they've never seen anything like it.
And that's true, but there's absolutely nothing good about it — horrifying a better word.
As I went Googling for the ad, somewhere along the line the link for that Bad Lip Reading video popped up, and I felt relief — the ad had left a deep, depressing crater, one so steep even Stevie Nicks couldn't help.
The actual feel for the 'creep' of our age came this afternoon at New York Magazine with a view of "Team of Vipers," another T-Rump White House insider book by Cliff Sims, who worked as a West Wing communications official.
In this episode, the T-Rump gets furious with NASA because Mars:
The April 24, 2017 video call to congratulate the astronaut Peggy Whitson, who that day broke the record to become the American who has spent the longest amount of time in space, was an unusually smooth public event for the president.
Trump sat at his desk in the Oval Office, flanked by his daughter and adviser, Ivanka, and astronaut Kate Rubins, and read prepared remarks off a sheet of paper while other members of his staff — Jared Kushner, Reince Priebus, Sean Spicer, and Betsy DeVos — looked on.
Suspended aboard the Space Station, Whitson and Colonel Jack Fischer fielded his questions, including, "What are we learning by being in space?"
The only major hiccup visible to the public came when Trump asked about Mars.
"Tell me, Mars — what do you see a timing for actually sending humans?" he said.
Whitson responded by noting that just a month earlier, Trump had signed a bill outlining such timing.
"Well, I think as your bill directed, it would be in the 2030s," she said.
"Unfortunately spaceflight takes a lot of time and money, so getting there will take some international cooperation."
Trump didn't accept her answer.
"Well, I think we want to do it in my first term or at worst in my second term," he said.
"So I think we'll have to speed that up a little bit."
By Trump standards, the comment barely registered as news.
The New York Times suggested he'd said it "perhaps jokingly."
But, according to an excerpt from Team of Vipers obtained by Intelligencer, Trump wasn't joking.
He was suddenly very serious about getting to Mars as soon as possible.
…
As Sims explained to the president what was about to happen, "he scanned over his prepared remarks, crossing out some of the text with a Sharpie."
Meanwhile, Sims wrote, "the giant flat-screen TV hanging on the wall was turned to Fox News, on mute."
Trump asked him where the cameras would be positioned and "which side of his head would be most prominently featured."
Sims wrote that he "made sure the press cameras would be positioned on the right side," which was Trump's preference.
Then, something happened.
Trump "suddenly appeared distracted, distant," wrote Sims.
"I could sense the gears inside of his head starting to turn. I was losing him."
As the clock ticked down, Trump "suddenly turned toward the NASA administrator."
He asked: "What's our plan for Mars?"
Lightfoot (acting NASA administrator) explained to the president — who, again, had recently signed a bill containing a plan for Mars — that NASA planned to send a rover to Mars in 2020 and, by the 2030s, would attempt a manned spaceflight.
"Trump bristled," according to Sims.
He asked, "But is there any way we could do it by the end of my first term?"
"'
Trump did not seem worried about the time.
Sims wrote that he leaned in toward Lightfoot and made him an offer.
"But what if I gave you all the money you could ever need to do it?" Trump asked.
"What if we sent NASA's budget through the roof, but focused entirely on that instead of whatever else you're doing now. Could it work then?"
Lightfoot told him he was sorry, but he didn't think it was possible.
This left Trump "visibly disappointed," Sims wrote.
"But I tried to refocus him on the task at hand. We were now about 90 seconds from going live."
Trump wasn't ready to refocus yet, however.
As he walked with Sims from the dining room to the Oval Office, he stopped just outside the door.
"He decided to stop in his white-marbled bathroom for one final check in the mirror," Sims wrote.
He had 30 seconds before he was supposed to be on camera, and Sims was "now nearing full on panic."
In the bathroom mirror, Trump smirked and said to himself, "Space Station, this is your President."
He told Sims to go ahead into the Oval, assuring him, "I'll be right in."
As par for the course, the whole scene could be hilarious — the Marx brothers playing about in the West Wing — but it's dreadfully scary in reality.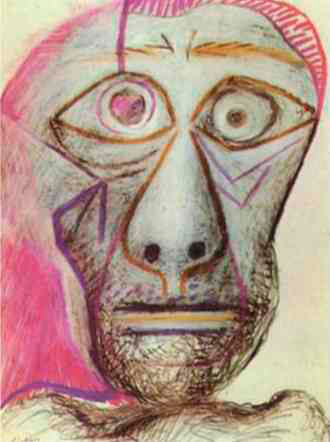 (Illustration: Pablo Picasso's 'Self Portrait Facing Death' (June 30, 1972), was originally found here).