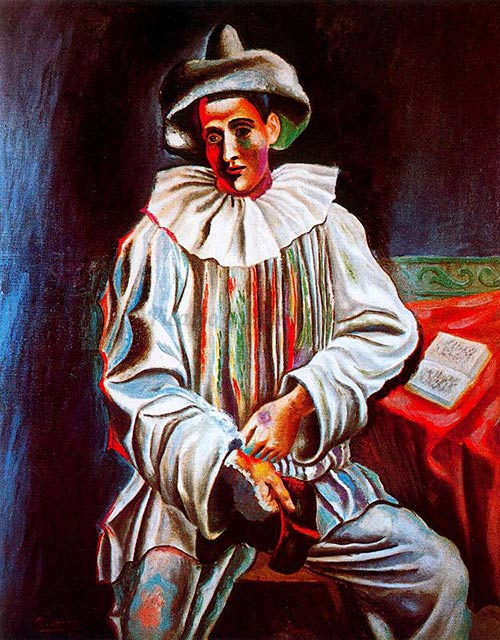 (Illustration: Pablo Picasso's 'Seated Pierrot,' found here).
Clear and a bit chilly this Friday evening on California's north coast, a sunshine-splashed day and didn't feel quite so cold as the last week or so.
Supposedly, a maybe-about 50-percent chance of rain next Wednesday, until then dry with cloud cover and fog — 'bout normal for this time of year.
Once again a bigly Friday news dump of sorts, with several stories seemingly happening at once, or at least over a short space of time. In another universe today would have been massive, but because of life in the T-Rump era, it's only 'bigly.'
First, not on the clock, but of importance (CNN): 'President Donald Trump conceded Friday to mounting pressure that he reopen the federal government, agreeing to a temporary funding measure that would allow federal employees to return to work but that does not include the billions of dollars in border wall funding he's spent the past month demanding.'
And the New York Times: 'The president's concession paved the way for the House and the Senate to both pass a stopgap spending bill by voice vote. Mr. Trump signed it on Friday night, restoring normal operations at a series of federal agencies until Feb. 15 and opening the way to paying the 800,000 federal workers who have been furloughed or forced to work without pay for 35 days.'
Good Read at Vanity Fair on the whole horrifying ordeal — main note:
On Friday afternoon, just one day after he declared that he would never cave over his demand for a border wall, President Donald Trump walked into the Rose Garden and announced that he will sign a bill to reopen the government for three weeks, temporarily ending a month-long shutdown that furloughed hundreds of thousands of federal workers, created a security nightmare at dozens of airports, and threatened to slow the U.S. economy.
The deal, notably, does not include one cent for Trump's wall, the signature issue on which he has bet his presidency.
It is, in fact, almost identical to the deal Trump rejected at the end of December.
And the political high-point: '"Trump looks pathetic," a former White House official texted Axios's Jonathan Swan, minutes after the president's Rose Garden speech. "[He] just ceded his presidency to Nancy Pelosi."'
Plus, no State of the Union next week either, despite everything (TPM)"
Speaker of the House Nancy Pelosi (D-CA) said Friday that the State of the Union address would likely not take place on Tuesday, adding that it was "not planned."
"The State of the Union is not planned now," she said during a press conference after President Trump announced the government would reopen for three weeks without funding for his border wall.
"What I'd said to the President was when the government is opened we would discuss a mutually agreeable date and I look forward to doing that and welcoming the President to the House of Representatives for the State of the Union when we agree on that mutually agreeable date."
Probably second on Friday's news dumpster 'bigley' list, though time-wise the early bird, is the indictment/arrest of surreal-crazy Roger Stone, a long-time GOP ratfucker, making shit stink from Nixon to the T-Rump — a recap at Vox early this morning:
Longtime Trump adviser Roger Stone was arrested in connection with special counsel Robert Mueller's investigation early Friday morning at his home in Florida.
He was indicted for obstruction, making false statements, and witness tampering.
You can read the full indictment at this link.
The charges focus on Stone's alleged lies to the House Intelligence Committee during 2017 about his statements about and efforts to get in touch with WikiLeaks during the 2016 campaign.
The indictment also conspicuously mentions that "a senior Trump campaign official was directed to contact Stone" about what WikiLeaks might have on Hillary Clinton.
…
The actual charges against Stone, however, don't allege that he committed any crimes during the 2016 campaign.
They allege, instead, that he attempted to obstruct investigations into what happened afterward.
…
Stone was also charged with witness tampering for his efforts to get Credico to stick to his false story.
"'Stonewall it. Plead the fifth. Anything to save the plan' … Richard Nixon," Stone texted Credico at one point.
"If you turned over anything to the FBI you're a fool," he later said.
And eventually, when Credico wouldn't stick to the story, Stone got angrier. "You are a rat. A stoolie. You backstab your friends," he wrote to Credico in April 2018.
'Credico' is talk radio host Randy Credico, whom Stone called his "intermediary."
And Stone will face a hard line in court —  Bloomberg this morning:
The no-nonsense judge assigned Stone's case has already demonstrated that she's got little patience for defendants who misbehave.
U.S. District Judge Amy Berman Jackson issued a gag order on Donald Trump's former campaign manager Paul Manafort and later revoked his bail and threw him in jail.
"This is not middle school," Jackson told Manafort's lawyers before ordering him locked up in June for alleged witness tampering.
"I can't take his cellphone."
The Hill's 'Morning Report' is worth the reading time with a full list of shit from yesterday that mingled in with other shit today.
And the Toronto Star has a must-read on the T-Rump's constant-continuous lying:
Trump made 3,135 false claims in the second year in office that ended last Saturday, 8.6 per day.
That was almost three times as many as he made in his first year, 1,072 or 2.9 per day.
The 15 most dishonest weeks of Trump's presidency all came in the second year, and 23 of the most dishonest 25 weeks.
The 15 most dishonest days of his presidency all came in the second year, and 45 of the most dishonest 50.
The second-year lies were not only incessant but frequently ridiculous, so unsophisticated they could be fact-checked with a single Google search. Or less.
So Stone arrested for lying to Congress, Michael Cohen admits lying to Congress, Michael Flynn pleads guilty to lying to the FBI, Paul Manafort admits to lying about his financial dealings in Ukraine, Rick Gates also pleads to lying about his financial dealings in Ukraine, and so forth.
Yet the reckoning is coming, and is here…