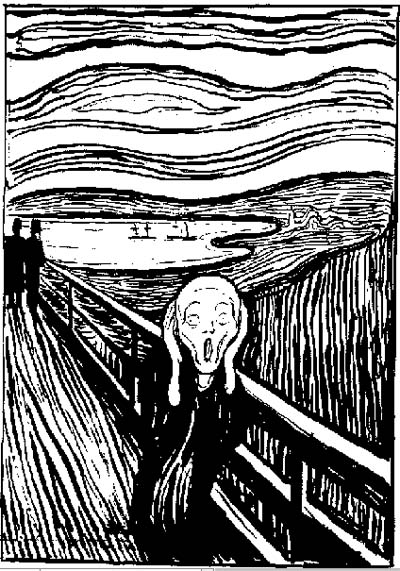 (Illustration: Edvard Munch's 'The Scream,' lithograph version, found here).
Chilly-cold and wet this Tuesday evening here on California's north coast, and with a forecast for more rain tomorrow, at least there's hope for sunshine on the horizon — the NWS is calling for 'Mostly Sunny' on Thursday, and maybe Friday, too.
Although rain is scheduled for Saturday, outlook for Sunday and Monday appear bright, a respite from a nasty, freaky winter — remember our odd weather experience from last month, snow 'essentially at sea level,' the most white stuff along the shoreline in 29 years.
Supposedly warmer tomorrow, but nowadays that's relative…
First post here at old Compatible Creatures in a couple of weeks. I've been busy doing physical stuff, which lately is unusual, and haven't really had the time to sit at the laptop and compose — but I've been keeping up with the shit-filled news cycle, even with being off the InterWebs for four/five days (in the midst of a move). In appearance, nothing has seemingly really changed, all the same freakin' shit, just gotten worse.
Yet the wind is shifting (CNBC):
Michael Cohen is going to jail for lying to Congress.
Still, voters are more likely to trust President Donald Trump's former lawyer than the president himself, according to a poll released Tuesday.
Following Cohen's explosive testimony to Congress last week, 50-percent of voters say they believe Cohen more than Trump, a Quinnipiac University poll found.
Only 35-percent responded that they believe the president more.
…
Overall, 58-percent of voters — including 60 percent of independents — say they think Congress "should do more to investigate" Cohen's "claims about President Trump's unethical and illegal behavior."
Thirty-five percent do not think Congress should take more steps to probe his allegations.
Voters have overwhelmingly negative views about the president's character, the poll found…
Despite what Republicans think, or say, the majority of Americans understand the situation with the T-Rump and his entire operation. Furthermore from the same poll: 'Sixty-four percent of respondents think Trump committed crimes before he became president, while only 24 percent believe he did not.'
And it's getting vicious.
Edvard Munch's drawing above, 'The Scream,' has become a poster for our current spectacle — from the Guardian in January:
The Scream is ugly and brutal and belongs in the here and now.
It is a symbol we reach for as we might for a strong word, to express what we're feeling this minute.
…
The Scream is so much more than a receptacle for the anxiety we're feeling right now.
It can rescue us.
It offers a means of release from the grind and banality of politics, money and work.
The true purpose of the greatest modern art is to reconnect us with demonic, ecstatic experiences that defy the boredom of modern industrial capitalism.
Maybe Munch was possessed by the Vikings when he heard the world scream.
For The Scream seems pagan and primitive in its shudder at the iciness of the empty north.
It is a painting of Ragnarök — the Norse apocalypse. Which makes it even more the masterpiece for our time.
Play Led Zeppelin's Immigrant Song and stare at The Scream.
You'll soon forget all about the things that make you want to … you know.
And so it goes, in screams…
.