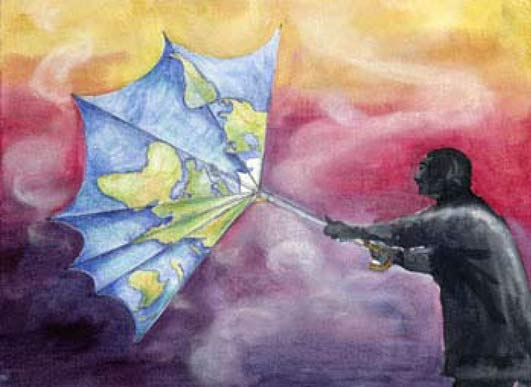 Fog and low clouds this early-evening Thursday on California's north coast — dog run to Little River Beach in late morning was also misty-gray, but still rambunctious comfortable.
When I checked WeatherUnderGround just a while ago, we were at 64-degrees up here, while Merced down in the Central Valley at the same time was 96-degrees —  a way-main ingredient in both weather and a successful restaurant: Location.
Artwork from UN's International Children's Painting Competition, and found here.
And the weather 'location right now in the US is most-likely along the Gulf coast, stretching from Texas to the Florida panhandle — today apparently, Tropical Story Barry finally formed-firmed-up and took dead-eye aim at Louisiana, and New Orleans. Supposedly, Barry could develop into a Category 1 hurricane Saturday morning before making landfall.
Carrying a shitload of rain-water, Barry is expected to cause a 3-to-6-foot storm surge for the Mississippi River.
The way-big rub — the river at New Orleans, usually at 6-to-8 feet during this time of the year, now is rising to 16 feet, maybe cresting over the weekend at 19 feet. Last time the river was this high, February 1950, and currently just about 2-to-3 feet short of the April 1922 record.
Included in that 'big rub' were heavy rains yesterday in advance of Barry's shit, (AccuWeather):
A flash flood emergency was declared in Jefferson Parish, with nearly 8-inches of rain reported in some areas.
A total of 6.27-inches was observed at the heliport in downtown New Orleans, while Louis Armstrong New Orleans International Airport in the northwestern part of the city reported 1.54-inches.
In Bridge City, located southwest of downtown, 7.75-inches of rain fell.
This will be the biggest test since Hurricane Katrina 14 years ago. According to the NWS, New Orleans could get 10-to-15 inches of rain starting tomorrow and continuing through Sunday, with maybe some rural spots catching 20-inches.
And in this environmentally-inept era, rainfall totals are expected to soar.
The note of interest on Barry — per Gizmodo this evening:
This whole setup also neatly illustrates how climate change and the way we've developed can create overlapping risks that will only increase in the coming decades.
Heavy precipitation events like the ones that inundated the Midwest this spring and are now clogging the Mississippi River in Louisiana are becoming more common in every corner of the U.S.
The warmer atmosphere human carbon pollution has created simply holds more water, leading to more prolific downpours.
While no research has been done to attribute any aspect of Barry to climate change, the expected heavy rain also certainly fits that pattern.
And attribution research for Harvey two years ago showed that climate change did increase the odds of the storm's record-setting rainfall.
Meanwhile and related via weather, last night a weird, from out-of-nowhere storm banged-up Halkidiki, near the city of Thessaloniki, located in northern Greece — gale-force winds, heavy rain, even hailstorms plastered the region, killing seven people.
Carries a similarity to that freakish hailstorm in Guadalajara, Mexico, last week.
From the BBC this morning:
Charalambos Steriadis, head of civil protection in northern Greece, described the storm as an "unprecedented phenomenon."
It followed a spell of very hot weather in Greece with temperatures soaring to 37C (98F) over the past two days.
Winds of more than 60mph (100km/h) were recorded in the region, Reuters news agency reports.
…
Witnesses say the worst of the freak storm lasted only about 20 minutes.
The Romanian woman and her child were killed when the roof of a restaurant collapsed at Nea Plagia, officials say, while the Russian man and his son were killed by a falling tree near their hotel in the seaside resort of Potidea.
A seventh body was later found in the sea on Thursday.
Formal identification is yet to take place, but a 62-year-old Greek fisherman was reported missing in the area.
Those injured are mostly tourists, officials say.
"It is the first time in my 25-year career that I have lived through something like this," said Athansios Kaltsas, director of the Nea Moudania Medical Centre which treated many of the injured.
"It was so abrupt, so sudden."
And if our environment continues to heat, locations will climate-re-locate: 'Around the world, cities that are currently in temperate or cold zones in the northern hemisphere will resemble cities more than 600 miles (1,000km) closer to the equator, with damaging effects on health and infrastructure.'
London will feel like Barcelona today, Seattle like San Francisco, New York another Virginia Beach.
Location by any other word…