Sunshine and wind-blown late-afternoon Tuesday on California's north coast. Another gorgeous day with the obligatory fog this morning — a dog run to Little River State Beach was also foggy, but way-enjoyable. (Discovered no dogs allowed at Little River, a never-before-noticed sign right at the entrance is way-obvious now, most-likely to continue, though).
Right now it's 68-degrees here, and feels near-delightful, while at the same time, Merced down in the San Joaquin Valley carries an outside temperature of 93, and probably feels near-miserable. (WunderBlog)
Weather is weird, climate — which makes the weather — is even weirder.
While everybody's nauseatingly-distracted by that racist asshole in the White House, our environment is getting scary-weird warm:
This is significant. But stay tuned for July numbers. July is the warmest month of the year globally. If this July turns out to be the warmest July (it has a good shot at it), it will be the warmest month we have measured on Earth!#RecordWarmth #ClimateChange #NotSubtle https://t.co/cuXQLOEz7G

— Michael E. Mann (@MichaelEMann) July 15, 2019
And beyond last month being the hottest June ever, those numbers for half of July are on target — via the Guardian this afternoon:
Record temperatures across much of the world over the past two weeks could make July the hottest month ever measured on Earth, according to climate scientists.
The past fortnight has seen freak heat in the Canadian Arctic, crippling droughts in Chennai and Harare and forest fires that forced thousands of holidaymakers to abandon campsites in southern France and prompted the air force in Indonesia to fly cloud-busting missions in the hope of inducing rain.
If the trends of the first half of this month continue, it will beat the previous record from July 2017 by about 0.025C, according to calculations by Karsten Haustein, a climate scientist at the University of Oxford, and others.
This follows the warmest-ever June, which was confirmed this week by data from the US space agency Nasa, following Europe's Copernicus satellite monitoring system.
An example in the above-mentioned heating:
Temperatures hit a record 69.8 degrees Fahrenheit in Alert, the northernmost permanently inhabited spot on the planet less than 600 miles from the North Pole, the Canadian meteorology service said Tuesday.
"It's quite phenomenal as a statistic, it's just one example among hundreds and hundreds of other records established by global warming," Armel Castellan, a meteorologist at the Canadian environment ministry told AFP.
An astute observation on this heating planet and a just-published study on the 'heat index' gathered from all that warming at Esquire this morning — the future will be hot, and then get hotter. Go read the whole piece, but this wraps it:
This is of course completely in line with the other cheerful temperature news we've gotten recently.
2018 was the hottest year on record for the planet's oceans, for instance.
The next-hottest was 2017.
The top five hottest years have all occurred since 2014.
Apparently, the oceans are warming far faster than previously thought.
Warming oceans lead to sea level rise, and raise the threat of a feedback loop: as ice melts, it leaves more surface area to be occupied by water.
This water stores more heat, accelerating the rate at which oceans warm and, in turn, accelerating the rate at which ice melts.
Warming oceans lead to stronger storms, too, and to coral bleaching, which decimates the backbone of marine ecosystems.
That's one reason why, even back in 2015, scientists feared we could be causing a mass extinction event in the world's oceans.
Three billion human beings depend on seafood to eat, so they might be some of the emerging climate refugees who will move great distances across the globe in search of somewhere to live.
Surely, based on how we're handling immigration issues currently, that will not cause any kind of major unrest.
But now let's get back to arguing whether the racist president is racist.
See what I mean…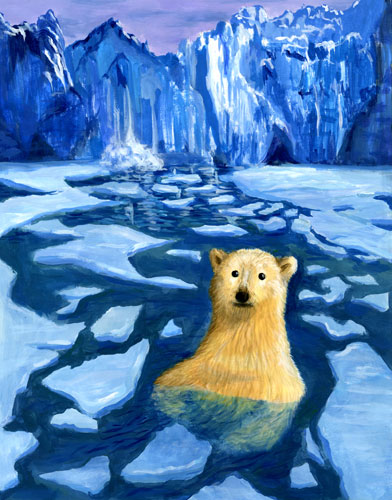 (Illustration found here).