Darkening-gray and chilly this early-evening Monday on California's north coast.
Rain forecast starting Wednesday, running through the weekend, and on-and-off the next 10 days — end of a way-pleasant Indian Summer.
John Oliver had a nifty piece last night on our weather reporting, check it out at the Guardian.
This has become my theme song:
First post in nearly three weeks — I get these 'writer's cycles,' though not correctly physiologically designated as 'writer's block,' (at least for me) with episodes of zero-or-near-zero literary production heavily influenced by ordinary laziness, resulting in 'Compatible Creatures' running on empty.
Writing is an extension of myself, so combine lack of creative energy with emotional sadness there's a desire gap that sometimes get real wide on sitting down to the laptop keyboard, or even long-hand scribbling of notes, poems and general news shit on a yellow legal pad.
Instead I'd prefer to just watch "Psych" or the first 10 minutes of multiple movies on Amazon. Or read someone else's words — currently re-reading David Baldacci's "The Guilty."
Circumstances in the age of the T-Rump can cause a sorrowful passion to fry brain tissue, forcing escape from the worldwide, massive all-around-general clusterfuck now starting to really percolate everywhere. However, I haven't lost my news addiction, constantly checking sites for additional shit on updates of breaking stories all the fucking day long. After awhile the continuous subject matter seems to just get too hard to write about, nearly-forcing the actual, physical labor of writing, which if not willful doesn't work for me (Maybe did under a newsroom deadline scenario, but that was nearly 20 years ago).
Not writing maybe is a more-passive, chicken-like way to cope. Usually as these episodes go, after awhile I write again, of course because I'm a writer, what else am I going to do? Another "writing cycle" incident, that's all.
We seem to be piled-high with way-so-much shit, a large portion directly/indirectly attributed to the T-Rump, as villainous a character found in all of history. In an era when calm and harmony is really, really needed in so many different venues, the T-Rump spews pure chaos, destroying everything he can put his fat, tiny fingers on, and without a care the consequence.
Unhinged idiocy:
President Trump on Monday continued to defend his decision to withdraw from northern Syria, tweeting that someone else could protect the Kurds, such as Russia, China — or even Napoleon.
"After defeating 100% of the ISIS Caliphate, I largely moved our troops out of Syria.
Let Syria and Assad protect the Kurds and fight Turkey for their own land.
I said to my Generals, why should we be fighting for Syria and Assad to protect the land of our enemy?
Anyone who wants to assist Syria in protecting the Kurds is good with me, whether it is Russia, China, or Napoleon Bonaparte.
I hope they all do great, we are 7,000 miles away!" the commander-in-chief wrote at 3:10 p.m.
Horrifying asshole…
Along with Annie's rain, there's also Emily's "Hope" —
"Hope" is the thing with feathers –
That perches in the soul –
And sings the tune without the words –
And never stops – at all –

And sweetest – in the Gale – is heard –
And sore must be the storm –
That could abash the little Bird
That kept so many warm –

I've heard it in the chillest land –
And on the strangest Sea –
Yet – never – in Extremity,
It asked a crumb – of me.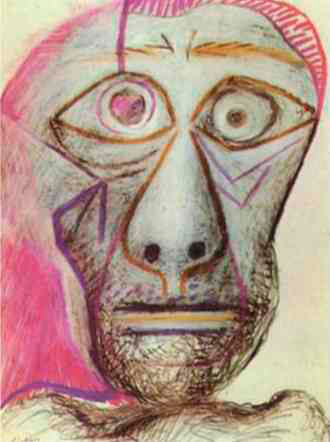 (Illustration: Pablo Picasso's 'Self Portrait Facing Death' (June 30, 1972), was originally found here).