Clear skies and chilly this early-evening Monday on California's north coast, and a return of electrical power just a couple of hours ago, a short respite until another "PSPS Piss-Piss" scheduled for tomorrow morning — we only have time to recharge our gadgets and await the blackout, reportedly set maybe for about 4ish, or even earlier.
Who really knows?
Our utility doesn't — via Lost Coast Outpost late this afternoon: 'The next weather event is currently scheduled for 6 am on Tuesday (10-29-2019) morning. The power will be turned off several hours prior to that time. PG&E expects the weather "All clear" time to be Wednesday afternoon. These times are estimates provided by PG&E and are subject to change. Humboldt County Office of Emergency Services will provide updates as we get them.'
Yes, 'subject to change' — no shit! This afternoon, I visited the Arcata Community Center where there were charging stations set up for cell phones and medical devices, and it was really nice. There were plenty of outlets and a quiet, productive crowd. And seemingly a kind of camaraderie in spirit of all being in the same ludicrous fix.
I'd figured we'd be out of power until probably Thursday or Friday if any of the reports were anywhere accurate. As I was coming out of Safeway, which was open but I couldn't get any goods (cash only, no cards), a nice lady without any prompting told me, "We've got power, but it'll go off at four." And she appeared to speak with authority and knowledge.
So I hightailed it back to the house (wanted to quickly recharge my iPad), but alas still no electricity,  arrived about a half-an-hour later. Apparently the power came back on in waves, moving south to north, Eureka first, south Arcata, thus us on the north side. The nice lady was evidently speaking of 4 o'clock tomorrow morning.
A wonderful sight to see the lights come on — an example of the surreal, exasperating state of affairs.
And PG&E really don't know what the shit they doing — a new report released today on the first blackout Oct. 9 revealed the company is clueless (via the SF Chronicle):
PG&E worked with Caltrans, BART and other public agencies to keep tunnels and tracks energized, but the efforts took place during the execution of the event, instead of through preparations in advance.
As of Oct. 21, PG&E has received 450 claims related to the power outages, seeking compensation for property damage, economic losses and spoiled food.
There was one claim for an injury.
And making matters worse, an insult to injury (h/t Digby)
The Trump Administratio is suing California to invalidate it's core program to fight #ClimateChange and seeking to revoke its authority to limit carbon emissions from motor vehicles https://t.co/87drGCl1Ob

— Ronald Brownstein (@RonBrownstein) October 28, 2019
Due to a high pressure ridge still off the coast, coupled with high winds the fire danger isn't anywhere over as the state is burning — the Sacramento Bee, also this afternoon:
Firefighters are battling several major wildfires across California, including an explosive Sonoma County blaze that has engulfed 66,000 acres, the state Department of Forestry and Fire Protection reports.
The National Weather Service has issued red-flag weather warnings for extreme fire risk in Northern and Southern California, with most set to expire Monday or Tuesday night, Cal Fire reports.
On Sunday, Gov. Gavin Newsom declared a state of emergency across California as a result of the wildfires, fed by high winds.
In all, California wildfires have burned 162,693 acres, killed three people and destroyed 405 buildings so far in 2019, according to Cal Fire.
…
The Cal Fire incident map shows six active wildfires being handled by the agency, ranging from 5-percent to 98-percent containment.
It shows another nine wildfires being handled by local agencies, such as the Getty Fire being fought by the Los Angeles Fire Department.
Some of those fires broke out last week or even earlier, however.
And on we go — no power tomorrow, and maybe Wednesday.
Play it by ear lobe…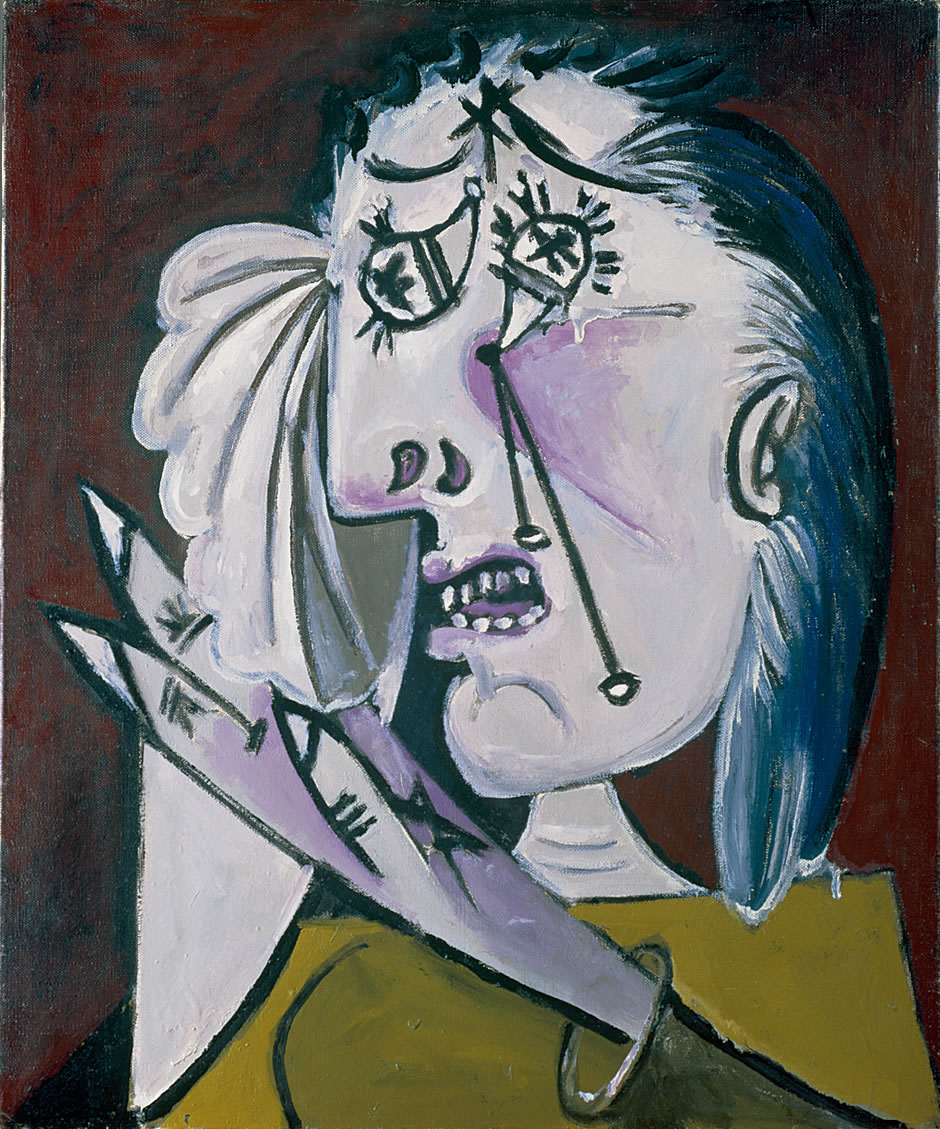 (Illustration: Pablo Picasso's 'The Weeping Woman [La Femme qui pleure],' found here).