Sunshine and a brisk-cool breeze this late-afternoon Tuesday here on California's north coast.
Dog run about mid-day at Little River State Park was gorgeous, with just a wisp of a misty-fog hanging about north and south.
People on the beach were shimmering forms coming and going, until just about right upon us.
Reportedly, clear skies with temps in the low-60s the next few days, as fall continues brightly.
Nice weather to help cushion the crazy PG&E blackouts this month. Supposedly we're to have a power cut-off at 7 p.m., about two hours from now — this morning the schedule was for 9 p.m., then the time switched back, and we don't know actually when, really, and we don't know any time frame for a electrical re-boot, hopefully tomorrow afternoon.
Although the problem with wildfires is immense, PG&E has no game plan on how to handle the situation, other than pull the cord.
Typed those words too soon — I just received a text message (transferred), which changed the scenario again: 'According to PG&E representatives, "Due to diminished weather conditions, Humboldt County is now beneath the wind threshold for a Public Safety Power Shutoff (PSPS)." The information we are receiving from PG&E is that Humboldt County is no longer in scope and will remain with power throughout the evening.'
Whiplash from setting to setting.
An emotional load off, however, at least for awhile…
A real-good reason these blackouts are a bit nerve-racking can be found buried down in a public notice this afternoon from the Humboldt County Office of Emergency Services (via Redheaded Blackbelt): 'This release is intended to update the public on Public Safety Power Shutoff (PSPS) activity information provided by PG&E. This office is not able to guarantee the accuracy of the information provided and the public should consider this release as general information and be prepared for a PSPS event that may have different timing and/or duration than predicted.'
An exasperating, similar view from Ryan Burns at Lost Coast Outpost, also this afternoon:
Defying predictions and official statements, the vast majority of Humboldt County remains fully powered as of this writing.
The county Office of Emergency Services is now saying that PG&E is now saying that Humboldt County will start losing power at 7 p.m.
Is that true? Who can say?
Will it start coming back on Wednesday afternoon, as has been forecast?
Who the fuck knows?
Maybe tomorrow we'll know…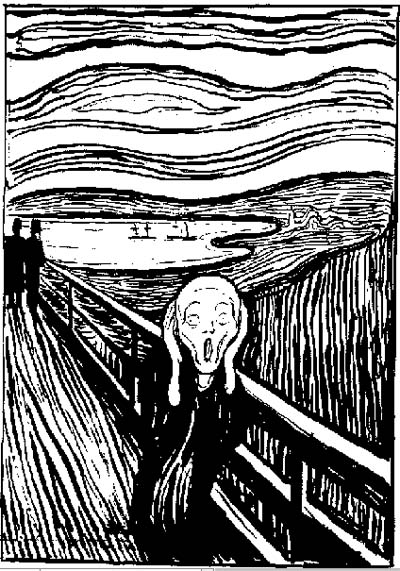 (Illustration: Edvard Munch's 'The Scream,' lithograph version, found here).