Just short of the Thursday noon hour here in California's Central Valley with temperatures near 100-degrees already as we get set for another hot/hottest afternoon ahead. Not much breeze, either, which makes the heat feel even warmer despite being way-warm anyway.
Notwithstanding the serial clusterfucks now swirling around us, the old stand-by/background-noise/cataclysm of climate change is still rolling merrily along without a care in the world — we're still fucked: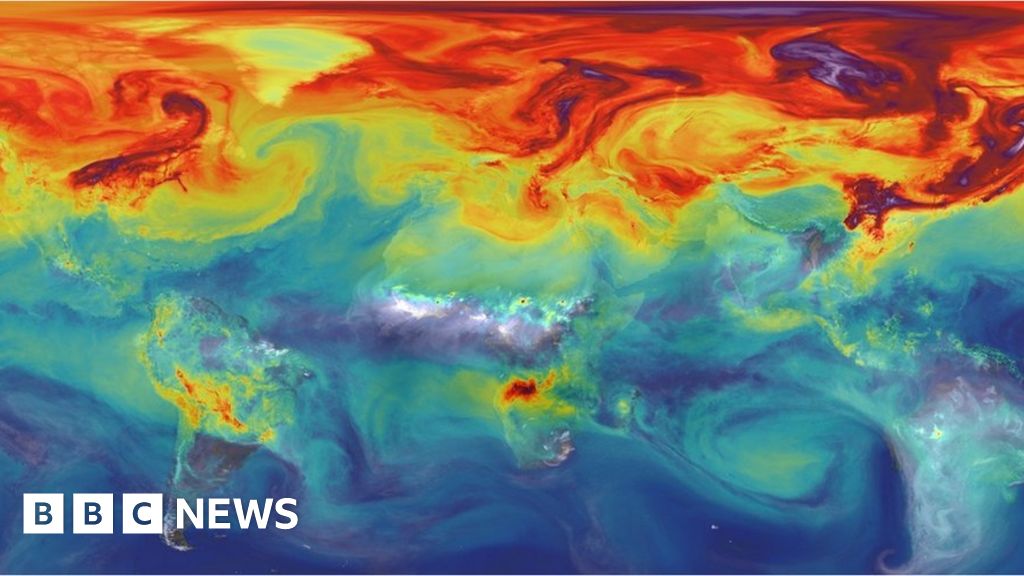 (illustration found here).
One indication is CO2, the mainstay core of greenhouse gases, which is still flowing way-above human- comfortability/livability levels — a way-pertinent piece at The Washington Post this morning:
Although in the historical long run the 400-plus ppm is a low-to-middling concentration of CO2 for the planet Earth, but for 800,000 years ppm averaged out to be 280 ppm, until about 1750, when the shit hit the industrial fan. Supposedly about 360 ppm is our standard living range.

The coronavirus-related economic downturn may have set off a sudden plunge in global greenhouse gas emissions, but another crucial metric for determining the severity of global warming — the amount of greenhouse gases actually in the air — just hit a record high.

According to readings from the Scripps Institution of Oceanography and the National Oceanic and Atmospheric Administration (NOAA), the amount of CO2 in the air in May 2020 hit an average of slightly greater than 417 parts per million (ppm).
This is the highest monthly average value ever recorded, and is up from 414.7 ppm in May of last year.

Carbon dioxide levels are the highest they've been in human history, and likely the highest in 3 million years.
The last time there was this much CO2 in the atmosphere, global average surface temperatures were significantly warmer than they are today, and sea levels were 50 to 80 feet higher.
…
Kim Cobb, a climate scientist at Georgia Tech, says the new findings underscore the need to act now.
"It is a reminder that climate change is not on pause in any way, shape or form," she said.
Further on the new CO2 numbers via Reuters, also this morning:
The drop in worldwide emissions due to the coronavirus outbreak — estimated to be as much as 26-percent in some countries during the peak of government confinement orders — fails to cancel out the large natural variations in carbon emissions caused by how plants and soils react to temperature, humidity and other factors, scientists said.
It would take carbon dioxide reductions of 20-percent to 30-percent for six to 12 months to slow the rate of increase in the measurements at Mauna Loa, Scripps said in a statement.

Last month, research published here in the journal Nature Climate Change predicted that global emissions could fall by up to 7-percent this year.

"It will decrease the rate of increase of CO2 by a little bit, but it will still be increasing," Pieter Tans, chief scientist at NOAA's greenhouse gas monitoring lab, said in an interview.
"So a 10 percent change — it's even hard for us to measure."
Lingering in the background of the T-Rump's worse shit today, is the future is already made to suck — from Yale Climate Connections yesterday:
The Trump administration, after less than one full first term, has every likelihood of being adjudged the most anti-climate, anti-science, and anti-environment executive branch in U.S. history.
With numerous high-level Trump nominees having cut their teeth as lobbyists with major polluting industries, the administration has been steadfast in weakening or eliminating major conservation and environmental regulations and programs.

Notwithstanding President Trump's claims to want "crystal clean water and the cleanest and the purest air on the planet," his administration has determinedly gone about reversing at least 100 environmental rules.
While initial Trump EPA cutbacks under Administrator Scott Pruitt were hampered by his self-inflicted scandals, the agency under Administrator Andrew Wheeler has quietly worked to achieve many of the same ends.
Wheeler's environmentalist critics are fond of saying that he is "so bad because he is so good at being bad," thereby often avoiding incriminating headlines that had plagued Pruitt.
An analysis makes it a hard road to re-group against climate change even if Biden wins in November.
'Why-ain't-they-turnin?'
Iceberg lettuce…
(Illustration found here).