Sunshine this late-afrernoon Sunday here in California's Central Valley — weatherwise for this time of year, about as good as it gets.
Fog heavy again this morning, but it burned-off fairly rapidly, making it nice outside.
'Nice' is really relative, and regarding our climate, nothing is really nice.
(Illustration found here).
Last week's Hurricane Eta coming ashore in Central America continued this year's overwhelming number of storms in the Atlantic Ocean and in the Gulf of Mexico, a whirl seemingly unending — 2020 is now tied with 1995 for the highest number of rapidly-intensifying storms for a single year since 1979.
Even right now:
#Iota has strengthened by 45 kt (50 mph) in 24 hours, the 10th Atlantic storm to meet RI criteria in 2020.

Also a chance for our 3rd case of landfalling storms within 100 miles of each other, after #Eta 2 weeks ago.

Others: Laura/Delta, and Zeta/Cristobal/Marco in Louisiana. pic.twitter.com/jjTSCUqjQl

— Jake Carstens (@JakeCarstens) November 15, 2020
Iota is 2020's 30th named storm, continuing the record for most-named storms ever observed in a single Atlantic hurricane season. And Iota is just a forewarning for the immediate future (in today's Guardian):
Climate scientists say that this year's record-breaking hurricane season and the "unprecedented" double blow for Central America has a clear link to the climate crisis.

"In a 36-hour period [Eta] went from a depression to a very strong category 4," said Bob Bunting, CEO of the non-profit Climate Adaptation Center.
"That is just not normal. Probably it was the fastest spin up from a depression to a major hurricane in history."

The evidence of the influence of the climate crisis is not so much in the record-breaking 30 tropical storms in the Atlantic so far this year, but the strength, rapid intensification and total rainfall of these weather systems.

"The warmer ocean waters that climate change brings are expected to make the stronger storms stronger and make them rapidly intensify more frequently and at a greater rate," said Dr Jeff Masters, a meteorologist and contributor to Yale Climate Connections.
"These things have already been observed, particularly in the Atlantic, and it's going to be increasingly so in coming decades."
…
"I don't see a lot of options for Central America to deal with the global warming issue," said Masters.
"There are going to be a lot migrants and in fact, a lot of the migration that's already happening in recent years is due to the drought that started affecting Central America back in 2015."
Here in central California, hurricanes are way-off the scope, well maybe, not even on the scope — we're more into drought, forest fires and earthquakes. Climate is like owning a sucessful resturant, location is eveything.
However, I spent the way-majority of my first 34 years in Florida, mostly on the Gulf coast, and experienced hurricane watches, but nothing like the last 20 years.
Different world 40 years later. Supposedly by 2100, chance of a hurricane's winds increasing by 70-mph or greater in 24 hours right before landfall is expected to be once every 5 to 10 years, an increase from once every 100 years back in my old Florida days in a late-20th-century climate.
In getting a little darker, last Thursday an environmental/climate change report was published, which if true, is a bad-bad Debbie-downer. Even if we stopped all emissions right now, like flipping a switch, the earth will still heat, more drought, higher temperatures, higher sea levels, and more of those hurricanes.
Via the abstract: 'In this paper we report that in the ESCIMO climate model the world is already past a point-of-no-return for global warming…To stop the self-sustained warming in ESCIMO, enormous amounts of CO2 have to be extracted from the atmosphere.'
In other words, we be hurting..
From ScienceAlert on Friday:
"According to our models, humanity is beyond the point-of-no-return when it comes to halting the melting of permafrost using greenhouse gas cuts as the single tool," lead author Jorgen Randers, a professor emeritus of climate strategy at the BI Norwegian Business School, told AFP.

"If we want to stop this melting process we must do something in addition – for example, suck CO2 out of the atmosphere and store it underground, and make Earth's surface brighter."
However, as a respite of sorts, not all climatologists agree with the study's findings:
One expert, Penn State University meteorologist Michael Mann, told USA TODAY that he was skeptical of the computer model used in the study: "The climate model they have used is a very low complexity model. It doesn't realistically represent large-scale atmospheric circulation patterns, such as ocean circulation, etc.

"While such models can be useful for conceptual inferences, their predictions have to be taken with great skepticism. Far more realistic climate models that do resolve the large-scale dynamics of the ocean, atmosphere and carbon cycle, do NOT produce the dramatic changes these authors argue for based on their very simplified model.

"It must be taken not just with a grain of salt, but a whole salt-shaker worth of salt," Mann said.
And the T_Rump's impact on climate change: ''"Donald Trump has been to climate regulation as General Sherman was to Atlanta," said Michael Gerrard, director of the Sabin Center for Climate Change Law at the Columbia Law School, referring to the Union general who razed the city during the Civil War. "Hopefully it won't take as long to rebuild."'
Joe's got his work cut out for him…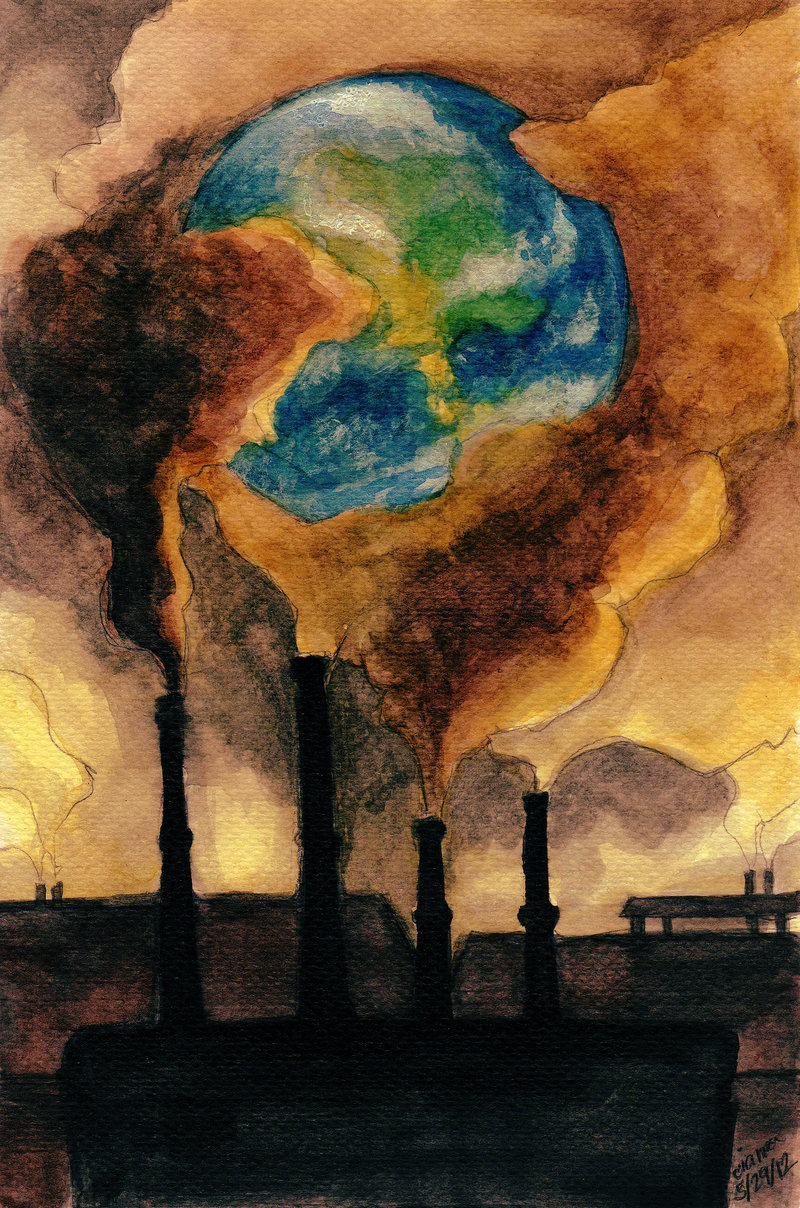 (Illustration found here).