A lot of DC news today, but most-likely one which will have repercussions both good and bad down the line if the way forward is through justice and accountability and not 'sitting president' bullshit.
In a House vote, Steve Bannon was held to be contemptible:
Nine House Republicans broke ranks to join all Democrats in voting to hold Steve Bannon in contempt of Congress for defying a subpoena from the select committee investigating the January 6 attack on the US Capitol. https://t.co/vU7ZwId3gT

— CNN (@CNN) October 21, 2021
Details per The Washington Post late this afternoon:
The House voted Thursday to hold former White House chief strategist Stephen K. Bannon in criminal contempt of Congress for his refusal to comply with a subpoena issued by the committee investigating the Jan. 6 attack on the Capitol.

The measure was approved on a 229-to-202 vote, with nine Republicans joining all Democrats present in voting "yes." Thursday's full House vote comes days after the members of the bipartisan select committee voted unanimously in favor of the resolution.

Bannon has previously argued through his attorney that he can't respond to the subpoena because of executive privilege asserted by former president Donald Trump.

The matter now goes to the Justice Department, which will decide whether to pursue the contempt referral. Contempt of Congress is a misdemeanor criminal offense that can result in up to one year in prison and a fine of up to $100,000.

Asked at a House Judiciary Committee hearing Thursday how the Justice Department would handle such a referral, Attorney General Merrick Garland said it "will do what it always does in such circumstances — it will apply the facts and the law."
Nutcases got upset with righteous furor::
At one point during Thursday's vote, Rep. Marjorie Taylor Greene (R-Ga.), a freshman with a history of aggressively confronting fellow lawmakers, yelled at (Liz) Cheney and Rep. Jamie B. Raskin (D-Md.) on the House floor.
Greene, who was removed from her committee assignments earlier this year over her extremist beliefs, called both the contempt vote and Cheney "a joke."

According to a person with knowledge of the conversation, Cheney responded by calling Greene a "joke" and asking her whether she needed to be "focusing on her anti-Semitic space lasers," a reference to a conspiracy theory Greene promoted on social media in 2018.
Raskin noted that the rioters injured more than 140 police officers, "breaking their noses, breaking their necks, breaking their vertebrae, breaking their arms, breaking their legs, breaking their hearts and their spirits."

Several times during Thursday's debate, Democrats reminded their colleagues that people were injured and killed during the insurrection.

In remarks at an event Thursday morning celebrating the 10th anniversary of the dedication of the Martin Luther King, Jr. Memorial in Washington, Biden referred to the "violent, deadly insurrection on the Capitol nine months ago," describing it as an act that "was about white supremacy, in my view."

"Hate never goes away," Biden said. "In all the years I've been involved [in politics], I thought once we got through it, it would go away. But it doesn't. It only hides. It only hides until some seeming legitimate person breathes some oxygen under the rocks where they're hiding and gives it some breath."

In the wake of the Jan. 6 insurrection, Trump has repeatedly defended those who violently stormed the Capitol and has falsely claimed that the 2020 election was marked by widespread voter fraud.
He did so again on Thursday ahead of the House vote, in even starker language than before.

"The insurrection took place on November 3, Election Day," Trump said in a statement. "January 6 was the Protest!"

Raskin later read the former president's statement aloud on the House floor and replied: "No, Mr. Trump, I'm sorry. That's what we call an election in America."
Correct, but the main snag is Garland — I think he's going to waffle. Adam Schiff suspects it, too:
Rep. Schiff: "The contempt charges against Mr. Bannon will now be forwarded to the Justice Department for criminal prosecution. Attorney General Garland must take up those charges without delay and bring Mr. Bannon to justice."

— Kyle Griffin (@kylegriffin1) October 21, 2021
Earlier this week, Schiff spoke straight — from Yahoo News on Tuesday:
"I think there's a real desire on the part of the attorney general, for the most part, not to look backward," Schiff said in response. "Do I disagree with that? I do disagree with that, and I disagree with it most vehemently when it comes to what I consider even more serious offenses.
…
But Schiff said Bannon's claims were without merit and that once the committee votes to hold Bannon in contempt, he expects the full House to vote to refer the matter to the Justice Department for criminal prosecution.

"The speaker will refer to the Justice Department, where the statute says the Justice Department has a duty to present it to the grand jury," Schiff said. "Now, that duty is not always fulfilled. But there are some very positive signs that it will be fulfilled. It really needs to be."

"I think the indications are strong that the Justice Department will take this seriously, as they should," he added.
"There's not even a colorable claim of privilege in Bannon's case. He was long gone from the administration by the time of the events that we're talking about. And what's more, he can't just say, 'I'm gonna refuse to appear.'"
Hope Garland grows a pair. We'll just have to wait and see.
Yet we know the reality:
Yet here we are, once again…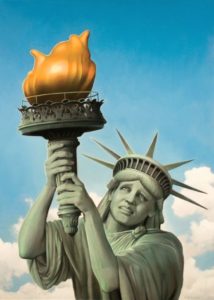 (Image out front by illustrator and portrait painter, Tim O'Brien, and can be found here).