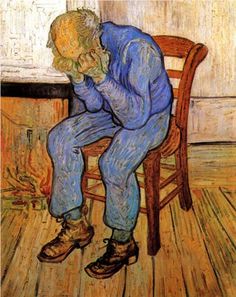 Slightly overcast this way-too-early Thursday on California's north coast as we wade toward the end of the week.
Another scorcher for us as temps are expected to be in the 70s again today, and even hotter into the weekend with Monday's high forecast to be 91 — whoa!
Us old people don't weather the weather all that well, that's why we're turning to drugs: The use of illegal drugs among Americans in general is holding steady, but it's surging among middle-aged baby boomers, according to report released Wednesday.
What's to be expected — life ain't what we expected 50 years ago.
(Illustration: Vincent van Gogh's 'Old Man in Sorrow (On the Threshold of Eternity)' found here).
Just as all the international big-wigs, assholes and other assorted holier-than-thou world leaders gather like scavengers at a roadkill in St. Petersburg, Russia, for the G-20 summit, the main topic concerning everybody is not even on the formal schedule — Syria.
These clowns represent two-thirds of the world's population, 85 percent of its GDP and its leading armies, will posture about regular folks, but the whole shebang will be about how to handle asshole Assad without losing the bluster and face of power — economics is supposed to be the reason for the gathering, but, you know assholes:
The world's unemployed and impoverished may therefore get short shrift at this summit, though activist groups are pleading with leaders to join forces to tackle corruption and tax-avoiding corporations, hoping that stabilizes and better distributes economic growth.
Yeah, right.
Baby boomers are facing a crunch — from AARP:
In just 13 years (2026), as the boomers age into their 80s, the change in the caregiver support ratio will shift from a slow decline to a free fall in all 50 states and the District of Columbia.
Rapidly increasing numbers of people in advanced old age and shrinking families to provide support to them will demand new solutions to the financing and delivery of LTSS.
The past suggests that families will continue as the backbone of support for older loved ones, but the future suggests that family caregivers will themselves require more support to meet the increased stress and burdens that are certain to occur.
And us boomers need cash, and healthcare — via NBC:
But a tidal wave of retiring boomers is about to hit the U.S.
Roughly 10,000 will reach the retirement age of 65 each day through the two decades, according to the Pew Research Center.
By 2030, 18 percent of the country will be senior citizens.
Demand for entitlements is already on the rise: Social Security, Medicaid and Medicare made up 44 percent of the government's $3.7 trillion in spending in 2011, a jump up from 34 percent in 1990, Bloomberg said, citing the U.S. Bureau of Economic Analysis.
I'll turn 65 in November, and like about that 10,000 growing up  that day, the future doesn't look so bright and rosy as painted by our parents and grandparents in the 1960s. The "Father Knows Best" generation took the Great American Dream by birthright, but discovered it was a nightmare-sham.
Right now, all I need is the weekend to be here.